Last Updated August 28, 2023
Social media influencers don't just focus on getting followers to spend money, in fact, many are actually experts on how to save. Finance influencers are on the rise and have helped numerous millennials get their finances in check through their educational content.
Whether you're looking for investing advice, ways to get out of debt, or budgeting strategies, you should start following these top finance influencers for valuable money content.
Mr. Money Mustache @mrmoneymustache
Image source: @mrmoneymustace via Instagram
After retiring at 30-years-old, Pete Adeney, founder of Mr. Money Mustache, started sharing his financial freedom knowledge. In fact, that's his motto: "financial freedom through badassity." His blogs and social media accounts are chock full of tricks to tighten your belt (like commuting to work via bike and canceling TV cable), so you too can retire early. If you're willing to cut the luxury out of your life and instead invest your hard-earned money, Mr. Money Mustache is the guy to follow. Join his 130,000 audience on Twitter and 33,700 Instagram following to start living like a frugal badass. And yes, he does have a glorious mustache.
Tiffany Aliche @thebudgetnista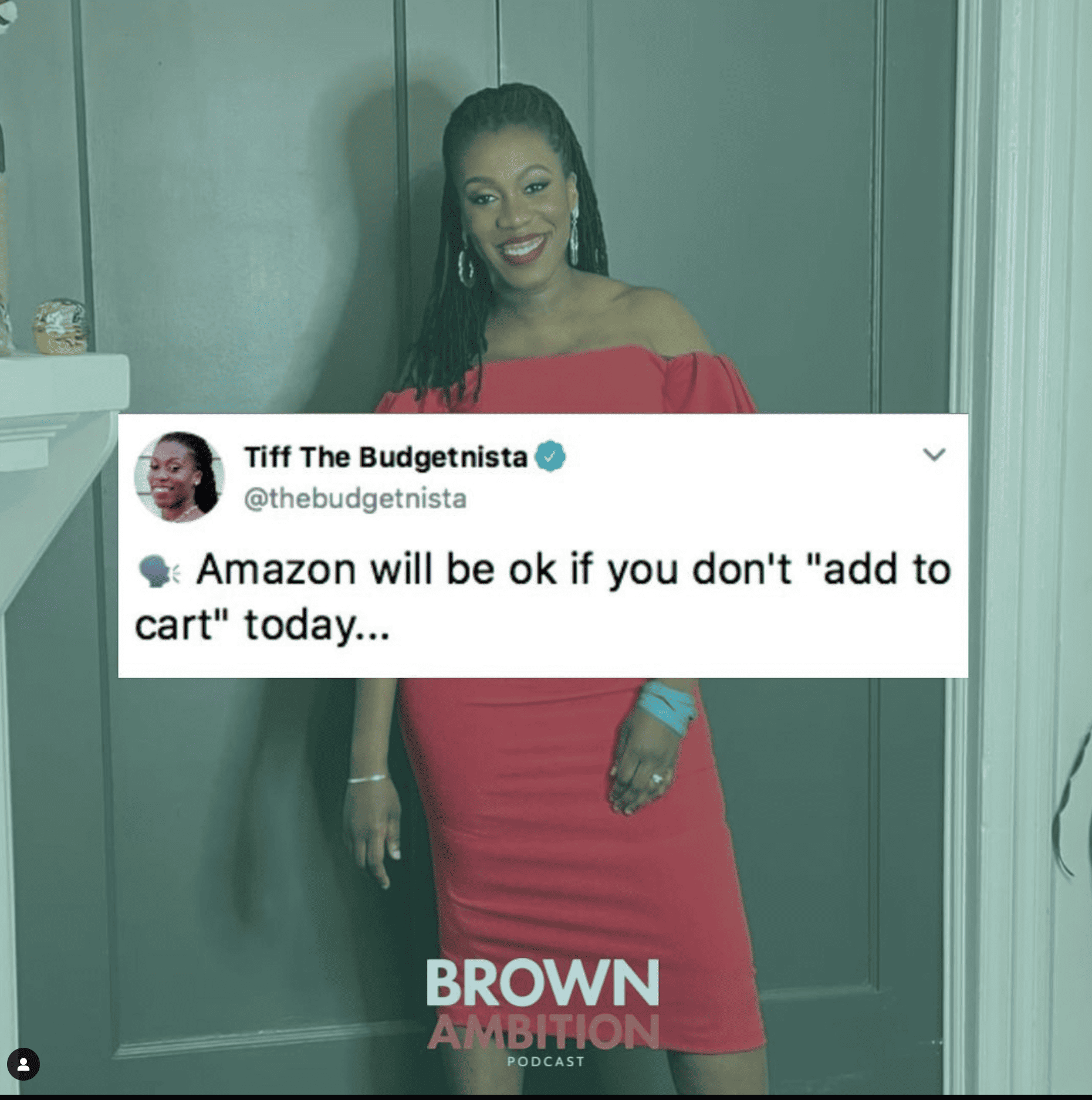 Image source: @thebudgetinsta on Instagram
Dubbed "America's Favorite Financial Educator," Tiffany Aliche aims to teach women around the world how to budget[2]. Tiffany uses her teaching roots (she was a preschool teacher for 10 years before establishing the Budgetnista brand) to simplify complicated financial concepts. This allows financial freedom to be more accessible to her audience via bite-sized tips on her blogs, social media, and best-selling book. Tiff's following includes 466,000 followers on Instagram, 53,200 on Twitter, and 53,000 subscribers on YouTube. She offers free digital courses, money tools, and financial challenges to her large audience of keen budget-conscious women.
Coupon Katie @coupon_katie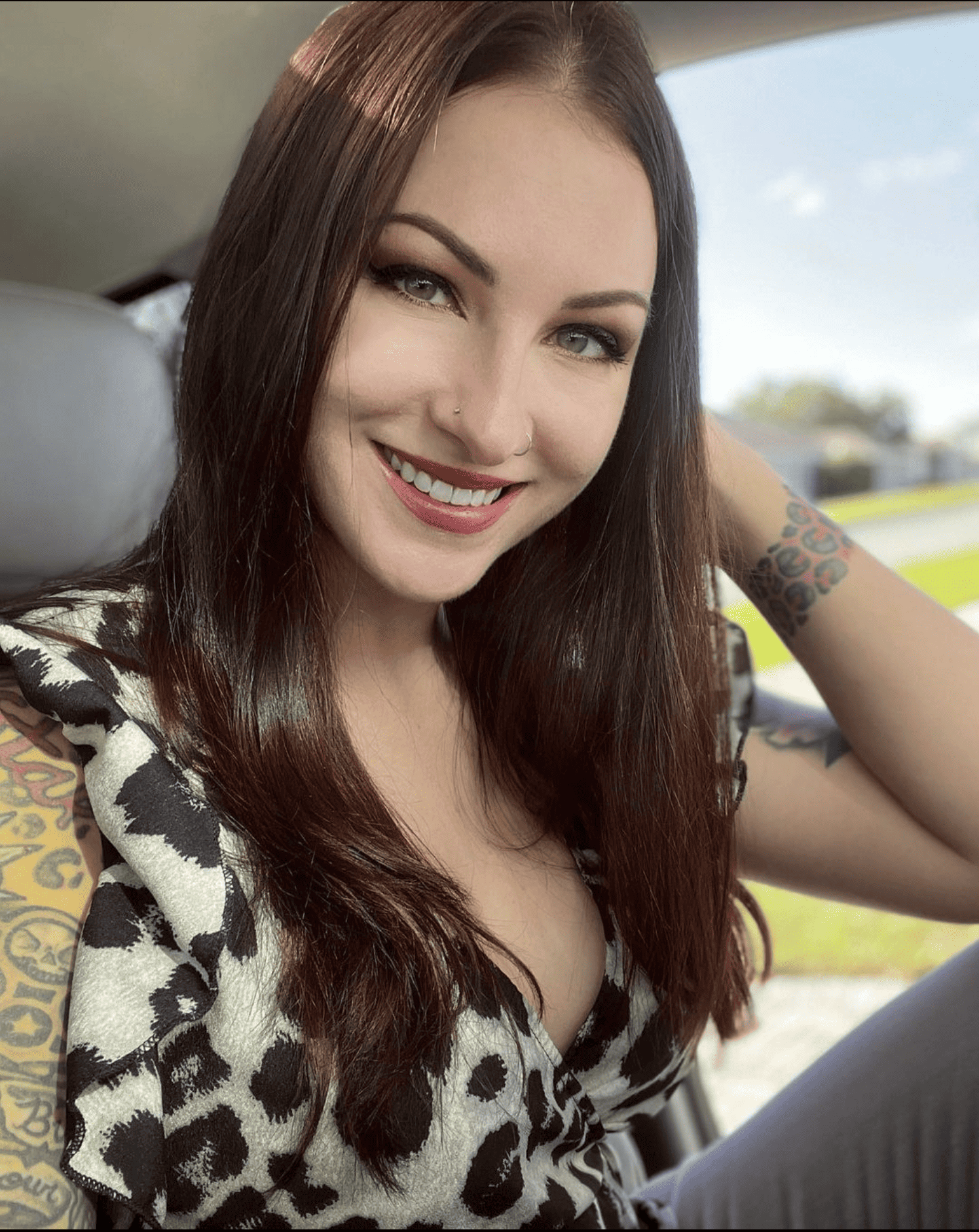 Image source: @@coupon_katie on Instagram
Katie Swanson of the Coupon Katie business is known for her extreme couponing skills. As a mom of two, she started clipping coupons and didn't stop. Katie took to TikTok to post a few coupon tip videos and was shocked to learn that other users loved her content. Her following exploded and now fans flock to her page to learn how to snag deals. On her social media accounts, Coupon Katie reveals digital coupons, one-day-only sales, and other cost-effective ways to get items for very cheap—even free! Katie states that she's even been paid to take items because she had so many coupons. She saves an estimated $8,000 each year from clipping coupons and helps her followers do the same[3]. Katie boasts a wild 1.5 million fans on Twitter, 112,000 subscribers on YouTube, and 70k Insta followers.
Tangie Seals @tangieseals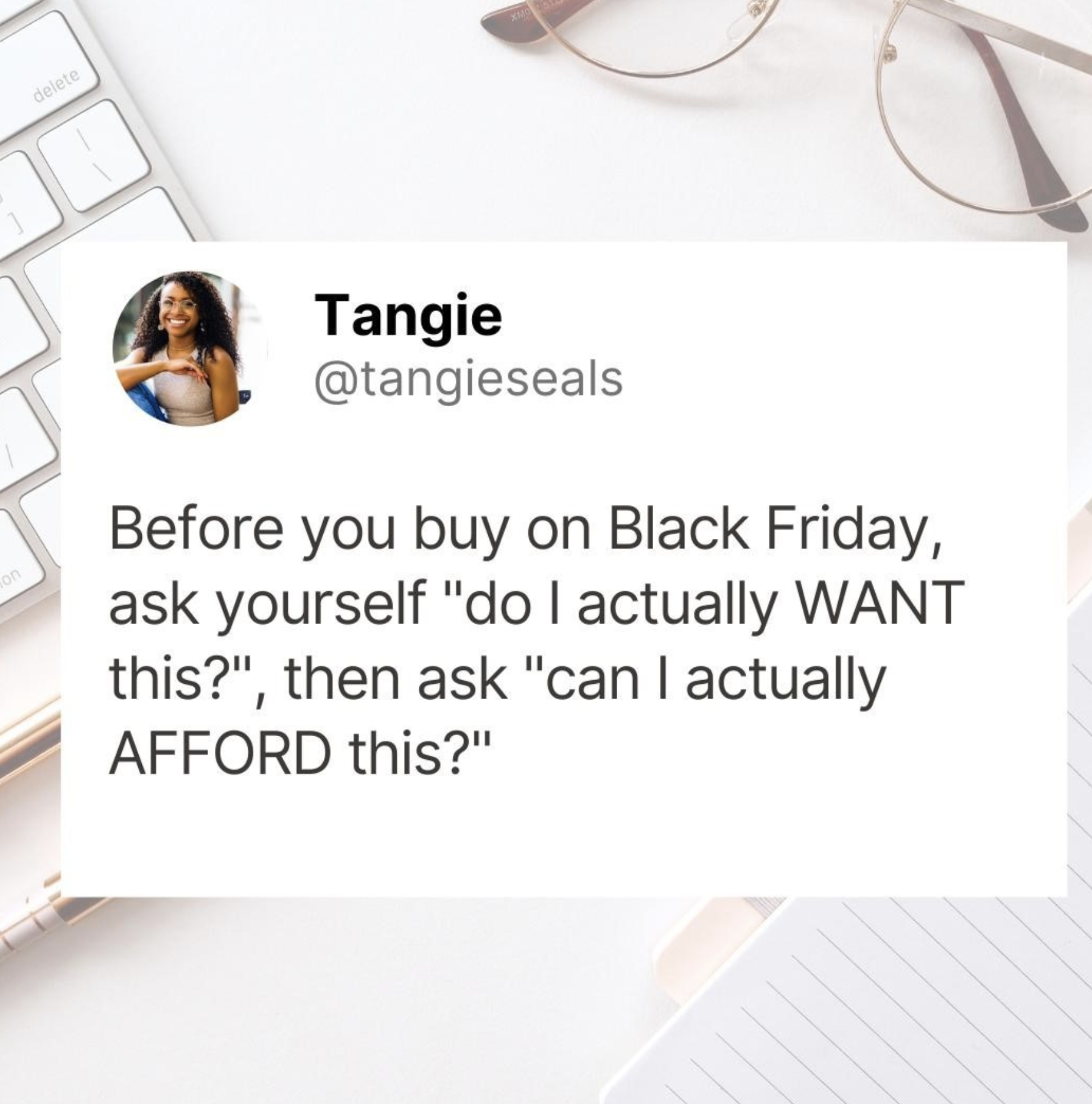 Image source: @tangieseals on Instagram
Like many finance influencers, Tangie shares content based on experiences conquering her own financial hardships. Even as a financial academic (she received a Master's in finance) Tangie found herself with over $30,000 in debt due to some of the most common financial pitfalls that young people come across. She was able to be completely debt free in less than 18 months. Tangie now confidently declares "debt is dumb" and aims to help others build wealth[4]. This finance blogger primarily uses her own platform to share valuable tips on investing, budgeting, and living one's best life. She also has nearly 35,000 followers on Instagram.
Anthony O'Neal @anthonyoneal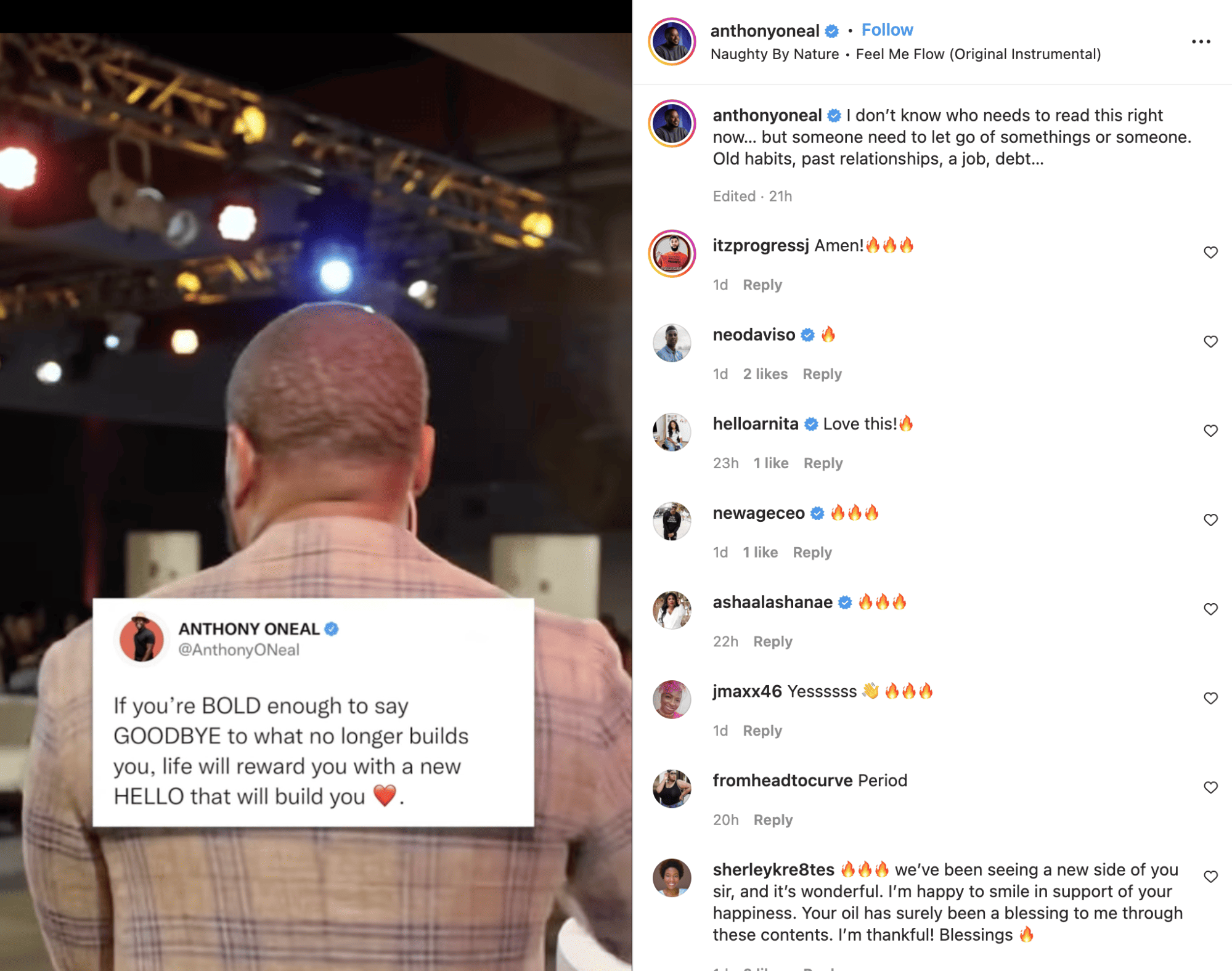 Image @anthonyoneal via Instagram
Anyone would find it hard to believe that Anthony O'Neal was in such financial debt that he was homeless at one point, but the renowned author had his low moments. The significant knowledge that he gained from his experiences is the basis for his financial education brand. He worked diligently to get out of debt, save money, and now helps others do the same. The 36-year-old finance influencer educates eager followers through various formats including his podcast, books, and social media platforms.
Miss Wise @wisewomanwallet
Miss Wise's journey is unique compared to that of other financial influencers—she started sharing her stories with followers while still in debt. She became incredibly vulnerable with her audience by revealing exactly how much she owes and regularly updates the number on her Instagram (as of today, 60% has been paid off– $32,213 to be exact) to show followers that the road to financial wealth is possible. Miss Wise checks in with her fans with monthly goals and loves to celebrate milestones. Her valuable financial advice on her Wise Woman Wallet blog and networking accounts includes a debt payoff ebook, steps to saving, plus financial trackers. She even has a private accountability group for especially dedicated followers.
Zero Based Budget @zerobasedbudget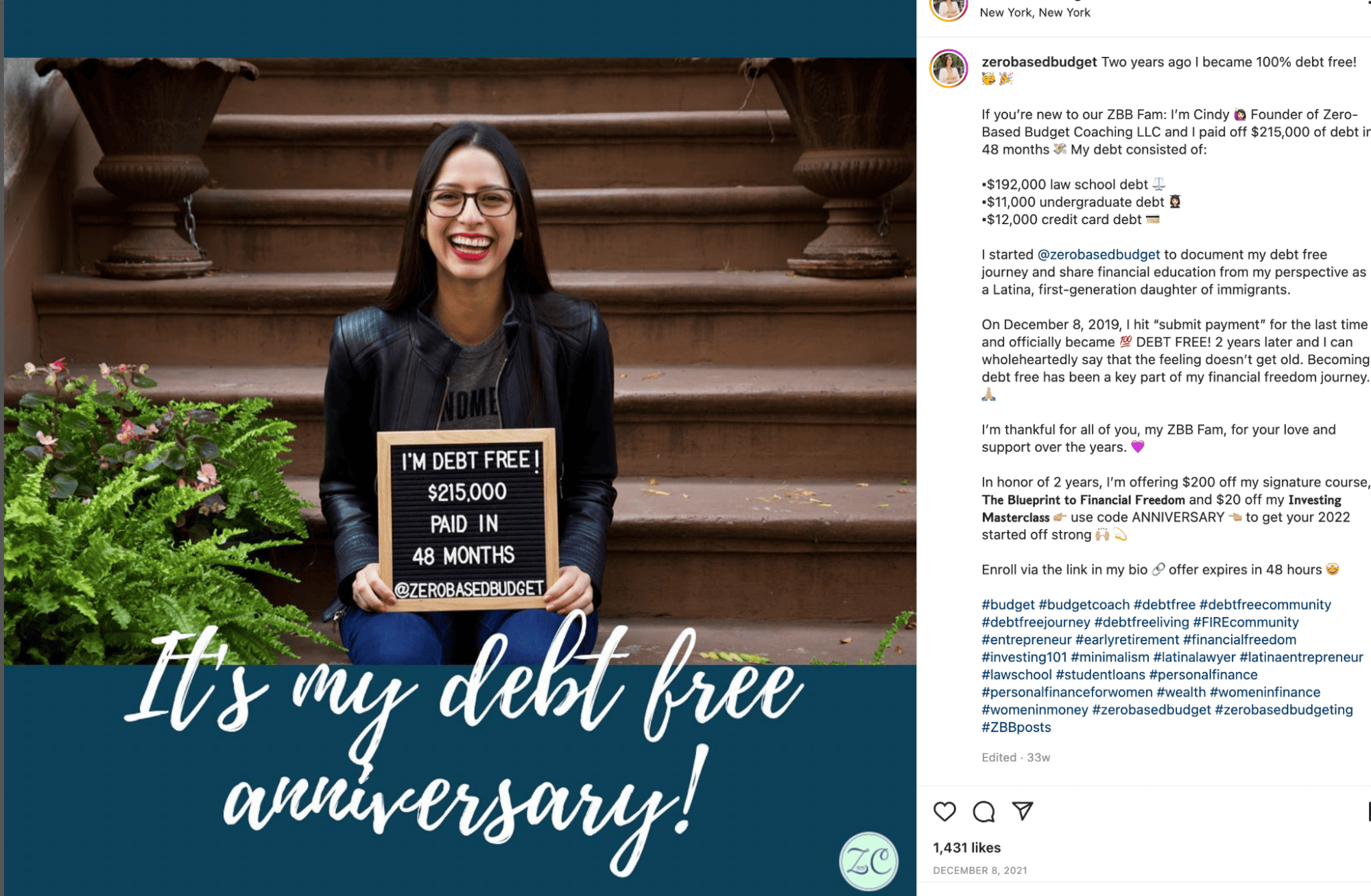 The financial influencer behind Zero Based Budget is New York based Cindy Zuniga-Sanchez. She racked up hundreds of thousands of dollars in debt by pursuing an advanced education—something that a lot of young people in America have experienced. The Latina influencer paid off her $215,000 debt in four years and dedicates her brand to helping others do the same. She particularly advocates for women of color who strive to overcome barriers to financial freedom. Cindy provides money tips to her nearly 54k Instagram following but also offers private coaching financial services as well[5].
Rachel Cruze @rachelcruze
Rachel Cruze, the daughter of iconic personal finance advisor and speaker, David Ramsey, followed in her father's footsteps with a money mindset. The 32-year-old professional has been vocal about how she maintains financial freedom (i.e. using debit cards instead of credit cards to budget, cooking at home, and even how to use Enneagram to save). She is the author of numerous successful books—one even co-authored by her father, David. Her YouTube contains long-form video content on how to cut expenses among other financial hacks. She has nearly 240,000 subscribers on the platform and her verified Instagram boasts 401,000 followers.
Tarra Jackson @msmadammoney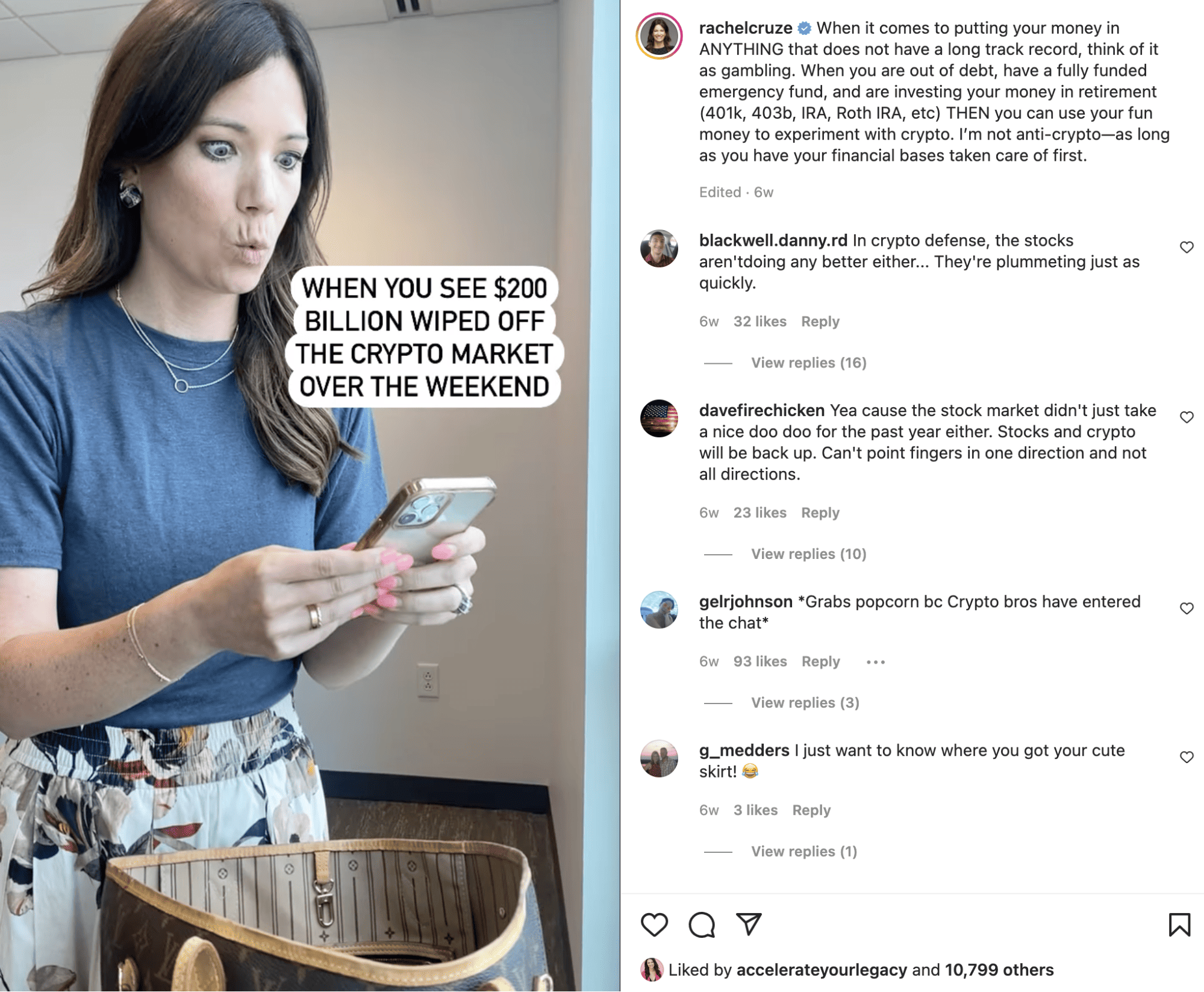 Tarra Jackson, aka Madam Money, takes the stage as one of the top influencers. She is an international speaker, personal finance expert, radio and TV personality, and best-selling author. Her authoritative voice and engaging stories make her video content some of the top viewed amongst financial influencers. How can you not feel compelled to click on a link titled "do you have a financial STD?"? Tarra is on various platforms including the rapidly growing audio-based app, Clubhouse. Madam Money has over 10,000 followers each on Instagram and Twitter.
Lessons from Top Personal Finance Influencers
What can you learn from some of the best financial personalities out there? Here are some of the top tips that all financial influencers recommend:
Become Debt Free
Any top finance influencer will tell you that it's impossible to build wealth if you're in debt. You'll always be paying someone else before you pay yourself. The initial step in reclaiming your financial freedom is to eliminate credit card debt. After you've conquered any owed funds from credit cards, address auto, home, and school education loans. The rates on these loans are typically much lower than that of other debt. Though you'll undoubtedly want to pay this down before you can begin building your own wealth, it's best to discuss a specific strategy with your own financial advisor.
Clip Coupons
Coupon Katie is proof that clipping coupons can save you thousands of dollars each year and help you avoid ever running out of toothpaste. Shop sales when you can and always search for coupons online before heading out to the store. Be sure to check out her and other influencer's accounts daily to hear about any can't-miss deals.
Invest Early
One of the resonating foundations of building wealth among all finance influencers is the need to begin investing early on. Even if you are only able to invest a small amount, investing it early will allow it more time to grow. Many influencers use their platforms to advise on specific opportunities for those looking for less risky investment options. If you're an advanced trader, there's content available on how to build a more robust investment portfolio. Whatever your level of comfort, you can find a reliable answer to your most common questions.
Stay in the Know
"What you don't know can't hurt you" certainly does not apply to your finances. All personal finance influencers recommend that you stay on top of your accounts. Though it might sound like a relief to have someone else manage your money for you, you are the best person to decide based on your best interest. If you're ever overwhelmed by calculating compounded interest or don't understand the difference between an IRA and 401(k), finance influencers have you covered. Many of the influencers mentioned above break down these complex concepts into engaging and understandable video content. Still not fully grasping the ideas? Slide into their DMs or download one of their comprehensive guides!
Keep a Money Mindset
Financial success comes to those who are dedicated to not just the outcome but the process. The months to years during which you'll be paying off debt may be uncomfortable, but you will reap the rewards. Be sure to stay within your budget. Create achievable monthly goals as recommended by Miss Wise, and don't be afraid to reward yourself. You certainly don't want to go all out with a splurge that will put you back, but a small reward can help keep the momentum. Keep your eye on the prize, and you'll make it there!
Invest in Your Influencer Marketing
Financial institutions and all other niches alike can benefit from influencer marketing campaigns. Enlisting the help of an authoritative finance influencer can elevate brand awareness, promote direct response, and ultimately give your business positive ROI. Contact HireInfluence to find the right influencer for your campaign today.
[1] https://www.washingtonpost.com/business/meet-mr-money-mustache-the-man-who-retired-at-30/2013/04/26/71e3e6a8-acf3-11e2-a8b9-2a63d75b5459_story.html
[2] https://thebudgetnista.com/about/
[3] https://www.goodmorningamerica.com/living/story/coupon-queen-woman-tik-tok-share-tips-couponing-66302189
[4] https://tangieseals.com/about/
[5] https://www.zero-basedbudget.com/coaching