It's rarely smooth sailing for businesses. Mistakes happen, often at the worst time, and can leave companies with financial or reputational damage.
Crisis management, the practice of preparing for negative incidents, minimizing their damage and disruption, and getting an organization back on track, is crucial to business. Agile companies anticipate threats and develop strategies to cope with their impact.
Here are the best examples of company crises, how each company handled them, and what can be learned from them.
What Is a Business Crisis?
A business crisis occurs when an unexpected problem puts the stability of a company at risk. These situations may arise internally or externally, but regardless, they tend to escalate. Without proper crisis management, the situation can spiral out of control until it permanently damages the company.
There are three key elements to a business crisis:
The problem must pose a threat to the organization.
The situation must involve an element of surprise or shock.
The situation will place pressure on a business to make timely and effective decisions, due to its unexpected nature.
Sometimes, crises are unavoidable. It's crucial that businesses have a crisis management plan in place to proactively prepare for crises and adapt as they come. Knowing the steps to take in strenuous situations can mean the difference between a resilient brand and a brand that collapses.
Types of Business Crises
Here are some examples of the type of business crises and examples of brands that experienced them.
Financial Crises
A financial crisis happens when a business loses value in its assets and can't afford to manage its debt. This may be caused by a significant drop in demand for a product or service that requires the company to move funds to cover short-term costs.
Delta Air Lines experienced such a crisis in 2005 following the tragedy of 9/11. Customer demand decreased and continued for a few years following the attack, leading Delta to file bankruptcy in 2007.[1] To adapt, Delta invested in its workforce to improve the customer experience and rebounded.
Gold's Gym experienced a similar crisis during the COVID-19 pandemic in 2020. The gym suffered from closures and restrictions, leading Gold's to file for bankruptcy and permanently close about 30 gyms.[2] It was later acquired by RSG Group.
Organizational Crisis
An organizational crisis occurs when a company significantly wrongs its consumers or employees. Usually, this happens when the company is too focused on profits over the experience or service.
These crises can take many forms, including deception, which is when a company lies about a public-facing product or tampers with data, or misconduct, which is when a person in company management engages in illegal activities. In a crisis of skewed management values, senior leadership prioritizes short-term financial gains over social responsibility and neglects the interests of stakeholders.
One such example that encompasses several organizational crises is when Mylan Pharmaceuticals was accused of price gouging for the EpiPen at a markup of 400% and other ethical breaches, including conflict of interest.[3]
Wells Fargo also experienced an organizational crisis when employees illegally opened fake customer accounts without consent to meet sales quotas. Employees falsified signatures and created fake records that resulted in billions of dollars in revenue. The company settled for $3 billion to cover the penalties in 2020.[4]
Personnel Crisis
Personnel crises happen when an employee or individual associated with a company is involved in unethical or illegal misconduct. This may occur in the workplace or in the employee's personal life, leading to backlash against the brand as guilt by association.
The crisis management approach in this situation is often to identify the scope of the situation, determine appropriate disciplinary action, and provide a statement to the public. It's crucial for brands to stay transparent and keep the public updated as the process unfolds.
Tyson Foods experienced a personnel crisis that impacted the company, the supply chain, distribution channels, and more. Employees at Tyson Foods in Iowa were working long hours to keep up with demand and in close quarters, leading to a spread of COVID-19 that caused the death of several workers.[5] To add insult to injury, several workers were placing bets on how many workers would contract the virus and get sick.
Another example is WeWork. In 2019, Adam Neumann, WeWork's former CEO, stepped down after overvaluing the company when it was set for an initial public offering (IPO).[6]
Technological Crisis
Virtually every business relies on technology to perform day-to-day functions. When that technology fails, businesses often have to do damage control. Some businesses, such as e-commerce companies, risk losing a significant portion of their business if servers go down, for example.
Resolving the issue quickly is the biggest concern to mitigate the effects on customers. Once the issue is resolved, the next step is setting up customer service and support teams to handle customer confusion and complaints.
Late in 2020, Google had a major outage that impacted most of Google's products and services, including YouTube, Gmail, Drive, and more.[7] During the outage, Google offered an up-to-the-minute dashboard with system statuses for users and sent out emails keeping customers apprised of the issue. In addition, Google reviewed the events leading up to the outage to prevent another from occurring.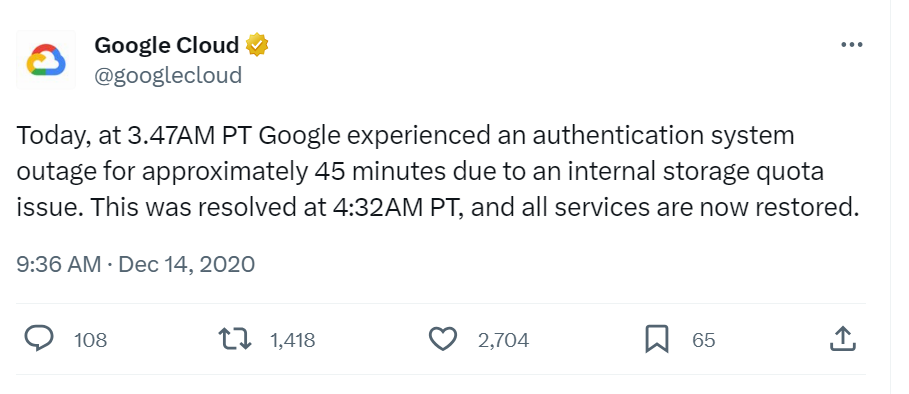 Source: X
Meta had a similar issue in 2021. Several apps went down for an hour, including Instagram, WhatsApp, and Facebook Messenger.[8] With many international businesses that rely on Messenger and WhatsApp to speak to customers adrift, it proved a bigger problem than social media. Meta had the apps back up and running quickly, however.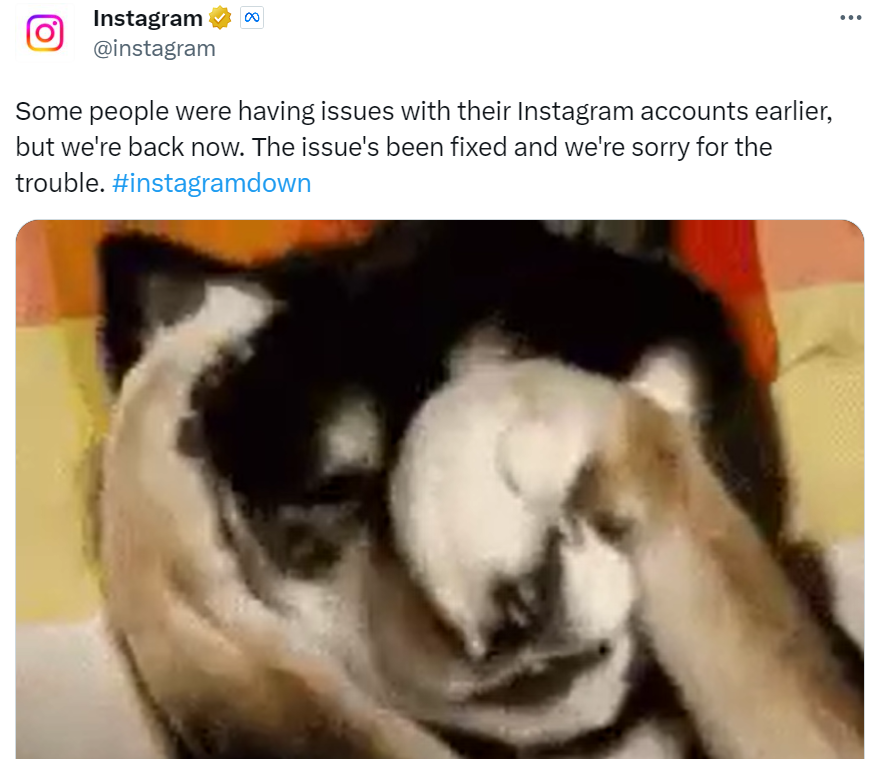 Source: X
Natural Disaster
Natural disasters always pose a potential disruption to businesses. Disasters like hurricanes, earthquakes, and tornados can not only impact the physical location of a business, but it can disrupt services outside of it.
Businesses need a crisis management plan in place to address natural disasters, such as evacuation plans and weather-resistant architecture for physical locations. There should also be contingency plans for problems with physical servers that can affect a wider area.
The COVID-19 pandemic is a good example of a disaster that escalated quicky and affected businesses in virtually every area. Businesses had to pivot quickly to adapt to remote work or institute new health protocols to keep essential employees and customers safe.
The 2023 wildfires in Lahaina also affected multiple businesses, particularly the small businesses that are the backbone of the island community.[9] The devastation is compounded by the fact that these businesses are still in recovery from the pandemic. Despite the financial burden, many of these small businesses are out on the frontlines offering support and meals for the community.
Confrontation Crisis
A confrontation crisis can arise in a number of ways. Employees can have conflicts or public concerns with a business can lead to outcry. It's not uncommon for these situations to evolve into a boycott or mass resignations if the brand doesn't address the issue quickly.
In 2021, the Hollywood Foreign Press Association faced a boycott because of its diversity and inclusion policies – or lack thereof. Over 100 of the publicity firms in Hollywood said that they'll tell their famous clients not to attend the Golden Globes or other events until the organization takes steps toward change.
In response, the Hollywood Foreign Press Association unanimously approved a plan to increase membership to a minimum of 100 members with a requirement that at least 13% of the membership be Black journalists.[10]
This is not unlike the ongoing SAG-AFTA strike, the ramifications of which remain to be seen.
Workplace Violence Crisis
Similar to conflict, the workplace violence crisis occurs when a current or former employee commits violence against other employees. These crises can come on suddenly, so companies need to have a plan in place to react quickly to de-escalate.
In May of 2021, nine Valley Transit Authority (VTA) employees in San Jose, California, were shot and killed by a fellow co-worker.[11] Sam Cassidy, 57, showed up at a meeting at the railyard and opened fire on his coworkers before ending his own life.
Crisis of Malevolence
A crisis of malevolence occurs when a company's opponents use criminal or illegal methods to destabilize a firm, harm its reputation, extort it, or destroy it. Tampering with a company's product to create harm, using a company's products in illegal or inappropriate ways, or hacking into a system all serve to cause financial and reputational damage to a company and its stakeholders. Companies are then forced to involve law enforcement, recall a product, or address a cybersecurity vulnerability to mitigate the damage.
In 2023, 4.1 million patients in Colorado had sensitive healthcare data stolen during another data breach that exploited a vulnerability in MOVEit transfer software, which is managed by tech giant IBM.[12] Among the information revealed were the patients' full names, dates of birth, home addresses, Social Security numbers, insurance ID numbers, income information, and clinical and medical information. IBM failed to confirm the breach.
Navigating Crisis Is Key to Future Success
These are just a few examples of the types of crises businesses can face and the way major brands have handled them, though they all illustrate the importance of having a proactive crisis management strategy in place. The better prepared a business is, the quicker they can rebound from a crisis.
Sources:
[1] https://hbr.org/2014/12/deltas-ceo-on-using-innovative-thinking-to-revive-a-bankrupt-airline
[2] https://www.cbsnews.com/news/golds-gym-files-bankruptcy-chapter-11-coronavirus-pandemic/
[3] https://www.justice.gov/opa/pr/mylan-agrees-pay-465-million-resolve-false-claims-act-liability-underpaying-epipen-rebates
[4] https://www.washingtonpost.com/business/2020/02/21/wells-fargo-fake-accounts-settlement/
[5] https://www.desmoinesregister.com/story/news/crime-and-courts/2021/03/15/tyson-foods-coronavirus-meatpacking-covid-deaths-lawsuits-appeals/4646508001/
[6] https://www.nytimes.com/2019/09/24/business/dealbook/wework-ceo-adam-neumann.html
[7] https://www.bloomberg.com/news/articles/2020-12-14/google-services-outage-hits-gmail-youtube-in-multiple-countries
[8] https://www.theverge.com/2021/3/19/22340405/instagram-whatsapp-facebook-messenger-down-outage
[9] https://www.khon2.com/top-stories/what-is-being-done-for-lahaina-businesses-affected-by-the-wildfires/
[10] https://apnews.com/article/entertainment-boycotts-golden-globe-awards-d8d0bc76fc84832aa29842261af7687e
[11] https://www.ktvu.com/news/why-did-the-gunman-kill-9-co-workers-at-the-san-jose-vta-light-rail-yard-before-killing-himself
[12] https://techcrunch.com/2023/08/14/millions-americans-health-data-moveit-hackers-clop-ibm/