Influencer marketing is one of the most effective ways to reach your target audience – especially on social media. The cost for an influencer can vary, however, based on the industry, business goals, platforms, campaigns, social reach, and more.
There are a number of ways that influencers can be paid, including through products, discounts, and monetary compensation. Influencers have multiple methods to get paid as well, including sponsored posts, ambassadorship, and affiliate marketing.
How Does an Influencer Get Paid?
Influencers have a few different ways of getting paid, including:
Getting Paid by Brands and Services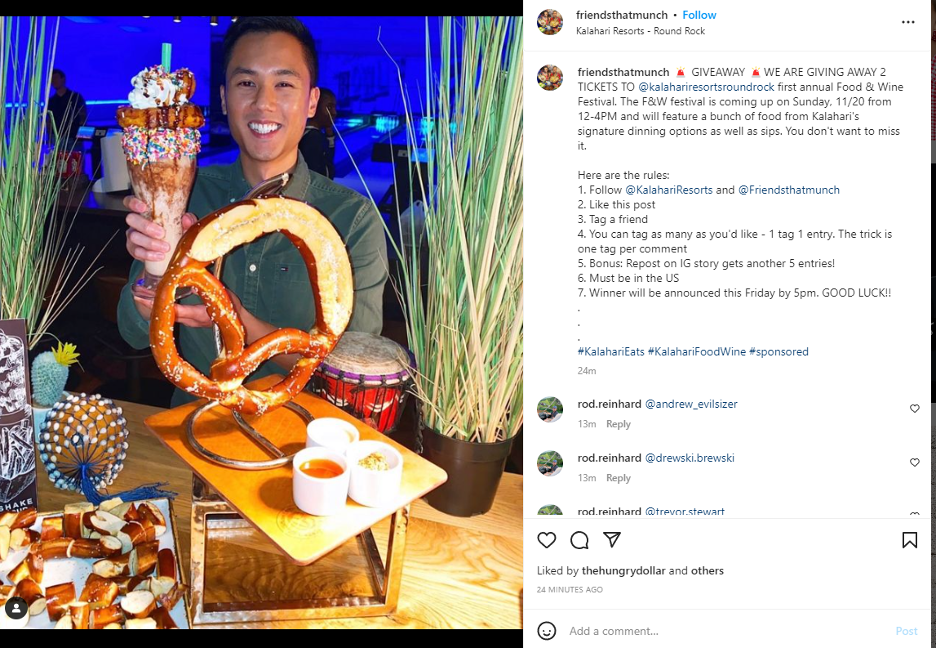 Source: Instagram
With sponsored content, a brand typically pays the influencer after the content is published. They also verify that the content is up to their brand standards and the agreement with the influencer.
Some influencers have a commission-based agreement, such as an ongoing collaboration or affiliate marketing, and get paid in intervals. This helps brands guarantee that the services will be rendered before paying. Commissions are calculated prior to payment.
Product promotion or display ads pay differently. Ad services send checks or payments at predetermined intervals. Payment that comes from an influencer's products is usually subject to a third-party agreement.
Taxes
Influencers are independent contractors or suppliers for tax purposes. US-based influencers are sent a 1099 form each year, which comes from the brand that pays them for services. This is then reported as income on their tax forms.
Influencer Marketing Agencies
With influencer marketing agencies, the agency sources influencers on behalf of the brand. The agency is paid, then the influencer is paid by the agency. Influencer marketing platforms also accept payments and forward them to the influencer. In both cases, the brand doesn't pay the influencer directly.
How Do Influencers Make Money?
Influencers have several options to make money, which is part of why they can be so successful. Different options have different commitments as well, giving influencers freedom over how they make their money – and how much they make.
Affiliate Marketing
Affiliate marketing is a consistent way of making money across the influencer marketing spectrum. Influencers and website owners place links or coupon codes into their posts, and when users click on the links or use the codes at checkout, the influencer receives money.
Sponsored Posts
Most influencers get paid through sponsored posts. This can be any type of content that's commissioned by a brand, including blog posts, images, product reviews, videos, and more. Influencers may create a single post or a series of posts with the promoted brand, product, or service included in the content.
Visual Content
A lot of influencers leverage stunning photography or videography in their content. On occasion, they may be able to sell this content to brands or as art through a website. Brands may be able to buy the rights to the image or video as well.
Display Advertising
Display advertising with a platform like Google AdSense allows influencers with blogs or websites to include ads and get paid for them. Podcast influencers include sound bites into their shows, much like a radio commercial.
Digital Courses and Subscriptions
Influencers are experts in their niche, which is how they found success. For some, selling digital products is a great way to make passive income.
Typically, fitness, food, art, and finance influencers offer courses or subscriptions. For example, a fitness influencer may offer training and diet plans, while an artist may sell courses to learn different mediums or techniques. Food bloggers may sell an ebook of recipes, while finance experts may offer subscription-based learning services.
Product or Service Sales
Bigger influencers may have their own products, such as books, or may work as a consultant. These influencers make money from the sales of their products or consulting services. Usually this happens after the influencer gains some experience and recognition.
Collaborations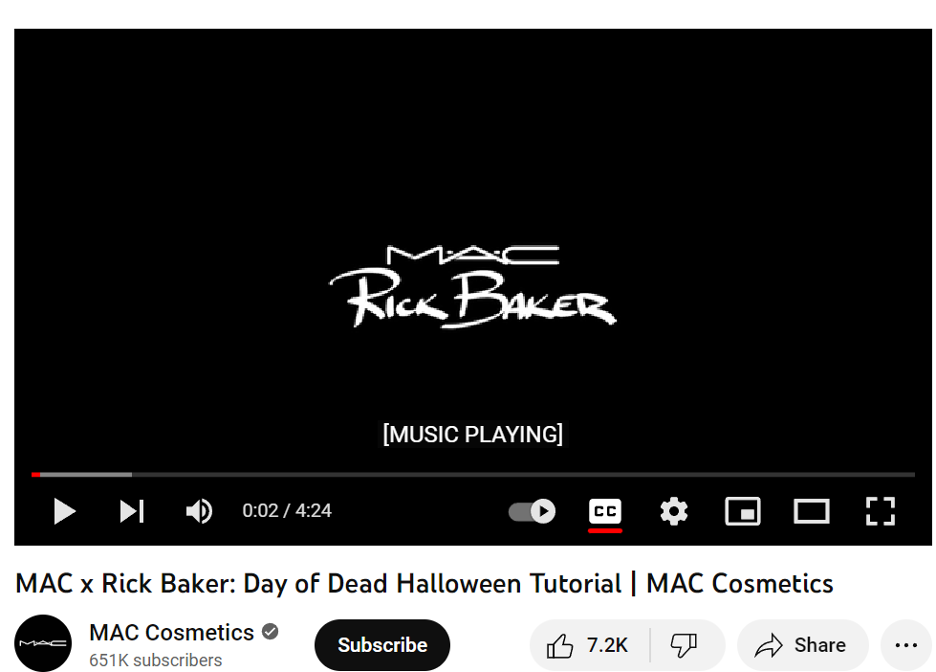 Source: YouTube
Some brands approach influencers for collaborations on product lines, such as makeup brands, fashion brands, athletic brands or food brands. This can be lucrative for both the brand and the influencer, as they're leveraging each other's equity.
For example, an athletic brand may collaborate with a professional athlete to create a line of sports equipment or sneakers. Makeup brands may partner with beauty influencers to design an eyeshadow palette or makeup brushes. The proceeds are split by percentage.
Factors That Impact Influencer Rates
There are several factors that can impact how much an influencer charges for their services. As a legitimate business, influencers set their rates based on what brands will pay.
Some of the factors that affect rates include:
The influencer reach and engagement
Their channel
How many posts or series are included
Whether there are images, videos, or audio components
How much time or effort is required of the influencer
Where the ad will be promoted
Agency fees
The perceived value of the influencer's promotion
Social Media Platform
Some influencers charge the same rates for posts across different channels, but they usually vary. Each social media platform has a different audience, and influencers charge accordingly.
Reach
An influencer's social media reach and how many followers or subscribers they have has a big impact on their rates. Generally, the larger the audience, the higher the rates will be.
The influencer categories include:
Mega-influencers: 1,000,000+ followers
Macro-influencers: 500,000-1,000,000 followers
Mid-tier influencers: 50,000-500,000 followers
Micro-influencers: 10,000-50,000 followers
Nano-influencers: 1,000-10,000 followers
Engagement
Influencer rates fluctuate based on the engagement the influencer generates for organic and sponsored content. Though it may seem that influencers with more followers will get better engagement rates, that's not the case.
Industry
The most important aspect of brand-influencer collaborations is choosing an influencer that's appropriate for the brand's industry. With competition, the industries that have more available influencers will likely have lower prices than niches with fewer influencers.
Content
The type of content an influencer creates has a big impact on the rates. Some content requires more time and energy, therefore commanding higher prices. Whether they need to provide the resources also impacts the price.
Demand
If the influencer is in high demand, such as during the holidays or for a seasonal campaign, the prices will be at a premium. High demand leads to higher rates. Popular influencers will often have premium prices, regardless of the season.
Exclusivity
Several brands may choose an influencer for their campaigns, sometimes with competitors. If a brand chooses to have exclusivity to avoid the influencer working with a competitor, that requires an exclusivity clause or a non-compete in the influencer contract. This will be expensive, however, since it costs the influencer other potential income.
How Much Do Influencers Earn Per Post?
The pricing for an influencer per post is highly variable. These estimates are the average for influencers on specific platforms:
Instagram
In 2021, the average cost for an Instagram post was $1,170 and $906 for an Instagram Story.[1]
As a baseline, the industry standard is $100 per 10,000 followers. The number of posts and additional factors like usage and exclusivity alter this standard.
TikTok
The average cost for a sponsored TikTok post is $3,514.[2] That's the second-highest rate after YouTube, which averages $4,491 per video. While this is three times the cost of an Instagram post, video content is more time-consuming to create.
TikTok has a young audience with massive reach, especially among Gen Z. The algorithm allows for a higher level of engagement, maximizing the cost and effort for influencer posts.
YouTube
As mentioned, YouTube influencers get an average of $4,491 per video. Some of the mega-influencers can get $20,000 per video. Other influencers charge based on video views, typically around $50 to $100 per 1,000 views, guaranteeing reach for the money paid.
Twitter
Twitter influencers get different rates based on the size of their audiences. The mega- and macro-influencers can get thousands of dollars per post, while nano- and micro-influencers cap at $100 per post.
Facebook
Facebook has a wide range of influencer rates based on the reach of the influencer. Nano-influencers have a rate between $25 and $250 per post, while mid-tier influencers can get as much as $12,500 per post. The biggest and most influential of creators can get over $25,000 per post.
What to Look for in Influencer Pricing
The price for influencers varies widely. Some influencers may command high prices, while others may charge exorbitant prices without the necessary audience or reach to justify it.
Brands can determine if an influencer is requesting a fair price by considering:
The right amount for an influencer depends, in part, on what a brand can afford. It's important to get a campaign return on investment to make the marketing spend worthwhile. Brands should continuously measure and evaluate influencer campaigns to gauge performance.
Industry Standards for Influencer Rates
Getting a positive ROI is a good start, but brands need to hire influencers before knowing the ROI. Brands can determine whether influencers have been successful for similar brands by looking at past performance and weighing it against industry standards for the influencer category, reach, and platform.
Leverage Influencer Marketing
These average prices and factors that determine influencer rates can help brands develop their influencer marketing strategy. It's important to remember that costs vary by platform, industry, reach, engagement, and more.[/vc_column_text][vc_column_text]Sources:
[1] https://content.izea.com/hubfs/Gated_Content/2022/IZEA%20Insights%20-%202022%20State%20of%20Influencer%20Earnings.pdf
[2] https://content.izea.com/hubfs/Gated_Content/2022/IZEA%20Insights%20-%202022%20State%20of%20Influencer%20Earnings.pdf