Influencers have risen to become a valuable aspect of digital marketing strategy. With the savviness of modern consumers, word-of-mouth recommendations can be more effective than advertising for swaying the target audience. People want to listen to subject-matter experts and get their product recommendations from those they trust, which now includes social media influencers and creators.
It's clear that brands should work with influencers to elevate their marketing strategy, but that's not always easy or straightforward. Finding the right influencers, connecting with them, negotiating contracts, protecting the integrity of the message, and avoiding problems like fake influencers is increasingly challenging.
Brands have the option of working with independent influencers or working with an influencer marketing agency, depending on their needs. Both have their advantages.
The Process of Hiring an Influencer
Influencers are hired in the same manner as other team members. These internet experts and personalities are hired to promote a brand, which may be done using:
One-time endorsements through social media posts
Content integration, such as fashion influencers mentioning brands used for an outfit
Collaborations between the brand and influencer
Product reviews and unboxing videos
Short-term and long-term brand ambassadorship
Influencers aren't usually hired on a full-time basis, but rather, per project or campaign.
Before brands hire influencers, they determine the campaign specifics and target audience, then find the most relevant influencers to promote them. Brands must consider the influencer's followers, engagement rate, reach, post frequency, follower growth, and comments.
Generally, the larger and more prominent the influencer, the more challenging and expensive it is to collaborate with them. Some influencers also artificially inflate their performance with fake followers or bots.
Then, the brand must narrow down the potential influencers to find the appropriate brand style and content alignment. It's more important for brands to find an influencer that reflects positively on their brand and aligns with the audience over an influencer that has a massive following. Some micro-influencers have small but extremely dedicated audiences.
Once the ideal influencer is selected, the brand reaches out to suggest a collaboration. This is an opportunity for both parties to choose to work together and outline expectations, which may include the vision of the campaign, post frequency, content type, deadlines, compensation structure, and more. This should all be included in a formal contract that both parties sign.
The work doesn't end there, however. After the campaign is live, the brand has to compare key performance indicators against the pre-established goals of the campaign to see how it's working. The influencer should be aware of these goals and striving to reach them as well.
Why Brands Should Consider an Influencer Marketing Agency
Hiring an influencer becomes a standard process once brands have a process in place and an existing network of creators, but the first time – or first few times – can be daunting. There's a lot of time, work, and risk involved in choosing the right influencer, using the right tactics, and avoiding any problems that reflect poorly on the brand.
A famous example of how influencer marketing can go wrong is with the now-famous Scott Disick promotion of Bootea weight loss shakes. He posted himself with the copy-and-paste caption: "Here you go, at 4pm est, write the below. Caption: Keeping up with the summer workout routine with my morning @booteauk."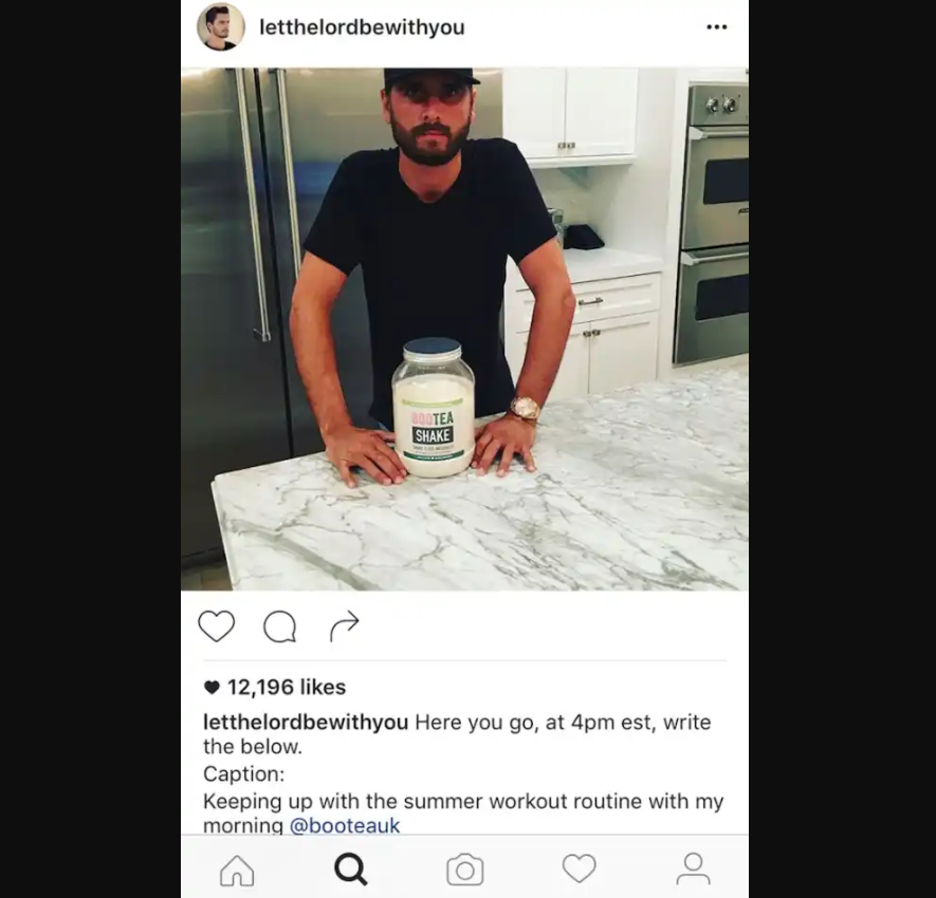 Source: US Weekly
Though the mistake was corrected quickly, plenty of followers took screenshots to immortalize the moment. He made the promotion painfully obvious and had minimal attention to detail, potentially harming his reputation as an influencer and the brand's image.
The endorsement by Disick failed, but not as catastrophically as the hotly anticipated Fyre Festival. This exclusive summer music festival was on the path to becoming one of the most successful influencer marketing case studies, especially with celebrities like Bella Hadid and Emily Ratajkowski promoting it.
Tickets sold out in just two days and thousands of people traveled to the venue for the festival, only to learn it was all a scam. The founder is serving time in jail, major celebrity influencers were humiliated, and Netflix created a documentary series.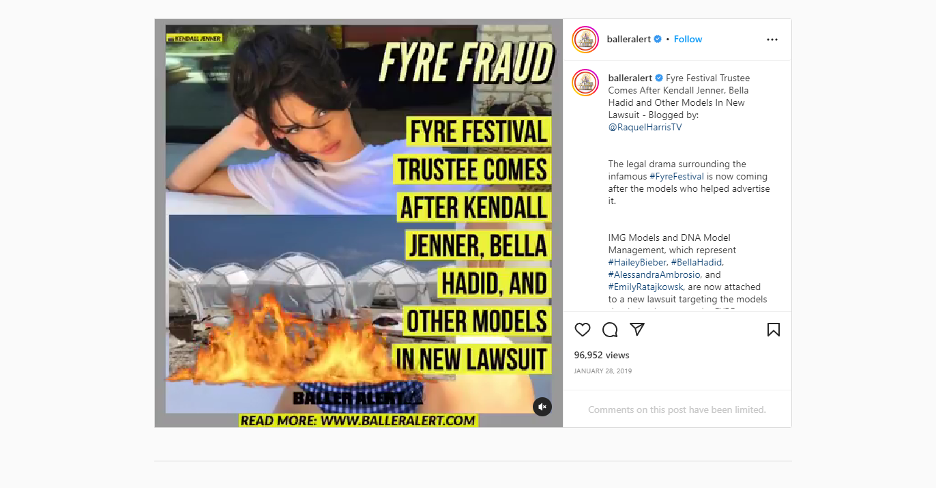 Source: Instagram
These are just a few examples of how influencer marketing can go wrong, especially if a brand doesn't protect themselves well in the negotiation process. The right influencer can elevate a brand significantly, but the wrong influencer can have far-reaching consequences. An influencer marketing agency can take a lot of the stress out of the process and offers advantages over hiring an independent influencer directly.
With an influencer marketing agency, the process is more straightforward. Brands can leverage the large network of influencers that agencies have to find the best influencers in a shorter time frame – and in the long run, it's cheaper.
But that's not all.
Influencer Marketing Agencies Bring Expert Guidance
Most business owners and marketing professionals are not experts in influencer marketing, at least not at first. There's a lot to consider in choosing and hiring an influencer, and any mistakes in the process can be expensive, time-consuming, and potentially damaging.
Influencer marketing agencies are experts in influencer marketing – that's what they do. They not only work with the best influencers across multiple industries, but they have valuable insights into what's trending in a particular industry and what influencers are in the best position to capitalize on them.
Influencer Marketing Agencies Have Connections with Diverse Influencers
With so many influencers currently working, not to mention the fake influencers, finding the right one is a laborious process. Influencer marketing agencies can streamline the search for an influencer by leveraging existing relationships with notable and proven influencers, no matter the industry or budget.
Better yet, if an influencer marketing agency doesn't have the ideal influencer in the existing network, they have the clout to find one and contact them on the brand's behalf. Given the brand's idea, the agency knows exactly how to promote it – and who's best to accomplish that goal.
Influencer Marketing Agencies Know How to Maximize a Marketing Budget
Influencer marketing costs money, whether in direct compensation or an exchange of products for reviews and other content. Some influencers can be expensive, especially in certain industries, and may be out of a brand's budget.
Influencer marketing agencies know how to make a brand's budget go as far as it can. Every dollar is maximized and accounted for. While a brand does have to pay for the agency's services, it doesn't affect the impact of the campaign. All it does is save time, stress, frustration, and ultimately, money.
Marketing agencies will work with the budget you've set and the goals for your campaign, then find a way to achieve those goals with the money you chose to spend.
Influencer Marketing Agencies Will Negotiate on a Brand's Behalf
At its core, influencer marketing is a collaborative effort. Brands have expectations, as do the influencers, and both parties work to align those into a successful collaboration.
Influencer marketing agencies know the ins and outs of the negotiation process, so they can ensure that nothing is missed. They can work out how much content the influencer is responsible for, who owns the final content, how long the collaboration will last, and the expectations of both parties.
The negotiations are based on what the brand wants for the campaign, but the agency merely streamlines the process and ensures that all parties understand where their responsibility lies in the collaboration.
In addition, the agency can be sure that the contract is a legal contract. Influencer marketing is a legal agreement like any other, so the agency acts as a go-between to iron out all the details and ensure both parties are protected. This may include thorough vetting of the influencer to be sure that they're credible.
Influencer Marketing Agencies Can Ensure Rules Are Followed
Both brands and influencers have specific language and rules surrounding social media and content. When an influencer works with a brand, they're beholden to those rules and must balance those expectations with their own personal branding and style.
Naturally, this situation is ripe for misunderstanding and misconceptions. Influencer marketing agencies not only set up expectations at the start, but they can monitor the campaigns to ensure that influencers are holding up their side of the deal. If an influencer isn't doing what they've agreed to, the agency will handle it.
Influencer Marketing Agencies Can Monitor Performance
Influencer marketing agencies not only have access to a lot of data about influencers, competitors, industry trends, and campaigns, but they have the skillset to determine if a campaign has performed as it should.
A brand working independently may struggle to find information like average viewership, cost per view, demographics, benchmark ROI, competitor behavior, and more. Agencies have huge databases with a wealth of data that can be used before, during, and after the campaign to learn what's effective for future campaigns.
Influencer Marketing Agencies Take on the Burden
In short, the role of an influencer marketing agency is to take on the stress and burden of hiring an influencer, especially for new brands that haven't worked with influencers (or have been unsuccessful). They handle all the work, from connecting with the influencers to monitoring them throughout the campaign to assessing campaign performance.