Influencer Marketing for Corporations
Influencer marketing maximizes the impact of social media's unmatched reach. Professional content creators have built an engaged following of thousands or even millions of engaged people. An influencer marketing agency has access to an entire lineup of content creators, each with their own established and engaged following.
Traditional marketing strategies just cannot get that same kind of reach without deep pockets and a massive creative team. Influencer marketing is gaining popularity among corporations that are sick of ponying up for relatively inefficient traditional advertising tactics that are difficult to measure.
The Benefits of Influencer Marketing for Corporations
Traditional corporate marketing is billboards, TV spots, and high-priced spreads in fancy magazines. (Do people even still buy those?!) This translates to steep budgets for largely unknown returns.
Where do the consumers of today spend their time? They're on their phones and tablets, cruising online content, looking to be entertained and educated. Influencer marketing meets customers where they already are.
So what does successful influencer marketing mean for corporations?
Corporations Attract Higher-Quality Leads and Customers
Roughly 51% of marketing teams believe they've acquired higher quality and more loyal customers from influencer marketing than they can capture from other traffic sources?[1]
Any lead can convert and turn into a one-time customer, but high-quality consumers have the potential to turn into loyal, recurring customers. These high-quality consumers are the people that evolve into highly effective brand advocates.
Brand advocates are more likely to organically share and rave about your products or services with friends, family, and social media. This increases brand awareness, credibility, social proof, and even sales.
Corporations Are Seeing a Better Average ROI
Every profit-driven marketing campaign has the same objective: To return more money in sales than the amount invested in the chosen strategy. Most every marketer will say that dollars are the best kind of return.
Influencer marketing packs quite a punch in ROIs. According to SmartInsights, the average return on a $1 into an influencer marketing campaign is roughly $6.50 or more. This adds up to approximately 11 times higher return than other more traditional marketing strategies.[2]
Easier and More Comprehensive A/B Testing
Influencer marketing is one of the most cost-effective strategies in motion today. Because of this, marketers can afford to test, learn, pivot, make mistakes, and refine their approach to advertising.
Corporations can try multiple influencers, collect analytics, and run a variety of A/B tests simultaneously. Collaborating with an influencer marketing agency and their lineup of content creators makes this process as streamlined as possible and delivers the most comprehensive campaign metrics.
The Power of Infinite Shareability + Earned Media
One influencer could have thousands, hundreds of thousands, or even millions of followers. Even more if your marketing campaign is deployed across multiple platforms. When corporations collaborate with multiple influencers in a single campaign, the potential reach is virtually unlimited.
Content created by a micro, macro, or mega influencer often gets shared and buzzed about. Their carefully curated content sees far more impressions and engagements than standard brand-produced fare. Therein lies the potential to go viral and boost the message farther than just initial reach projections.
While not every post or campaign goes viral, when it happens, it's an efficient and effective path to increased earned media! This puts a brand in front of a larger pool of target customers.
Notable Use Cases for Influencer Marketing for Corporations
Chips Ahoy!
One of the challenges for the popular snack brand Chips Ahoy! was to reach teen audiences on social media in a way that's both safe and effective. Chips Ahoy! leveraged influencer marketing to drive awareness for its brand, complete with a diverse group of artists, actors, and influencers combining fun content with augmented reality. Using Instagram stories, posts, and dances, the campaign challenged young teens to engage with the Chips Ahoy! mascot and learn more about the brand.
Source: @chipsahoy
OREO and McDonald's
Two powerhouse brands – OREO and McDonald's – combined forces with lifestyle and foodie influencers for the "fresh spring moment" to boost awareness and sales for the OREO Shamrock McFlurry. With a lot of creative latitude, the campaign allowed for exciting dances, scenery changes, and outfit changes that show the fun and refreshment of trying the OREO Shamrock McFlurry.
Throughout the campaign, influencers took their audience on a special journey that started with the purchase of the McFlurry from a nearby McDonald's, all the while discussing the limited availability and huge partnership between two known brands. Ultimately, this campaign built a ton of excitement and urgency for the audience to run out and grab their McFlurry before time ran out.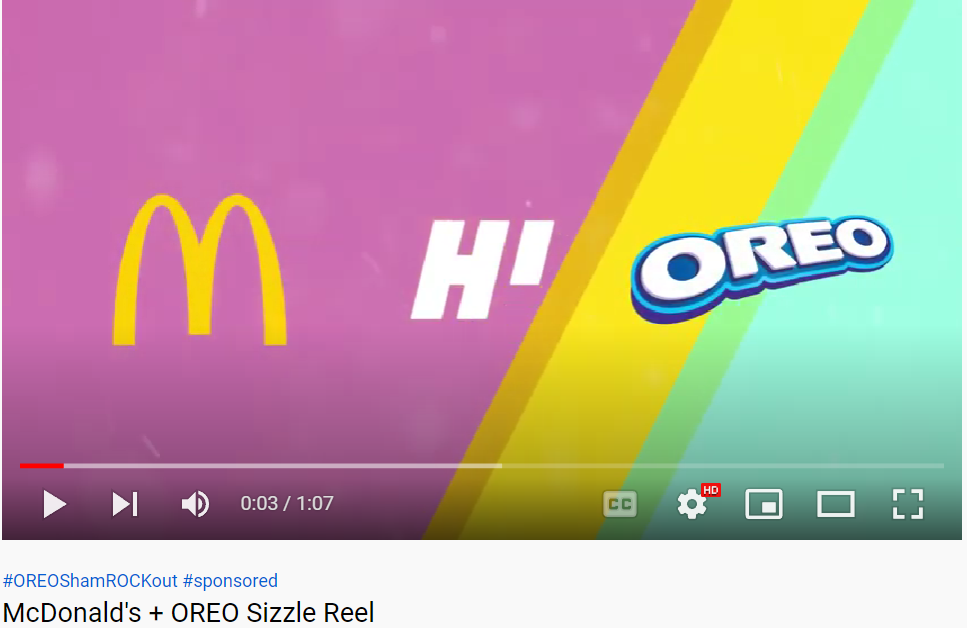 Source: YouTube
Peet's Coffee
With a focus on passion, Peet's Coffee launched a $1.1 million advertising campaign with video spots and influencers to promote their "What Fills Your Cup" content. Leveraging influencers in diverse industries – including a chef, photographer, musician, pro surfer, and Peet's own roastmaster, creators encouraged fans to upload a photo of themselves pursuing their personal passion to enter into a sweepstakes for a year's supply of Peet's. The campaign launched on Facebook, Snapchat, and Instagram, connecting with a massive group of consumers.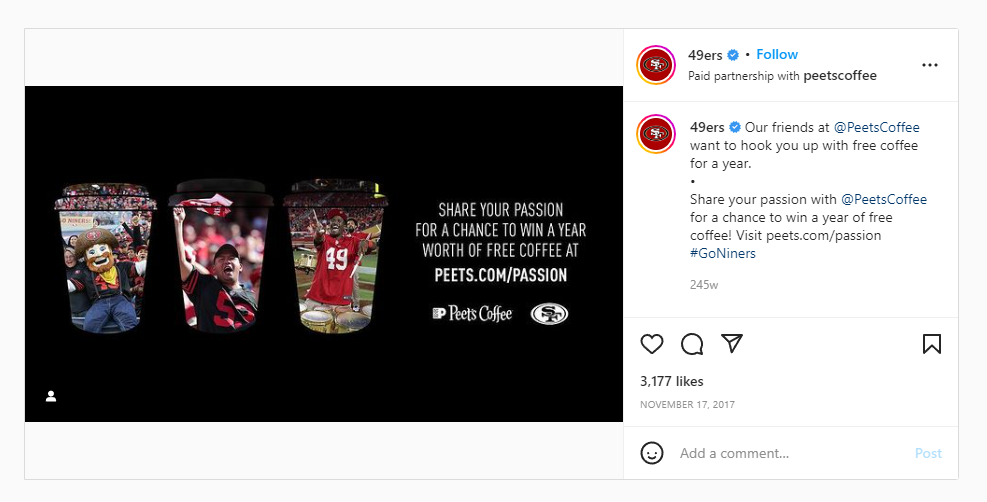 Source: @49ers
Burger King
In one of the cleverest of influencer campaigns, Burger King "tricked" influencers into promoting their products. The brand liked old posts from years prior on influencer accounts, prompting attention from their targets.
After trying this out on a bunch of influencers, Burger King responded with a simple tweet – "Some things from 2010 are worth revisiting – like your old tweets, and funnel cake fries. Get them now for a limited time." Brilliant, simple, and a little devious, Burger King drummed up a ton of attention.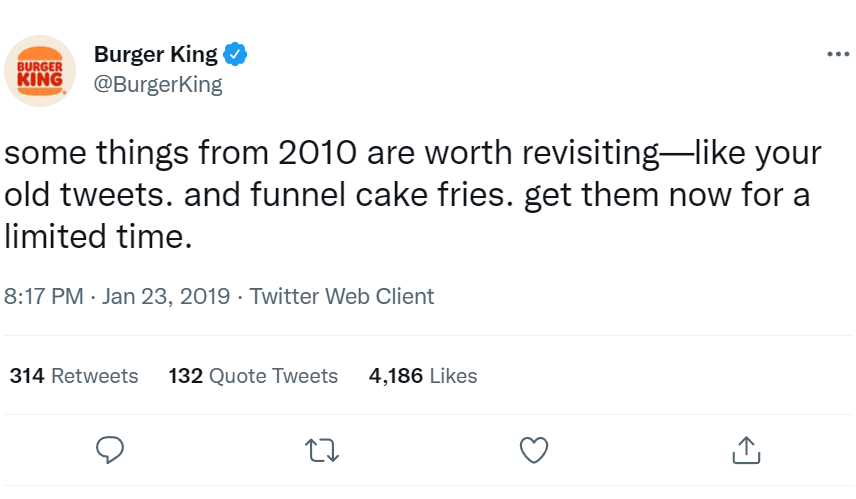 Source: Twitter
Southwest Airlines
Southwest Airlines sought influencer marketing to elevate its brand with user-generated content. Instead of stock photos, the campaign posted content that was designed to make the audience feel that they were in on "local secrets" of Hawaiian locals. This was mostly achieved through account takeovers.
The influencers were all Hawaii-based and within the categories of food and dining, lifestyle, family, surfing, and adventure to match key markets. The campaign was successful to boost sales for winter getaways to Hawaii.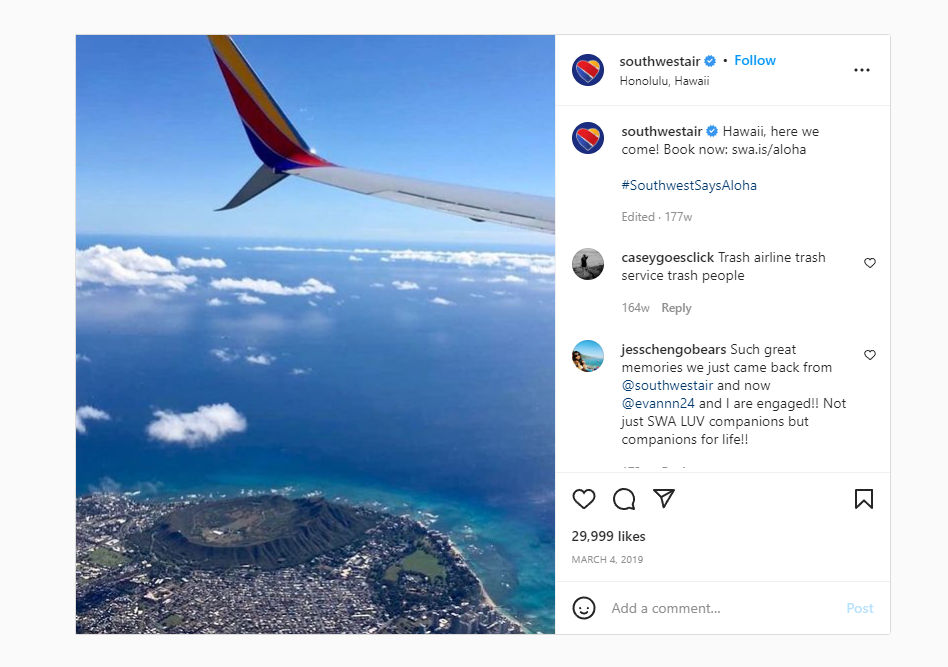 Source: @southwestair
Nickelodeon
The Nickelodeon brand launched the #TMNTxWalmart influencer marketing campaign to relaunch the Rise of the Teenage Mutant Ninja Turtles series with toys, bedding, and other merchandise. Using both interior designers and family influencers, the brand showcased the new character designs and merchandise that suited an affordable budget with themed TMNT merchandise.
The campaign was incredibly successful and showed audiences the versatility, creativity, and hype of the TMNT, Nickelodeon, and Walmart brands together.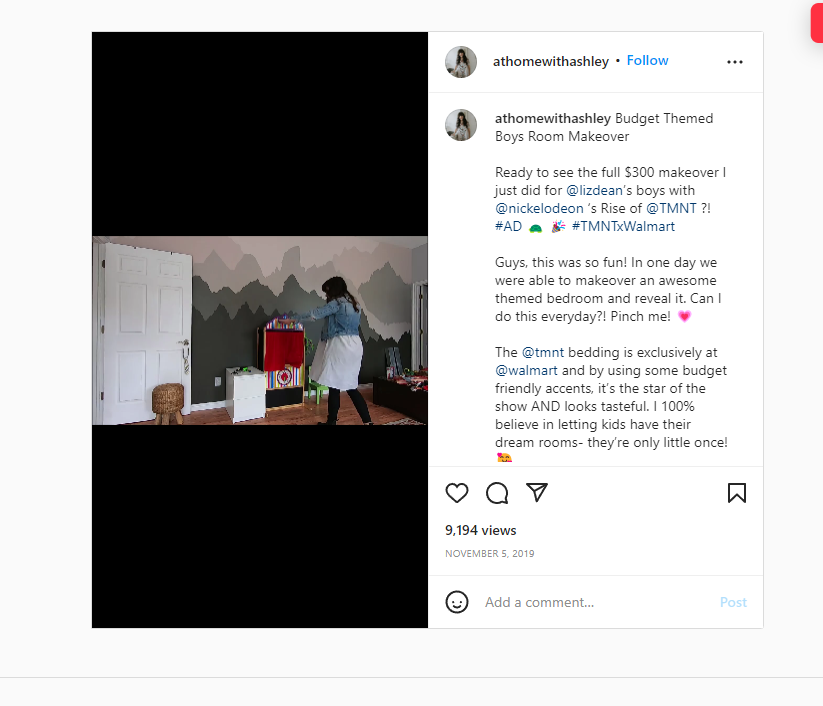 Source: @athomewithashley
Payless Shoes
Payless Shoes needed an influencer campaign to help with its Back to School campaign called #ownyourstyle. The campaign brought awareness to the brand's new fall offerings while promoting the stylish products for affordable prices. User-generated content inspired audiences and elevated the influencer campaigns on Instagram, Snapchat, Facebook, and YouTube.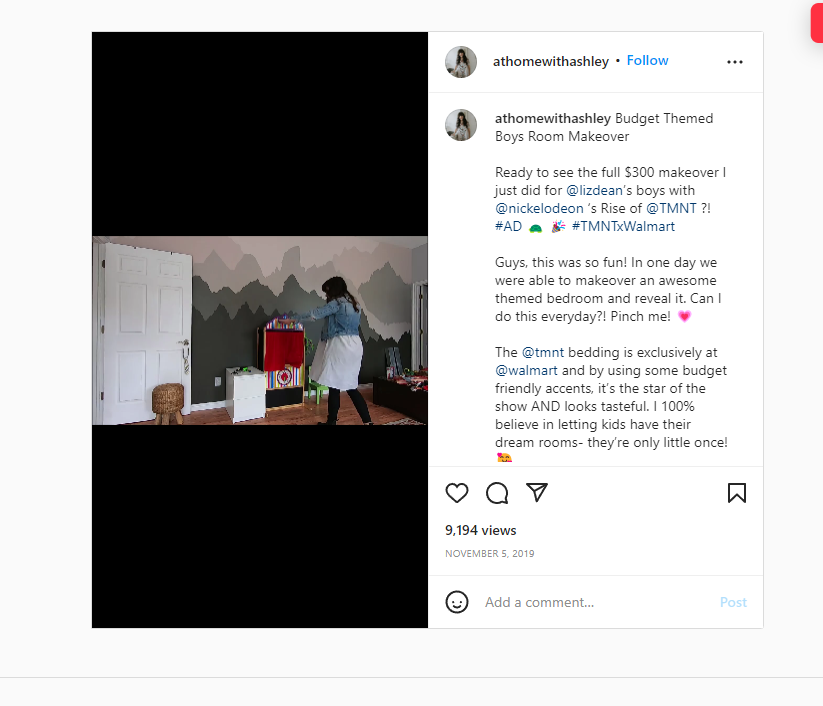 Source: @payless
Visit Carlsbad
The Visit Carlsbad brand wanted to boost its image with luxury travelers, wellness seekers, culinary enthusiasts, and golf and tennis players. With its "Colors of Carlsbad" influencer campaign, the brand made Carlsbad one of the top travel destinations for Insta-worthy shots of sandy beaches, azure ocean, floral fields, and green fields. The content aligned with the "Pantone Colors of Travel 2018" to help travelers find the most vibrant travel destinations for their social feeds.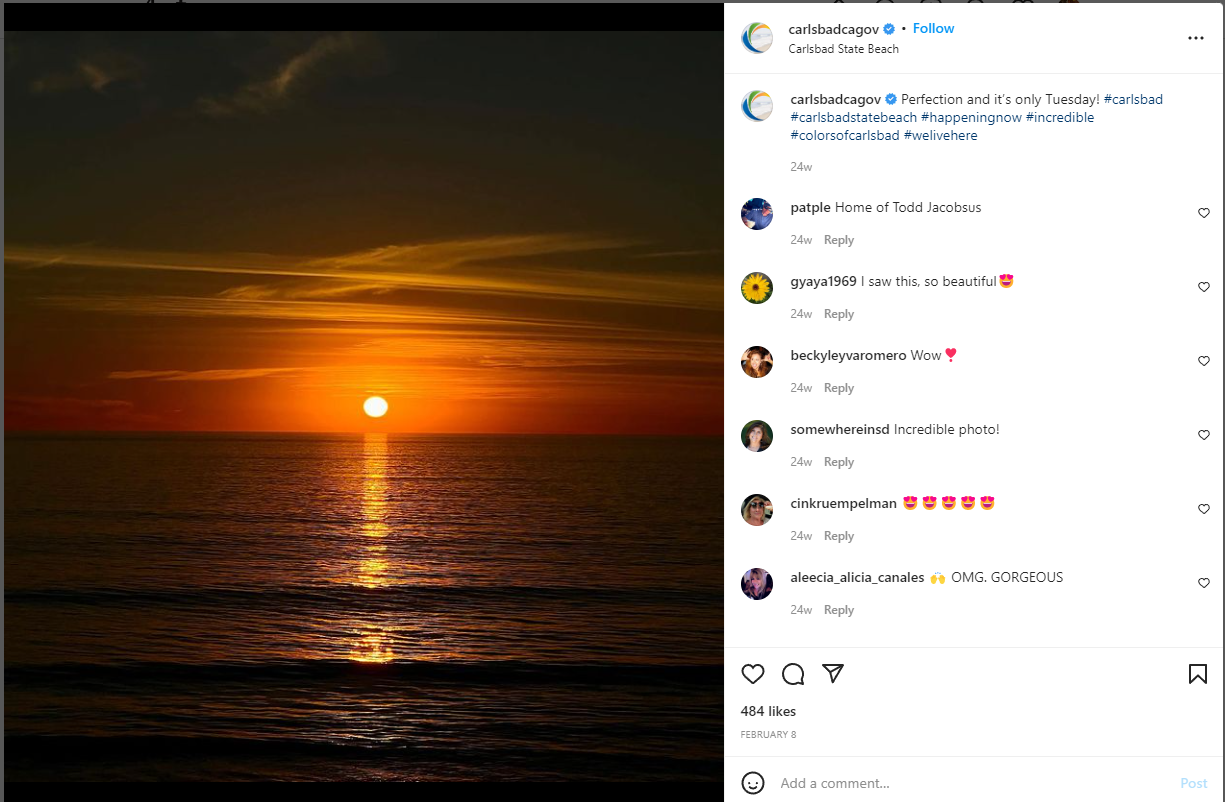 Source: @carlsbadcagov
Ricola
Ricola launched the #voicesthatthrive influencer marketing campaigns to position its product as an everyday item for consumers to stay healthy. The influencers were diverse and included lifestyle influencers, podcasters, athletic coaches, doctors, actors, and singers showing how they use Ricola for a "pick-me-up," such as taking a Ricola drop before recording a podcast. With the versatility of the influencers involved, the brand was able to showcase its many different features and uses.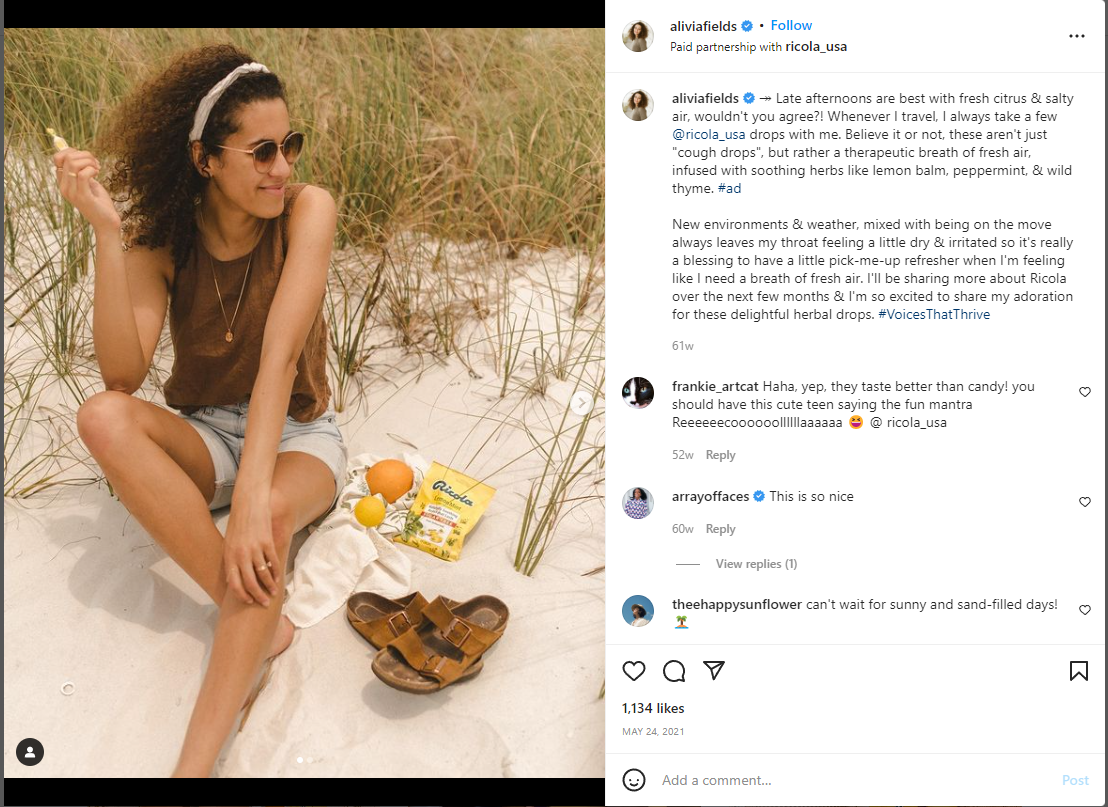 Source: @aliviafields
The Sustainability of Influencer Marketing for Corporations
Corporations are generally seen as unattached, distant conglomerates that are disconnected from their audience. Influencer marketing has the power to change the narrative for big brands and mega corporations, it's already happening.
Relationships are at the core of what influencer marketing is really about. Creating and maintaining healthy, genuine relationships with consumers in order to build trust, credibility, and brand loyalty. Professional content creators make a brand feel more personable, more relatable. More human!
Products have a shelf life while relationships can last a lifetime. Corporations simply can't achieve this kind of relationship status from their lofty corner offices. In order for corporations to build longevity and transform into a true legacy brand, influencer marketing is their best bet.
Influencer Marketing For Growth
Influencers and content creators already have a robust online reach. They're essentially professional awareness raisers. Not only can they drive direct sales and lead capture, they generate word-of-mouth growth and help brands manage their online reputation.
Influencers help brands reach entirely new markets and audiences where you may be virtually unknown. A local brand can have global impact by leveraging an influencer marketing agency with influencers across the globe! The growth potential is unmatched!
Sources
[1] https://www.smartinsights.com/online-pr/essential-influencer-marketing-facts-for-2020/