New York is seeking to restrict the way online platforms like Instagram and YouTube can collect and share children's personal information and break the "addictive" hold these platforms have, based on legislation proposed Wednesday.[1] 
According to Attorney General Letitia James, the bills offered by state leaders are designed to protect children from features that are designed to encourage endless scrolling and endanger their mental health and development. 
James said, "Young New Yorkers are struggling with record levels of anxiety and depression, and social media companies that use addictive features to keep minors on their platforms longer are largely to blame. This legislation will help tackle the risks of social media affecting our children and protect their privacy."[2]
This is yet another move toward regulations for social media in the US that mimic those of Europe, which have fines equivalent to a percentage of revenue that could cost tech companies billions of dollars. 
Stop Addictive Feeds Exploitation (SAFE) for Kids Act
The SAFE for Kids Act is one of the bills proposed by New York that gives parents the option to opt their children out of getting feeds that are curated by a social media algorithm. With this option, children would get a feed of content from users they follow in chronological order.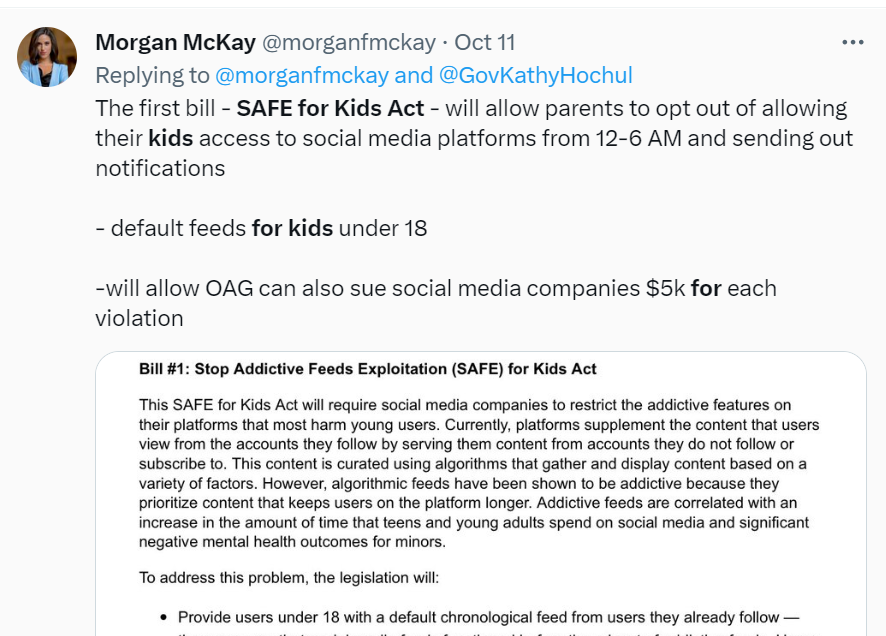 Source: X
Typically, algorithms seek to keep users engaged by suggesting content based on the content the user has interacted with in the past. 
One of the driving forces behind the bill comes from middle school teacher Kathleen Spence who spoke in support after her experiences with her daughter and the students in her class. She's aware of the addictive nature of social media from the class, but she also attributes her 21-year-old daughter's mental health struggles – including an eating disorder and near suicide – to social media and inappropriate posts and images that filled her feed for two decades.
Another element of the bill is the option to allow users to block access to social media platforms between the hours of midnight and 6 a.m., as well as limit the time children are permitted on a site.
The New York Child Data Protection Act
Another bill was introduced in New York this week: the New York Child Data Protection Act. This bill would prohibit online sites from collecting, using, sharing, or selling personal data of anyone under the age of 18 unless they receive informed consent.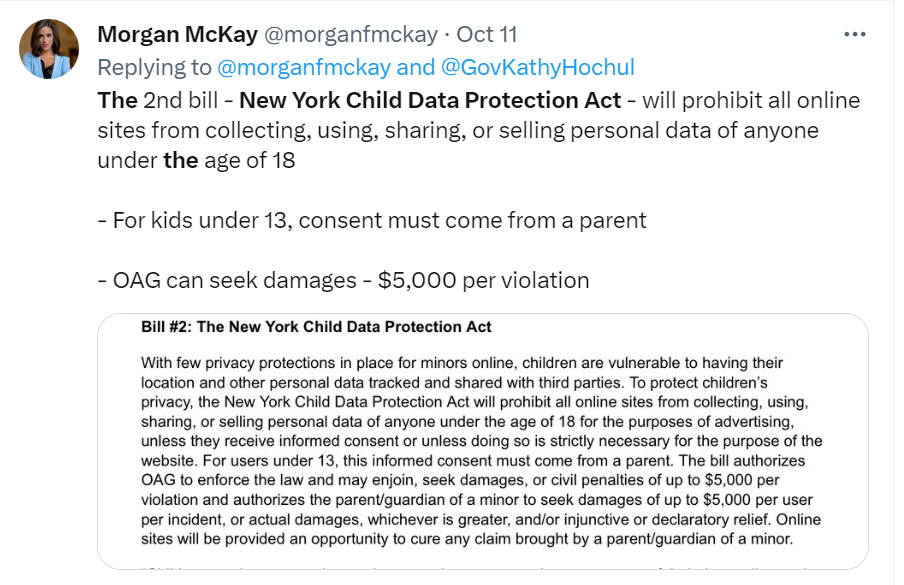 Source: X
Meta, which is based in California and owns Facebook and Instagram – two of the most popular social media platforms – argues that parental supervision and control settings are already in place to ensure that teens see age-appropriate content. 
Meta's Head of global safety, Antigone Davis, said in a statement, "We refer to research, feedback from parents, teens, experts, and academics to inform our approach and we'll continue evaluating proposed legislation and working with policymakers on developing simple, easy solutions for parents on these important industrywide issues."[3] 
The Shift Toward Regulating Social Media
These two bills in New York are the latest in a line of regulations that are placing digital rules on social media. 
The Digital Services Act in Europe prohibits platforms from using children's data and online activity to target them with personalized content. The European Union also requires platforms to provide an alternative to automated systems that recommend videos and posts.
The General Data Protection Regulation (GDPR), which has been in place since 2016, created more robust data safeguards and rights for EU citizens, including measures to protect the data privacy of children. 
As far as the US, the legislation in New York adds to measures taken by other US states regarding social media and children. Utah was the first state to pass laws that require minors to get parental consent before using social media. This law includes a digital curfew for children and bans ads from being shown to minors.
Arkansas also proposed legislation that requires parental consent for children to create social media accounts, but it was blocked by a federal judge. Earlier this year, Montana enacted a ban on TikTok, which was met with a lawsuit from the social media giant. 
New York City represents over 800 tech companies. Naturally, the sector opposed the legislation, citing free speech issues and logistical and privacy concerns with verifying the identities and age of users. 
Despite this, policies to curb the effects of social media on youth mental health receive bipartisan support. President Biden already called on Congress to ban targeted online advertising toward children. The Surgeon General warned against the effects of intensive social media usage and a rise in anxiety and depression among adolescents.
Looking Forward
New York's bill could be considered as early as January when the 2024 legislative session begins, but it's likely to encounter a lot of resistance from the tech industry. Both bills would empower the state attorney general to enforce violations for the platforms as well. 
Sources:
[1] https://www.nytimes.com/2023/10/11/nyregion/tiktok-instagram-algorithm-children.html
[2] https://apnews.com/article/data-privacy-regulation-facebook-instagram-social-media-798dbfa6004da3a2aa2c36031369a909
[3] https://apnews.com/article/data-privacy-regulation-facebook-instagram-social-media-798dbfa6004da3a2aa2c36031369a909