It's been a busy time for X – formerly Twitter. Every day that goes by seemingly brings new changes and updates on the social media platform from owner Elon Musk, who just acquired the Twitter platform in October 2022 for $44 billion.
In just a short time, Musk has revamped every aspect of the company, from the name to technical features to consumer policies. The biggest one, perhaps, is the Twitter Blue verification check, but it's been a busy summer.
Here are some of the highlights in the recent X-sphere, including the challenge to a cage match between Musk and Zuckerberg, big platform changes, and more virtual fights.
Twitter Is X Now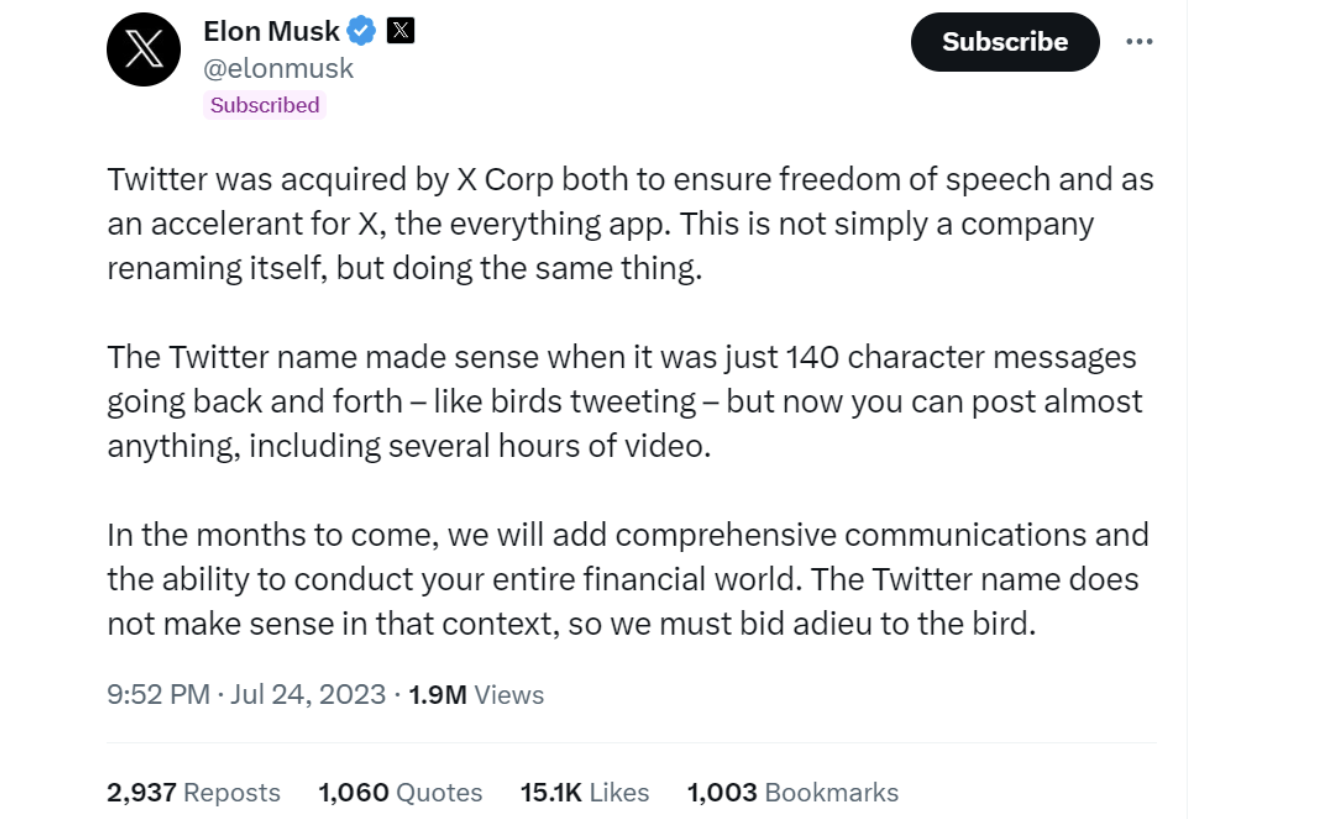 At the end of July, the app formerly known as Twitter announced its official rebrand to X. Along with that, X.com redirects to Twitter.com, the company's headquarters has a flashing X where there was once a bird, and the app and its notifications show up with an X logo.[1]
The rebrand is part of the ongoing transformation of Twitter, once a thriving app. According to Musk, Twitter was acquired by X Corp to "ensure freedom of speech and as an accelerant for X, the everything app."[2]
Instead of short 140-character posts – like birds tweeting to each other – the app's new direction is to be something like China's WeChat. Consumers will be able to shop, watch videos, listen to a podcast, and more. In theory, anyway.
Source: X
As far as the reason for X, it's a common theme in Musk's other endeavors. His space exploration venture is SpaceX, his artificial intelligence app is xAI, and one of Tesla's earliest models was the Model X. He also calls his son "X."
The Musk vs. Zuckerberg Fight Is Dead in the Water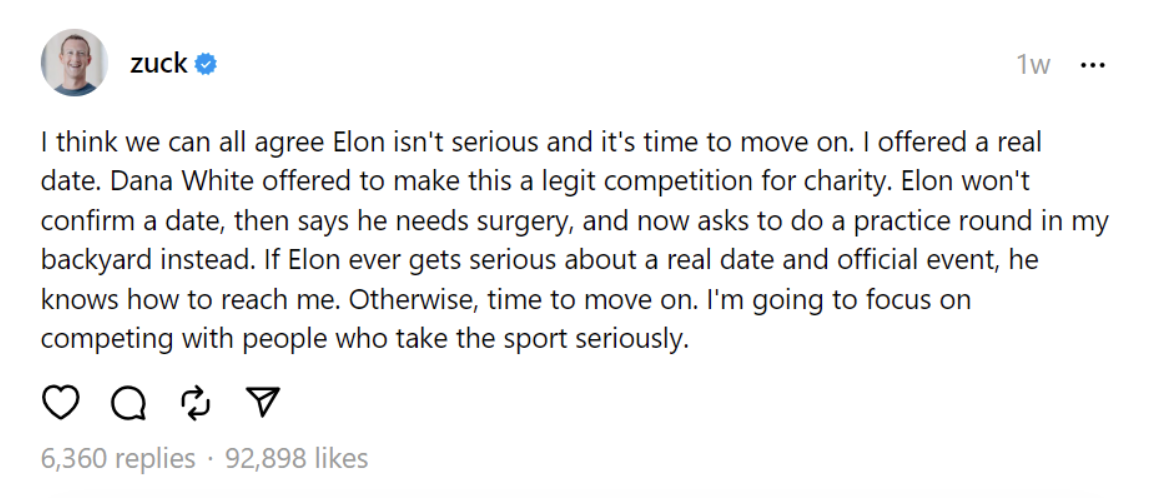 Earlier this summer, Musk publicly challenged fellow tech billionaire Mark Zuckerberg to a cage match. Since then, he's been coming up with any and every excuse to avoid going through with the fight.
Despite a lot of back and forth and involvement from some of the biggest names in MMA backing the opponents or planning the event – including Dana White and former UFC Hall of Famer Royce Gracie – Zuckerberg publicly stated that Musk "isn't serious" about the cage fight and that everyone should "move on."
"Elon won't confirm a date, then says he needs surgery, and now asks to do a practice round in my backyard instead," the Meta chief executive wrote on his Threads platform. "If Elon ever gets serious about a real date and official event, he knows how to reach me. Otherwise, it's time to move on. I'm going to focus on competing with people who take the sport seriously."
Source: Threads
Musk Teases X for Banking
Part of Musk's "everything app" vision is to entrust the platform with money as an in-stream banking app. The billionaire did have a role in the first iteration of PayPal and wants to elevate the capabilities of X as a banking app for services, loans, and credit options.
It's a good idea in theory, but Meta tried a similar initiative last year and Zuckerberg had to appear before the House Financial Services Committee to justify his decisions to regulators. There are also challenges with the public's trust in social media as a payment provider, given the issues with data security and privacy. That gets even more complicated with Musk, who's made his dislike of the FTC and SEC very public.
X Seems to Delay Links from Other Sites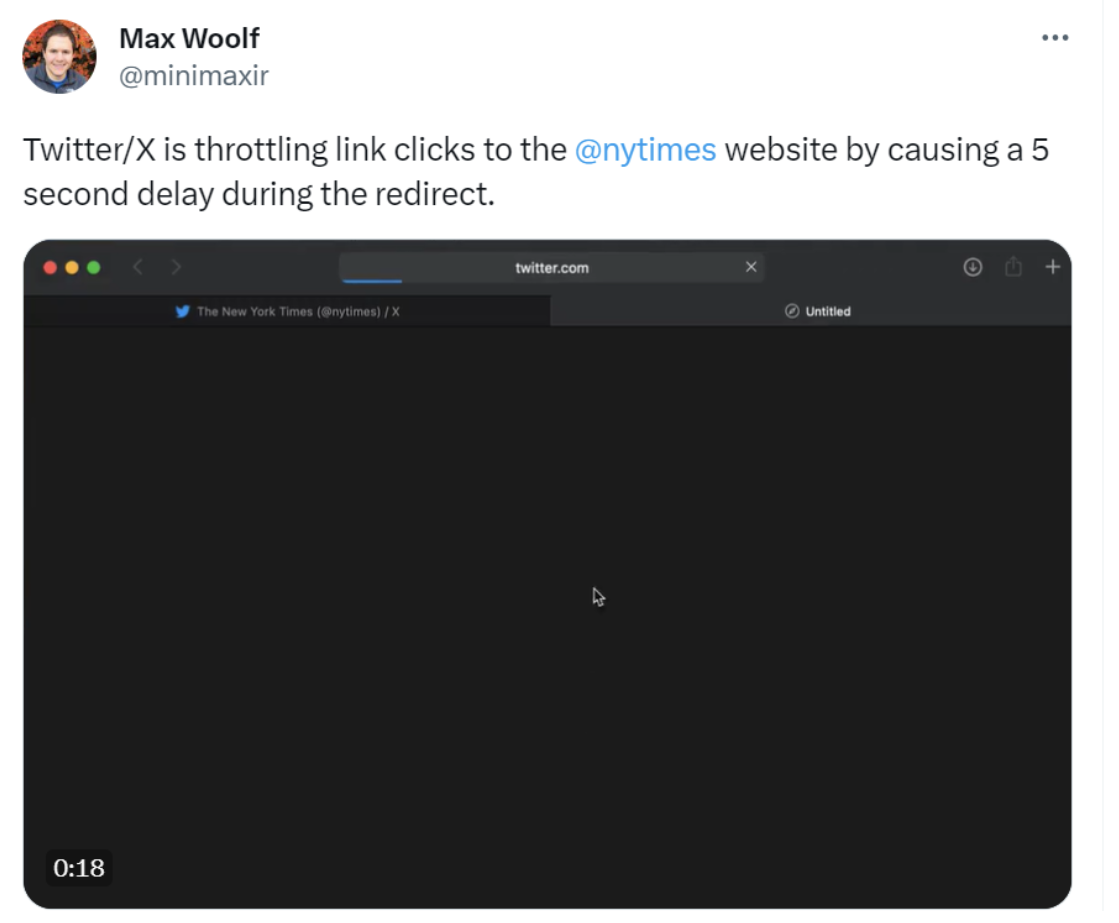 On August 15, users noticed a five-second delay that slowed access to sites like Reuters, the New York Times, and Instagram. The sites with slow links include competitors to Twitter and news publications that have been critical of Musk's takeover and subsequent behaviors.[3]
Source: X
The Washington Post tested the delays and found that if someone clicked a link on X, it would send them to another site, which opened to a blank screen for a few seconds. Though this was fixed quickly, it's another sign of Musk's ongoing battle with his detractors.
X Tests Hiding Headlines from News Links
On August 23, Musk urged journalists to publish their content on X directly because the platform is testing a change that hides headlines and other text from tweets that link to news articles. This change is designed to get more creators and journalists to publish directly on the app in exchange for a share of subscriptions and ad revenue.
Musk Blocks Actor James Woods After Weekend Twitter Spat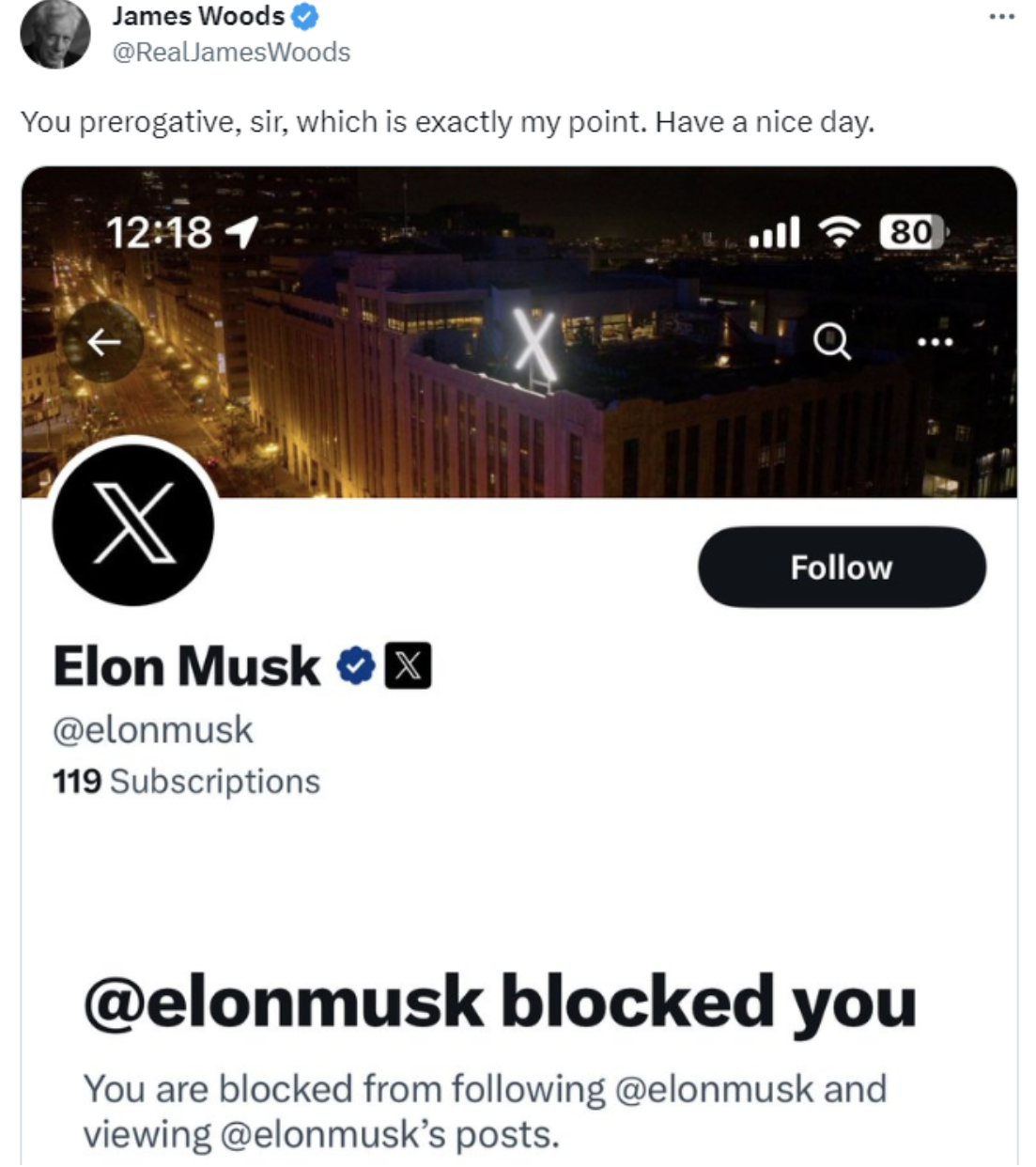 No stranger to virtual fights that get out of hand, Musk has blocked actor James Woods following a spat the two had this past weekend. This was – ironically –over Musk's plans to remove the "block" feature, which he then used to block Woods.
On August 18, Musk announced his decision to rebrand and dramatically limit the ability of users to block other accounts. Woods, a vocal celebrity, expressed his displeasure at the decision and noted that it leaves people vulnerable to harassment from "trolls or organized political entities."
He also went on to say "Musk, whom I once championed, is only doing this to protect his advertisers anyway. Users of X are mere pawns to turn the site into an electronic shopping mall. The man I thought was a defender of free speech is just another greedy capitalist. Disappointing, but not surprising."
He not so subtly pointed out the irony as well:
Source: X
Musk Says That X "May Fail"
In mid-August, Musk publicly stated that the social media app "may fail' following a glitch that caused pictures posted before December 2014 to be deleted. He went on to say that "the sad truth is that there are no great 'social networks' right now."
Source: X
The future of Twitter, X, or any other Musk endeavors remains to be seen. But for now, Musk is busy with a lot of overhauls and pivots as he comes up on a year of his platform ownership of the former Twitter platform.
Sources:
[1] https://www.cbsnews.com/news/twitter-rebrand-x-name-change-elon-musk-what-it-means/
[2] https://www.cbsnews.com/news/twitter-rebrand-x-name-change-elon-musk-what-it-means/
[3] https://www.forbes.com/sites/siladityaray/2023/08/22/x-reportedly-tests-hiding-headlines-from-news-links-as-musk-urges-journalists-to-publish-directly-on-platform/?sh=5f81aba62347