Updated for 2023
Influencer marketing is gaining popularity all over the world, including in Australia. Influencers from the Land Down Under are among the most prominent influencers and content creators on social media and represent diverse industries like travel, fitness, fashion, and food.
In fact, Australian influencers on popular platforms like TikTok, Instagram, and YouTube are contributing so much to the online community that they're household names, even in other countries. Here are the 10 biggest Australian influencers and content creators with passionate followings all over the world.
1. Emily Skye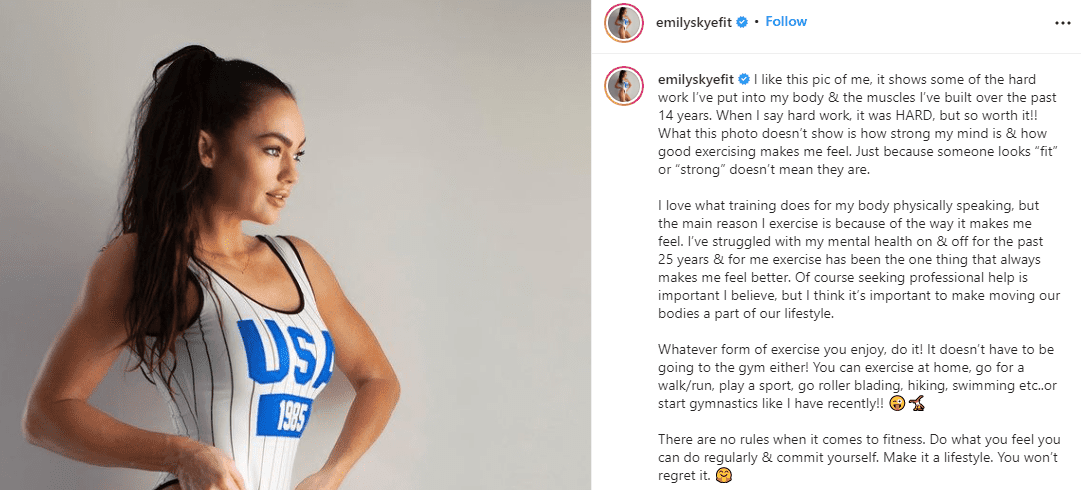 With over 60,000 followers on YouTube and 2 million followers on Instagram, Emily Skye is a legend among Australian influencers. Hailing from Gold Coast, Queensland, the popular fitness model has an industry focus on health, fitness, and body confidence, and she offers her proprietary F.I.T. program to help people succeed with their fitness goals. Along with fitness content, she shares a lot about her life as a professional and a mother, such as her experience giving birth to her son at home.
2. Kayla Itsines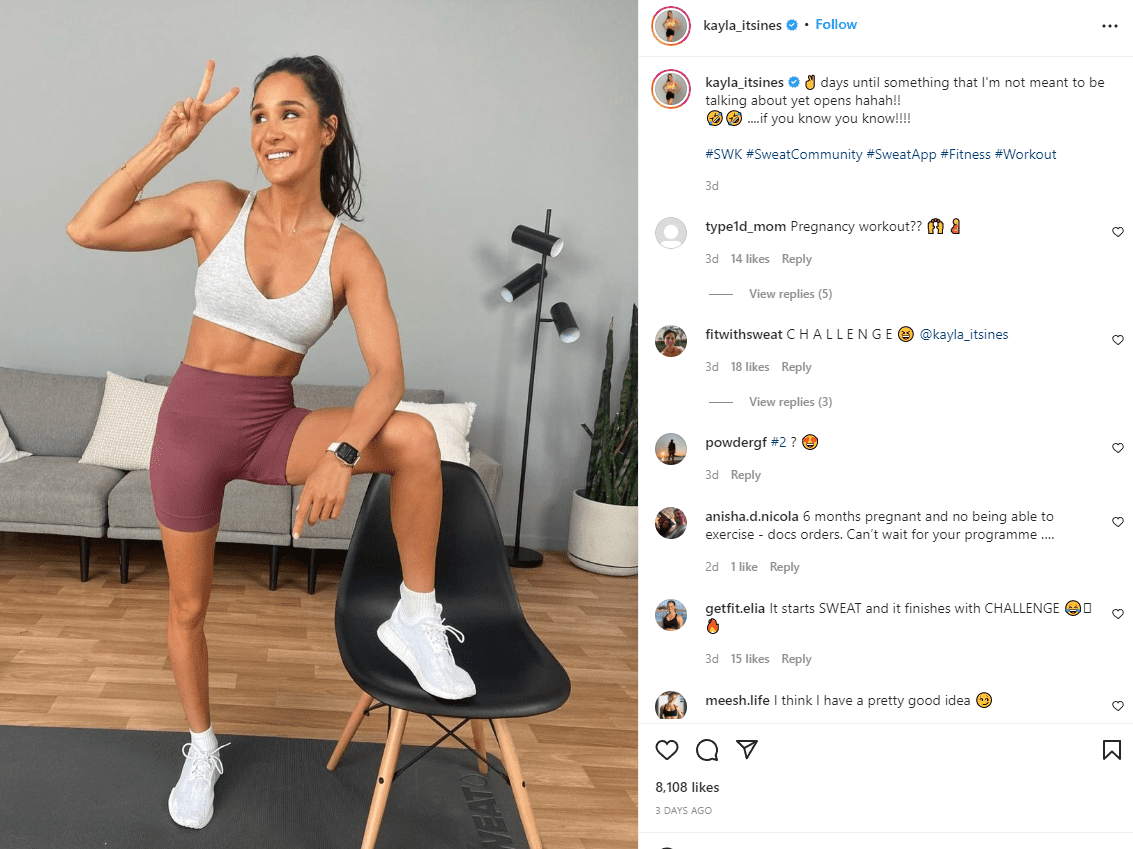 Kayla Itsines is an Australian fitness guru from Adelaide with over 178,000 subscribers on YouTube and 6.9 million followers on Instagram. She has a meal-planning and exercise app, Sweat with Kayla, and her own Bikini Body Guides workout programs. Her app is one of the most successful apps of its type in terms of revenue.
3. Wengie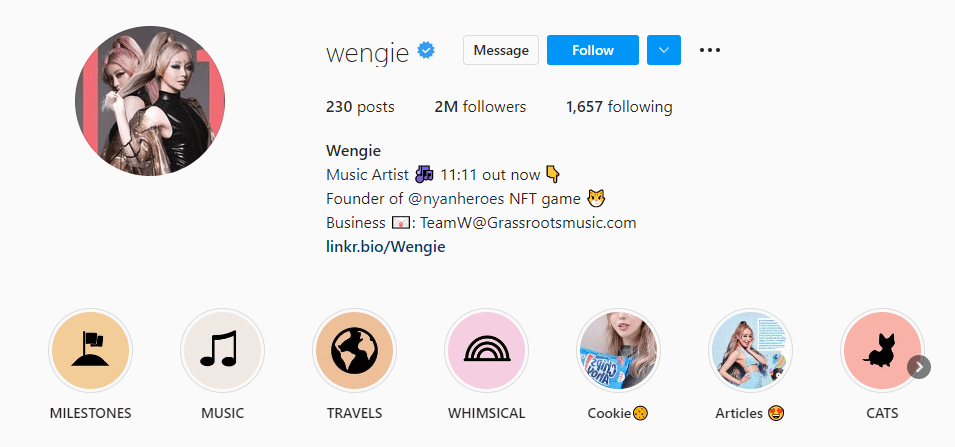 Wendy Ayche is an Australian-Chinese influencer with a lifestyle and beauty channel on YouTube and Instagram. Her handle is Wengie, and her vlog channel is WengieVlogs, which give her audience a behind-the-scenes look at her personal life, including pranks, morning and night routines, life hacks, and DIY tutorials. Her quirky and approachable nature contributed to her loyal following.
4. MyCupcakeAddiction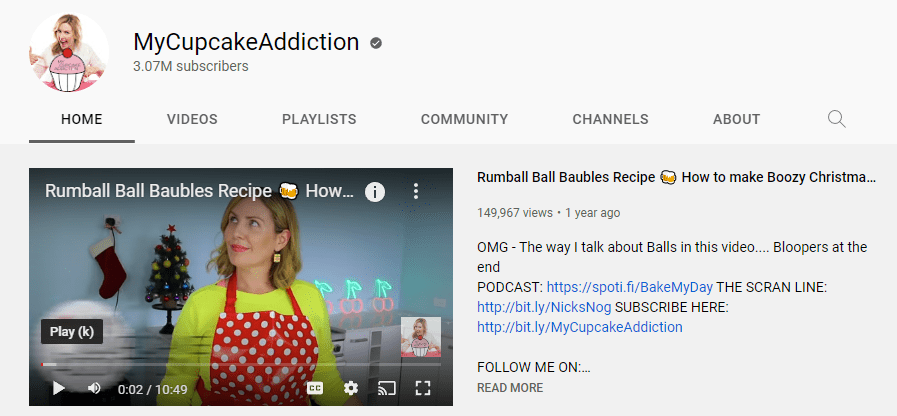 Run by Elise Strachan, MyCupcakeAddiction is a popular dessert channel and a Food Network Show "Sweet Smarts." Elise has over 3 million subscribers on YouTube and 1.2 million followers on Instagram. Along with her dessert tutorials and recipes, she creates foodie-inspired jewelry that ships all over the world.
5. Ozzy Man Reviews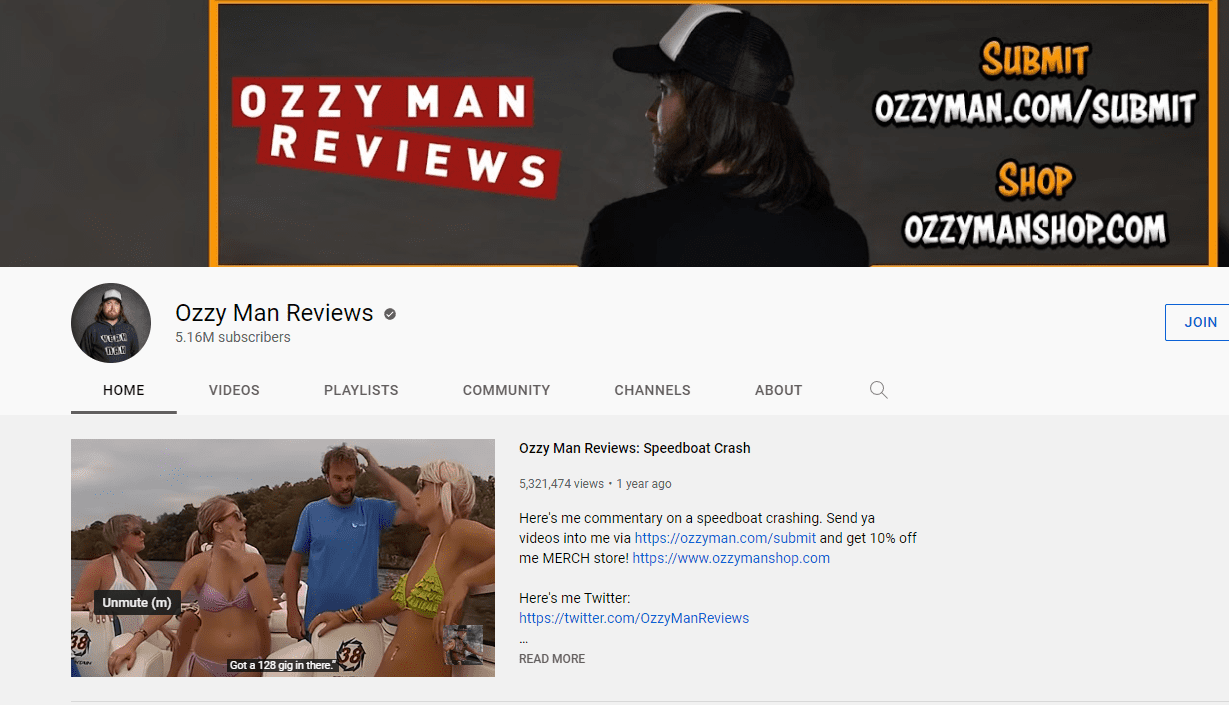 Ethan Marrell hosts Ozzy Man Reviews and focuses on pop culture, sports, nature, and other topics on social media. He gained popularity for his reviews because of his hilarious approach and often touches on everyday life in his content. He has over 1.3 million subscribers on YouTube and 361,000 followers on Instagram, making him bigger than any other influencer from Western Australia.
6. Chloe Morello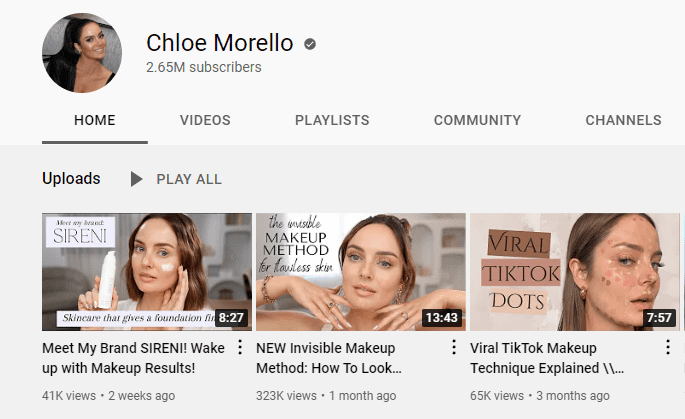 Located in New South Wales, Chloe Morello is a beauty, lifestyle, and fashion influencer who showcases new makeup looks and style inspiration on her YouTube channel. She has over 3.1 million subscribers on YouTube and 907,000 followers on Instagram, making her one of the most influential vloggers in the world.
7. Lauren Curtis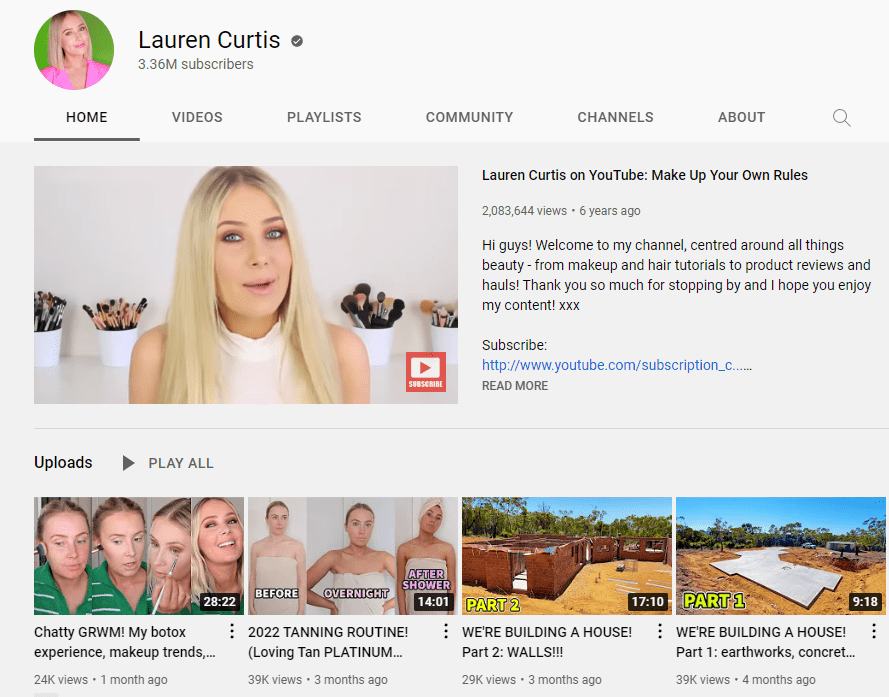 Located in Perth, Lauren Curtis is a YouTuber who offers content on beauty and lifestyle, including hairstyle tutorials, makeup tutorials, and product reviews. She has over 3.6 million subscribers on YouTube and 1.5 million followers on Instagram.
8. Rackaracka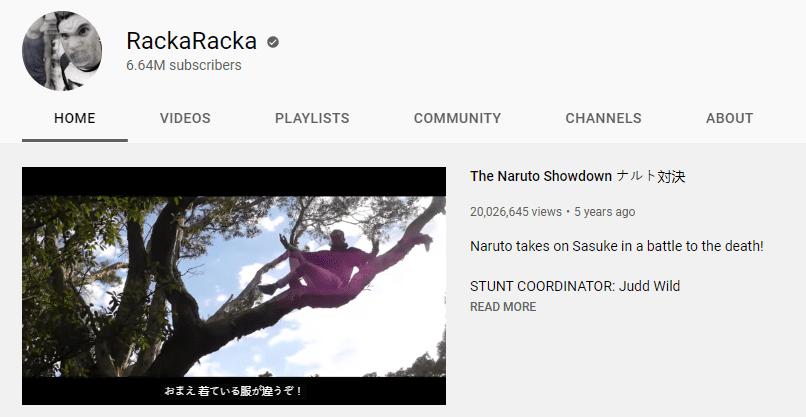 Rackaracka is a YouTube channel hosted by twins Danny and Michael Philippou. Their channel focuses on live-action videos with pop culture references, including extreme dares and pranks, combat videos, and dark comedy.
Despite being controversial and over the top, Rackaracka has over 3.7 million subscribers on YouTube and 148,000 followers. Several videos have been banned for excessive violence, sexual content, and vulgarity.
9. How To Cook That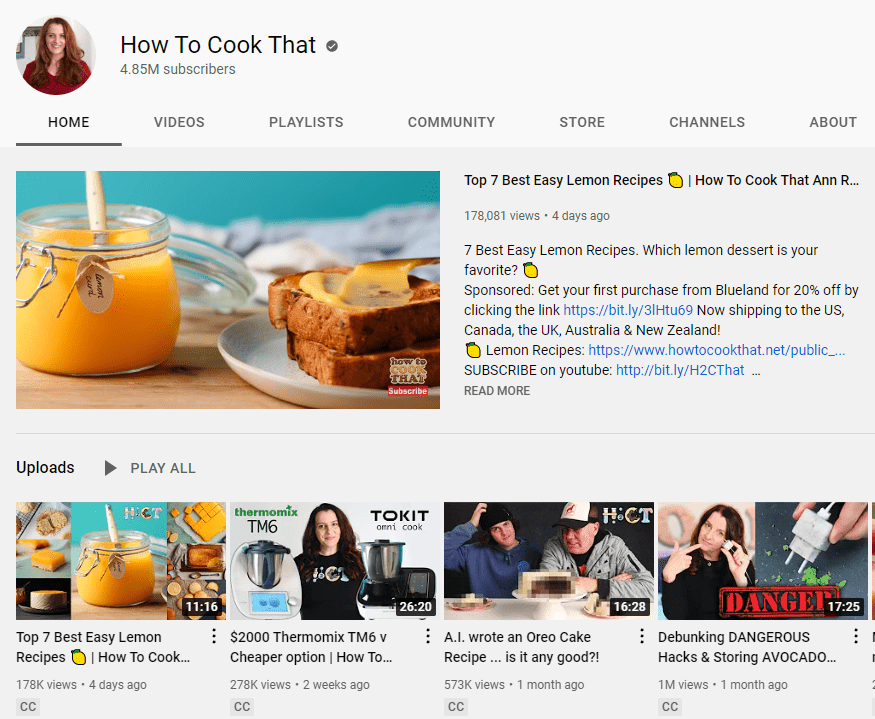 How To Cook That is a cooking channel on YouTube hosted by Ann Reardon, a certified scientist and dietitian. She gained popularity for her colorful creations that reference fun concepts and pop culture, serving as inspiration for creative bakers and pastry chefs.
She has over 3.1 million subscribers on YouTube and 217,000 followers on Instagram and her baking series is the number one baking series in Australia.
10. Tammy Hembrow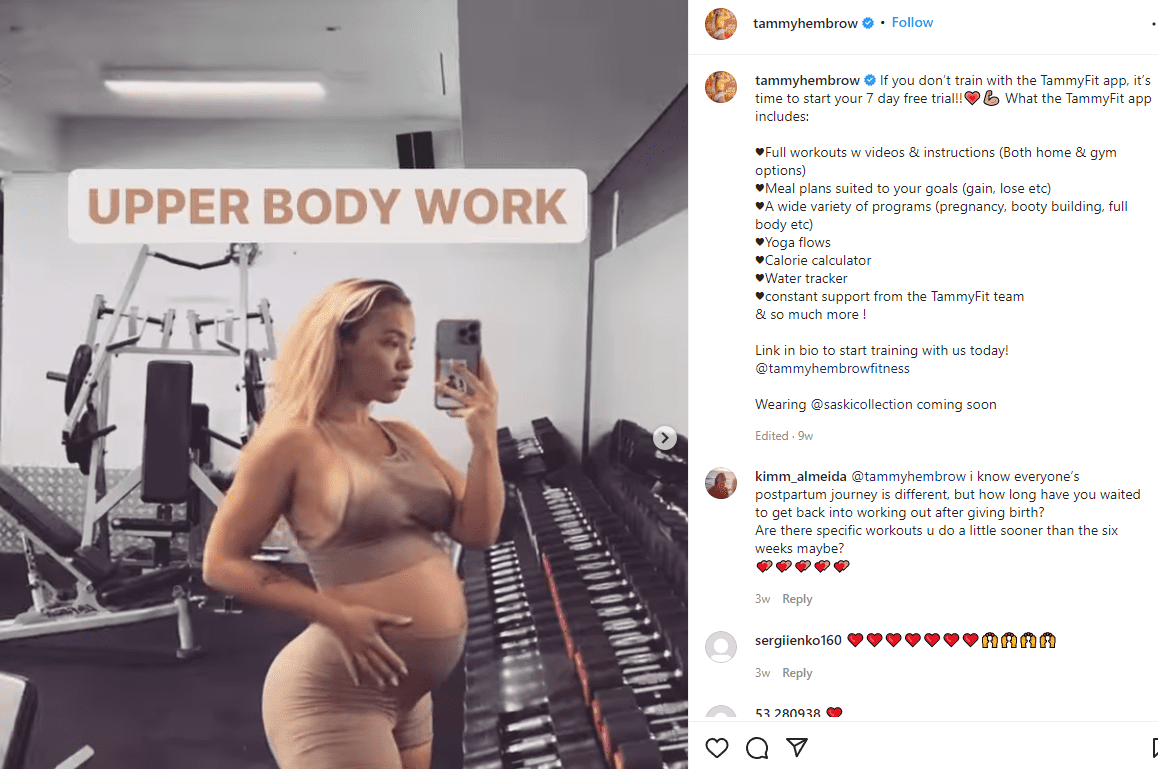 Tammy Hembrow is a fitness and beauty influencer who rose to stardom when she became the face of Khloe Kardashian's denim brand, Good America. She now has an empire of her own with 12.5 million Instagram followers and tons of endorsements with popular fitness brands, including Teami Blends and Protein World. Her app, TammyFit, offers content on fitness and nutrition, and she launched her own clothing brand.
11. Helen Janneson Bense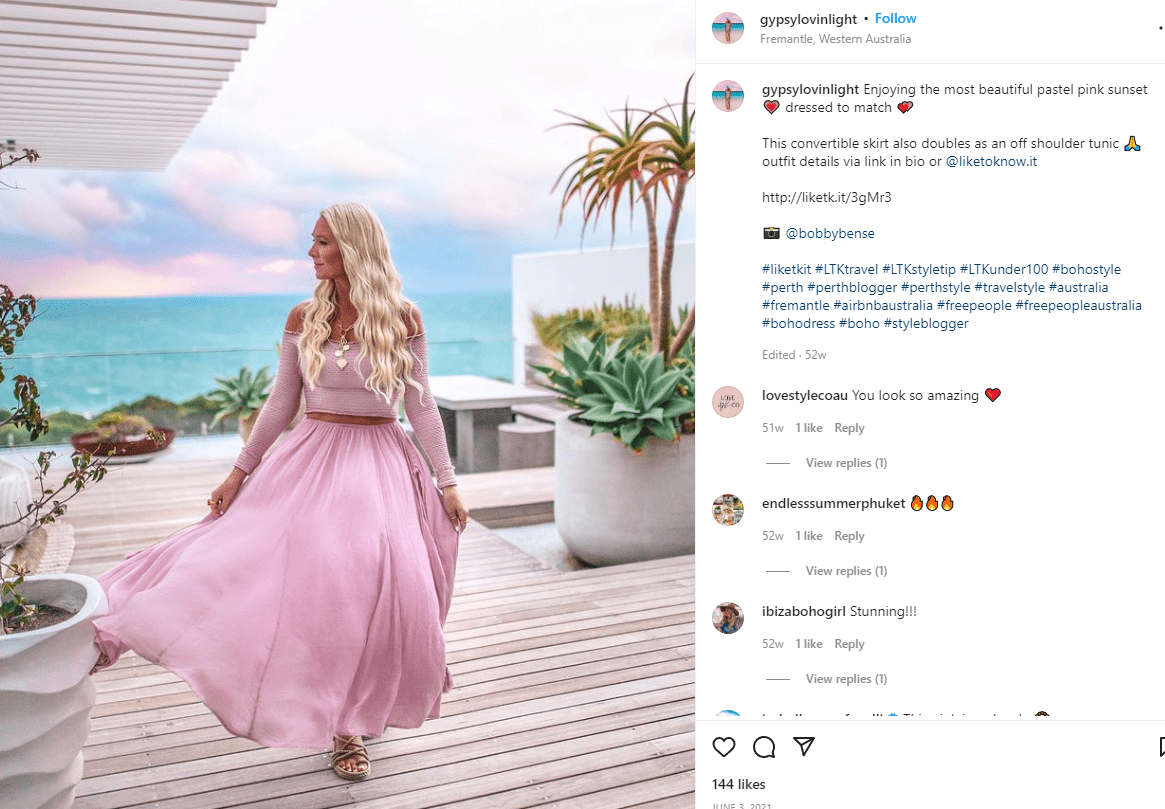 GypsyLovinLight Style is run by fashion, travel, and lifestyle creator Helen Janneson Bense. A Finnish-American-Australian family, she creates unbelievably gorgeous and beachy content with her Photographer husband, Bobby Bense. Together with their children, they hail from Western Australia.
Her 43k Instagram followers enjoy breathtaking images of sunset walks on the beach, carefree and flowy dresses, ethical jewelry, and general ethereal beauty. Helen has posted several brand partnerships including jewelry designers, clothing labels, and travel destinations.
12. Tara Milk Tea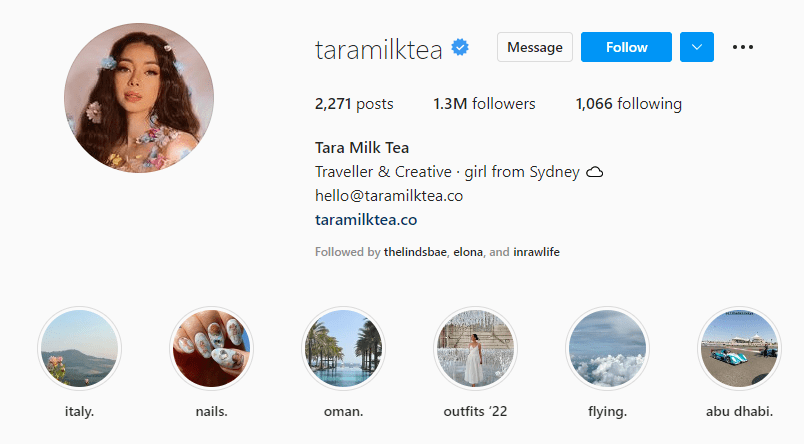 Syndey native Tara Whiteman is an Instagram travel and lifestyle influencer with over 1 million followers. Her feed shows off her latest travel adventures by featuring local food, beautiful places, and lovely people.
Tara has taken her followers on a journey from exotic places such as Abu Dhabi, Italy, and Oman. Along the way, she's landed brand deals with Canon, Tiffany & Co, and has also been a member of Qantas' exclusive Q Collective team since 2016.
13. Antoinette Marie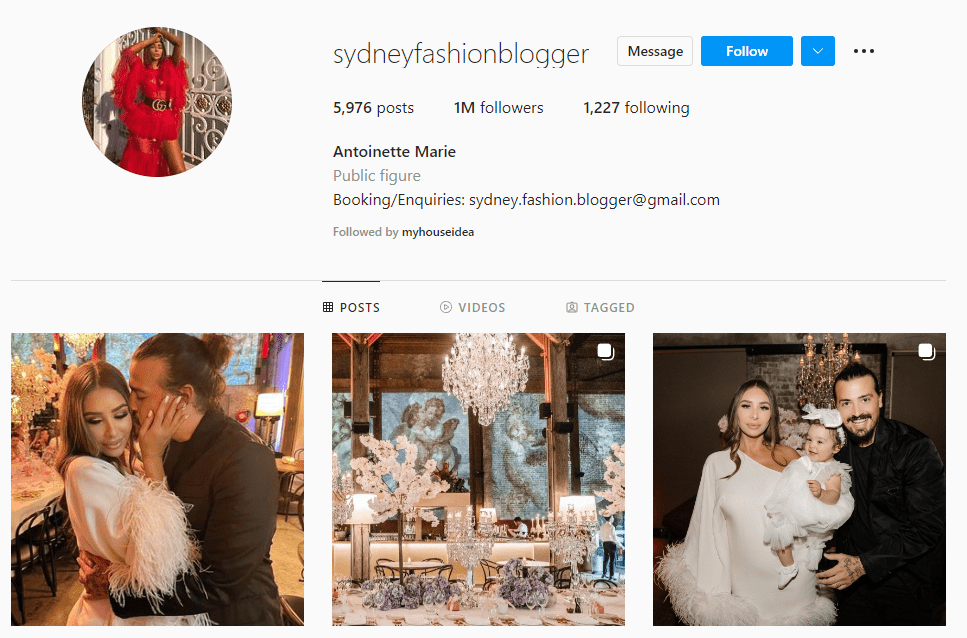 Antoinette Marie is a fashion model and influencer from Australia under the name SydneyFashionBlogger. Her curated and gorgeous Instagram feed features exclusive locations, beautiful fashion and swimwear, and a peek into her family life.
This divine content creator shares her photos and videos with at least 1 million followers and has collaborated with brands such as PrettyLittleThing, HotMiamiStyles, Siwear, and Karen Hurley Collections.
14. Remy Morton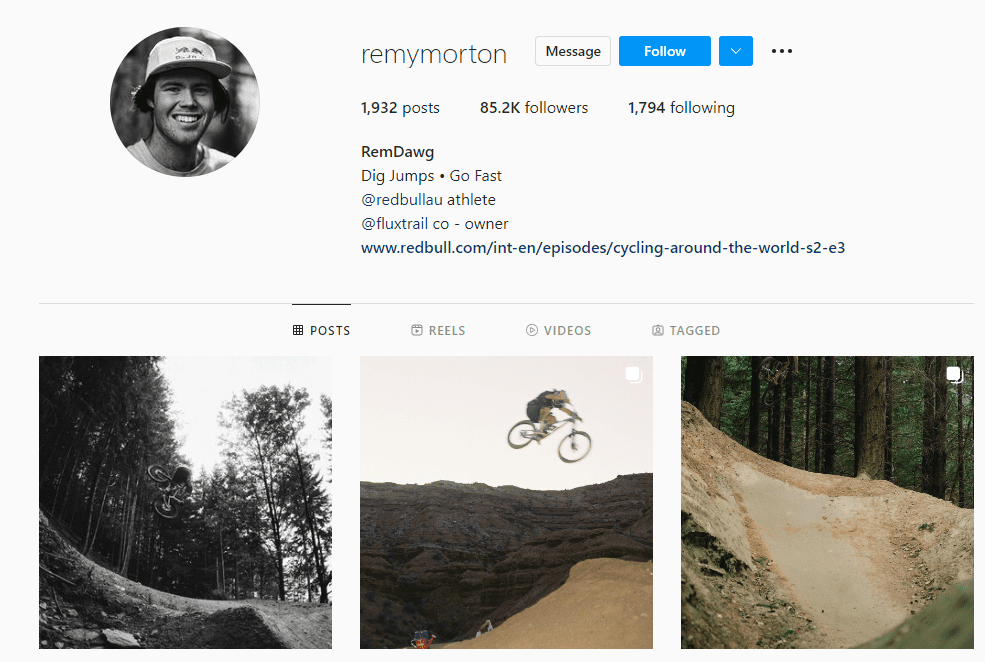 Remy goes by the account RemDawg and is an extreme BMX bike rider from Queensland. He shares his outdoor pedaling adventures with over 85,000 Instagram followers and has founded his own company, Flux Trail, which creates trails and courses for high-profile media projects and bike parks.
Aside from stunts and exquisite landscapes, Remy is also a RedBull AU athlete and has featured collaborations with the energy drink brand as well as Oakley.
15. Andy Hearnden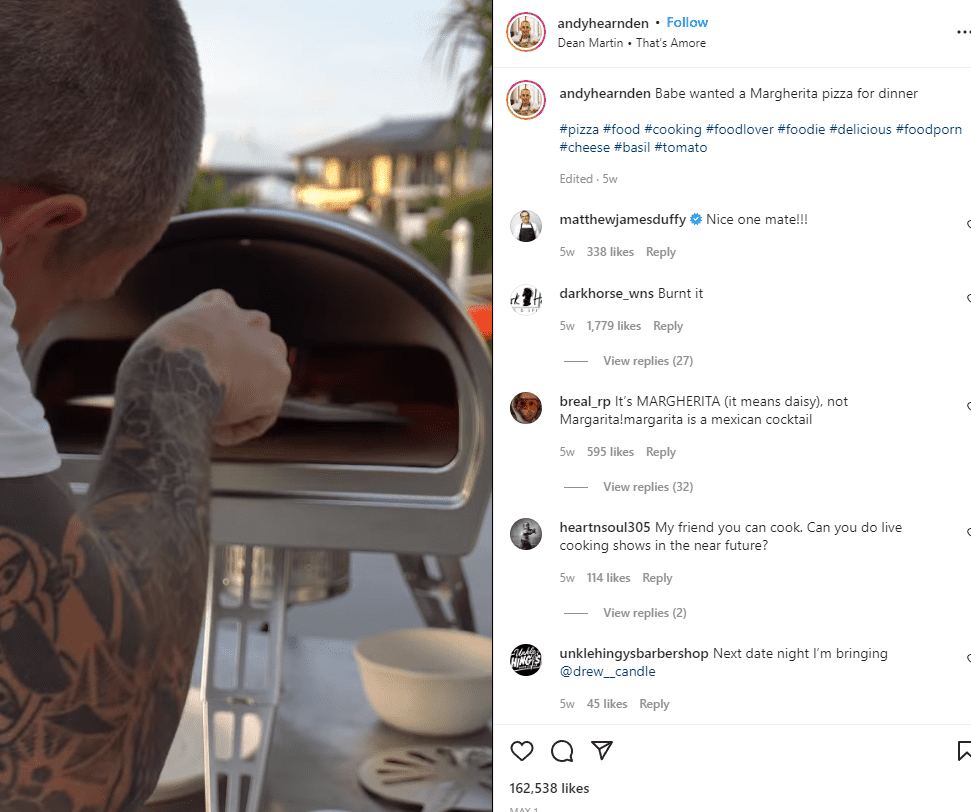 Andy is a professional chef originally from New Zealand but now settled in Australia. He has cooked in prestigious kitchens across multiple continents and big cities such as London and Sydney.
He creates comedic and delicious cooking content under the name "Andy Cooks" across Instagram, YouTube, and TikTok. With a combined following of nearly 3 million, TikTok is the highest with nearly 2 million followers by itself.
Andy's mouthwatering library of content also features brand partnerships with outdoor pizza oven company Gozney and wagyu brand, Jade.
16. Emma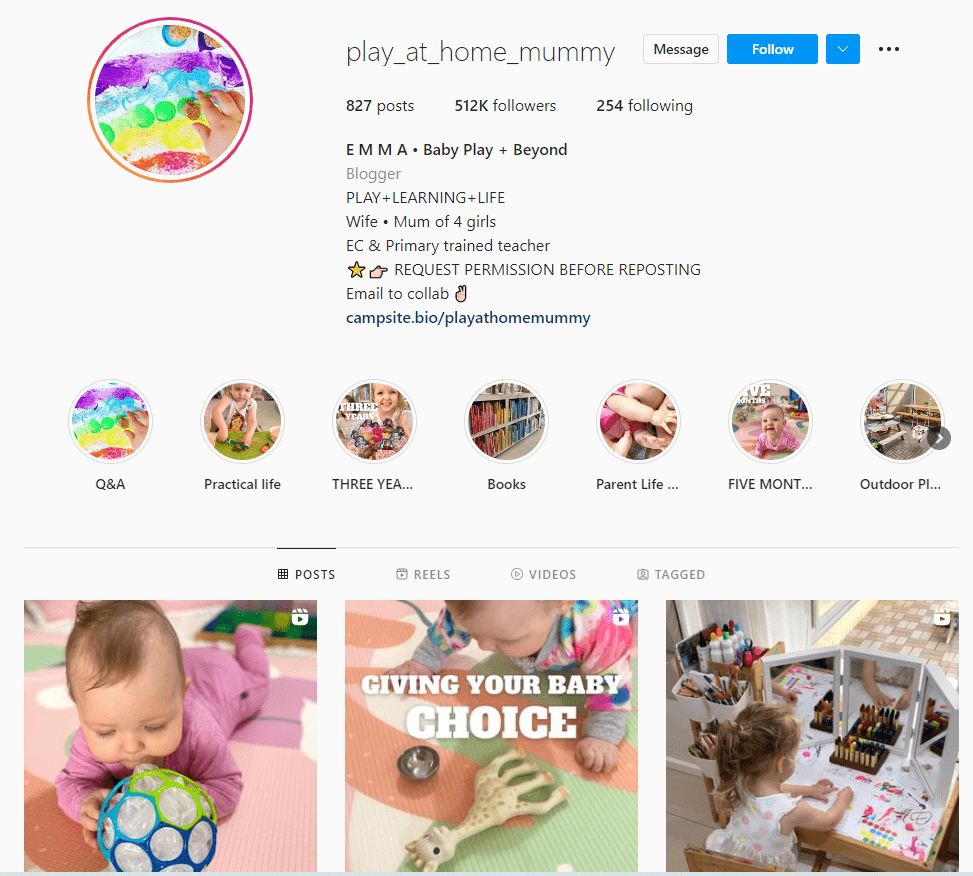 Mom of four Emma is the genius behind the Instagram account, Play_At_Home_Mummy. This family-focused and brightly colored feed is home to kid's activities, playtime adventures, toys, and of course, her adorable children.
In addition to sharing her content with 512k Instagram followers, Emma has also collected over 12k members into her Facebook community. The influencer veteran has been part of dozens of kid and baby collaborations including Rudie Nudie, Lunch Punch, Sleep Suits, and Marsupi.
17. Tim Dormer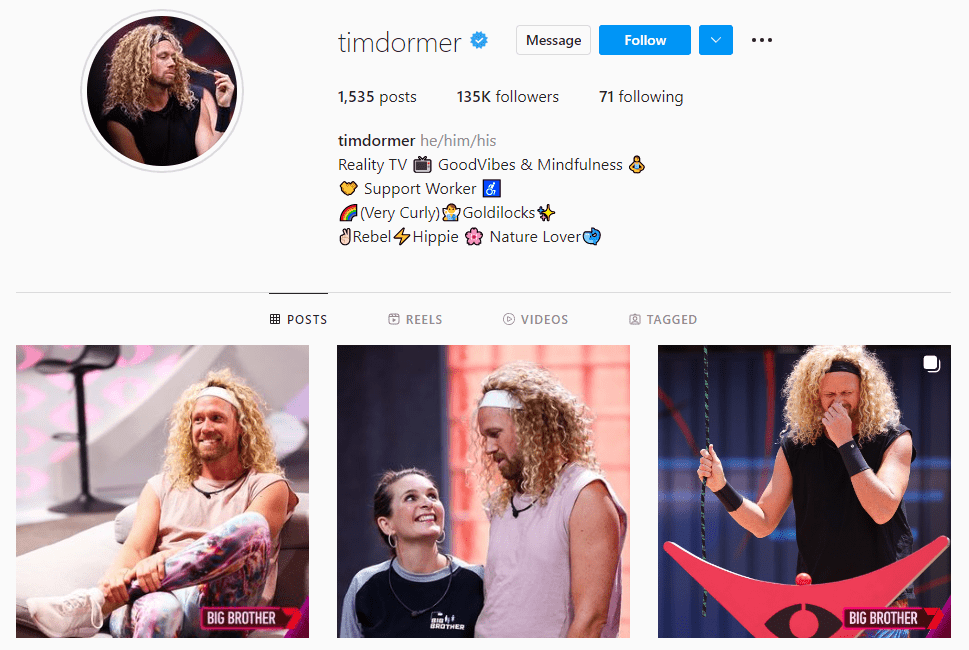 Tim has been featured on multiple seasons of various Big Brother franchises and is a previous winner. He has since used his fame to collect over 135k followers on Instagram as he proved to consistently be a strategic player as well as a fan favorite.
His content feed features a strong mix of Big Brother-related shoots, a beautiful outdoor Australian lifestyle, and exciting travel adventures.
18. Nagi & Dozer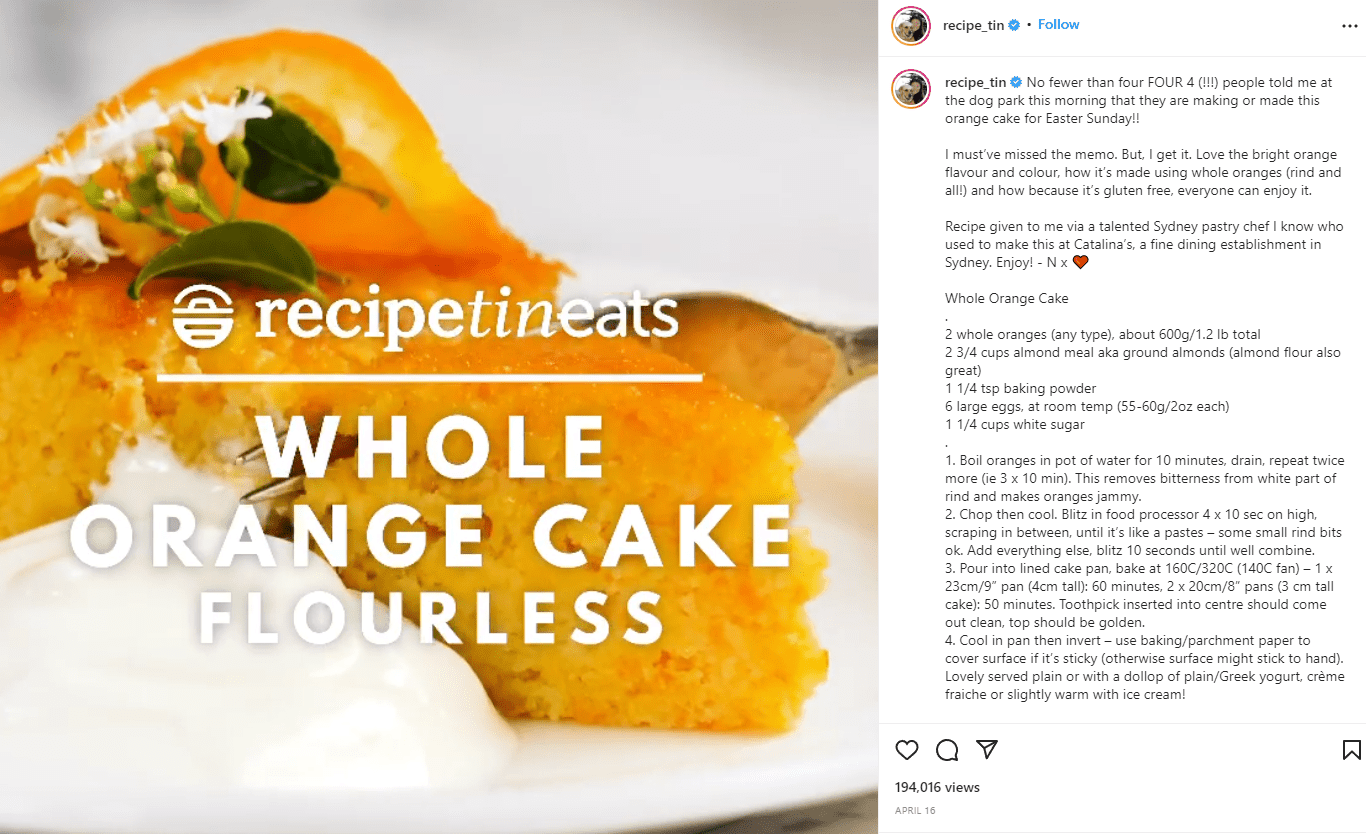 Nagi and her dog Dozer are a delightful Instagram team showcasing primarily cooking and recipe-related content.
This home chef was originally born in Japan but raised in Sydney and has a well-traveled recipe book. She shares cooking tips and vibrant recipes made with simple, everyday ingredients for more than 933k Instagram followers.
Also a food blogger, she grew her views from nothing to 1 million views in just 8 short months. Now, she helps educate other aspiring food bloggers on her other website, Food Blogger Central.
Nagi also founded a non-profit meal service, based in Sydney, called RecipeTin Meals where she and her team provide delicious and nutritious meals for those in need. Her recipes have also been published on the cover of Good Food Australia.
19. Sara Crampton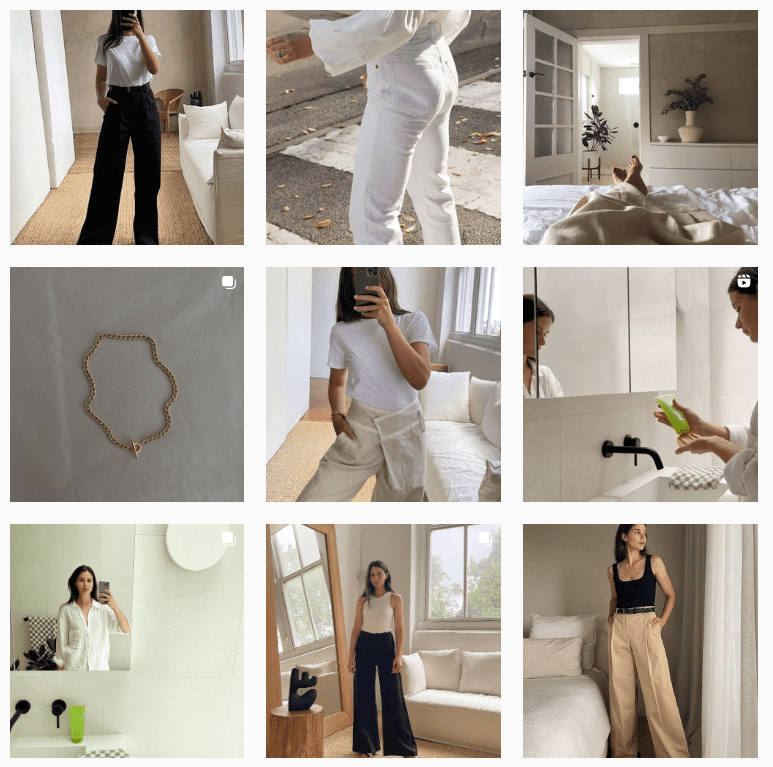 Sara is the face and founder of the Instagram account Harper and Harley. She shares her minimalistic fashion and decor with over half a million followers.
Her monochromatic feed features styles from her own brand, The Undone Store with its own 93k followers, as well as content from other collaborators. This designer turned influencer has shared brand partnerships with skincare company Bioderma and La Prairie.
20. The Rybka Twins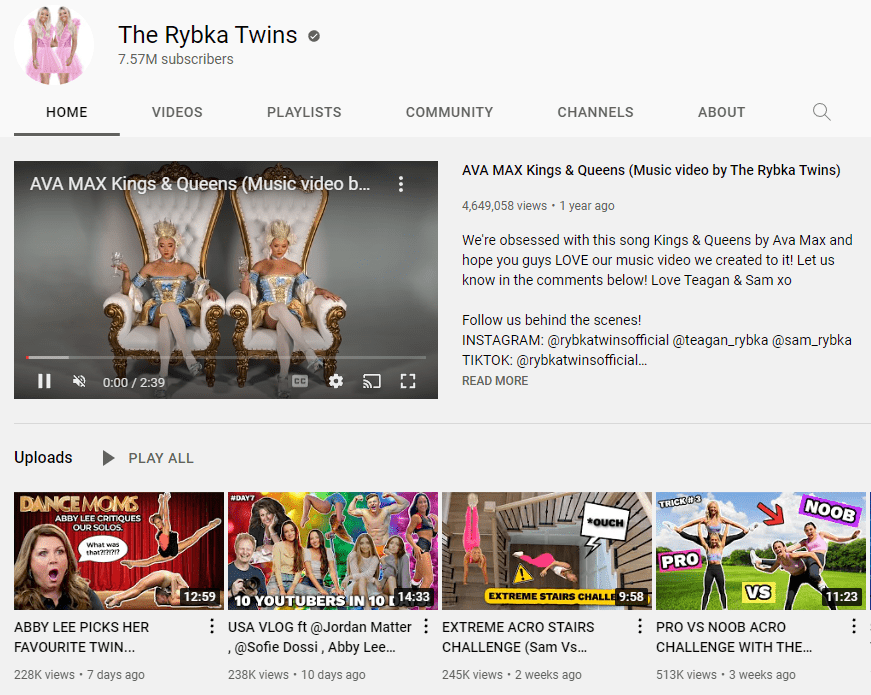 Sam and Teagan Rybka are a dance and acrobatic duo from Perth. They were finalists on Australia's Got Talent and have over 3 million followers across their 3 channels on Instagram, 7.5 million subscribers on YouTube, and nearly 14 million followers on TikTok.
Together, they filmed collaborations with other influencers in the dance and cheer industries such as Abby Lee Miller, Gabi Butler, and Jack Payne. They have also created their own clothing and accessory line.
As if that wasn't enough, they also recently auditioned for America's Got Talent, have written a book titled Twinning Up, and have landed brand collaborations with STAX and Function of Beauty.
21. Pia Muehelenbeck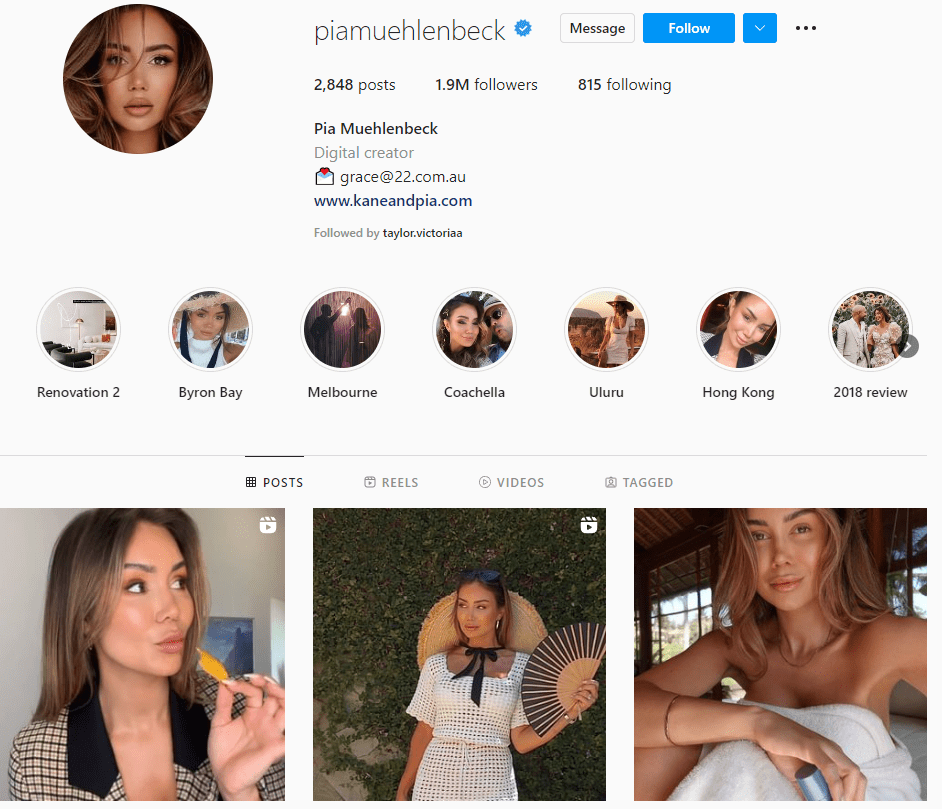 Pia is an Aussie digital creator with a lot to say. Her nearly 2 million Instagram followers enjoy the view from her luxurious and exotic lifestyle-focused content.
Together with her husband, travel vlogger, Kane Vato Muehlenbeck, she shares glimpses of her favorite parts of the world, including Bali, Coachella, and Hong Kong, their dream home search and renovation, as well as beach and fitness content.
Pia has worked with brand partners such as Philips Home Living, Liquor Land AU, and Smirnoff AU. The love of travel and adventure spilled over into its own YouTube TV series, Kane + Pia's Big Aussie Adventure which has nearly 400k subscribers.
22. Lorinska Merrington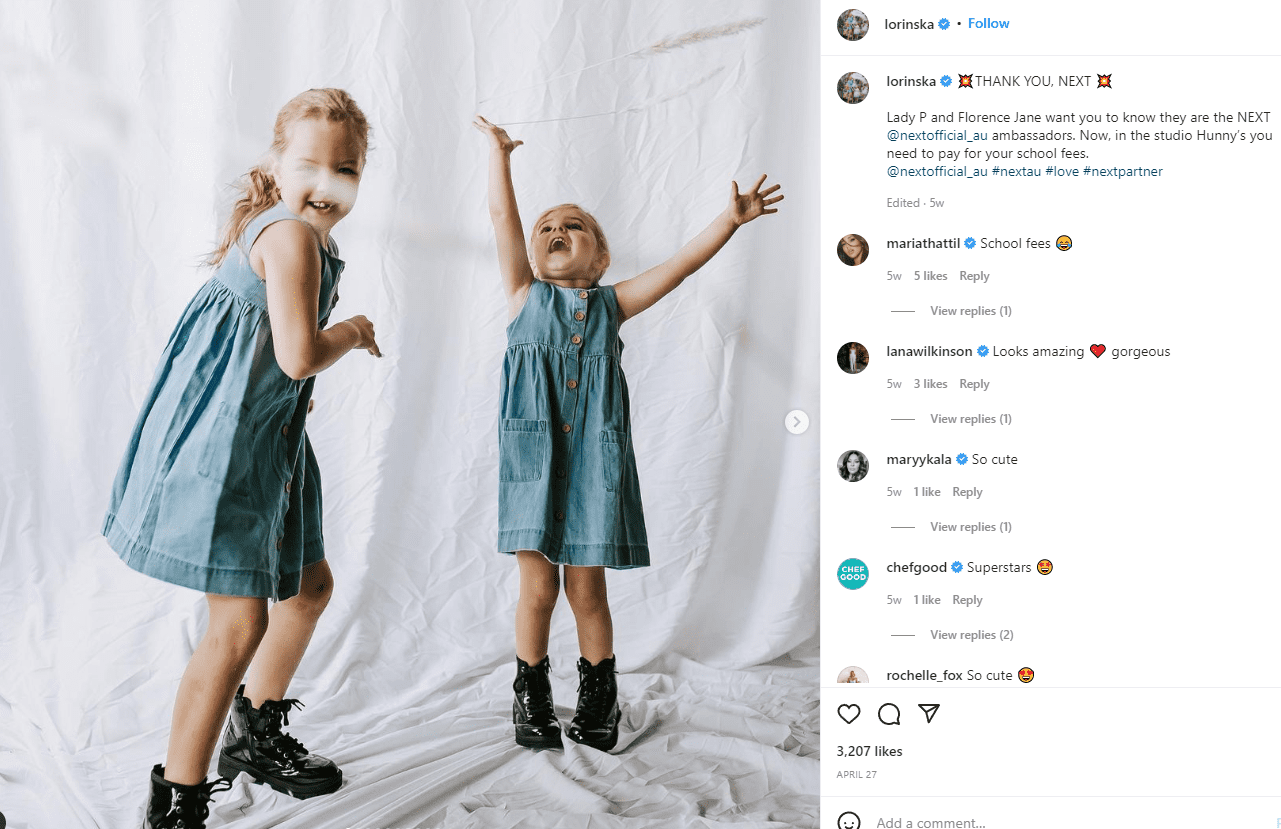 Lorinska is an Australian-born model, entrepreneur, and former Netflix reality star from Yummy Mummy. Her Instagram account has collected nearly 730k followers who enjoy her content that's one part family, one part fashion, and all fabulous.
This Aussie creator has launched her own app, Bub. It's a pregnancy companion app that offers baby growth and health info, community support, expert Q&As, and planning features.
Lorinska has also landed influencer deals with White Glo teeth whitening brand, Next AU kid's fashion label, and is also a Myer ambassador.
23. Brian To'o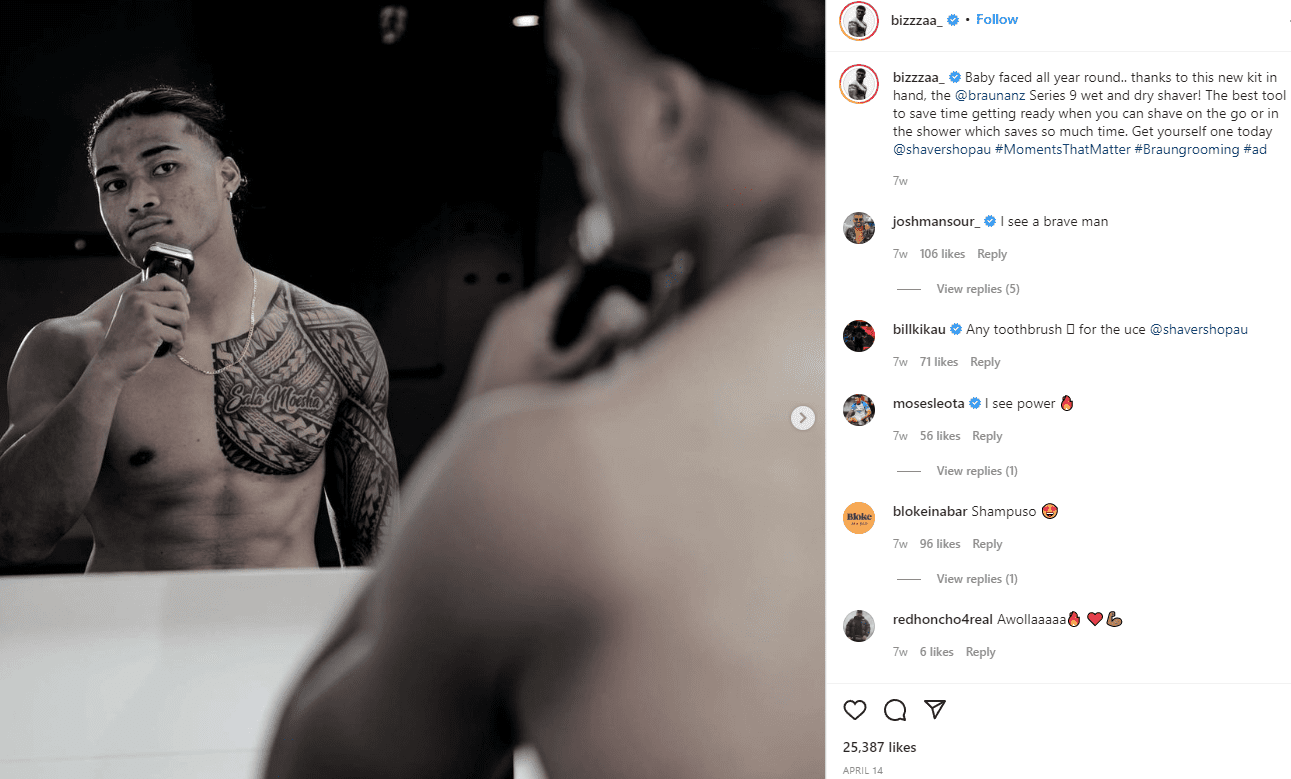 Brian, AKA BIZZZAAA on Instagram, is a winger on the Perinth Panthers, a National Rugby League team. An Australian-born Samoan player, Brian is also a family man and much of his content features raw glimpses into his life with his partner, S. Moesha Crichton-Ropati, who has her own 51.7k Instagram following.
In a mix of family, sporting, and travel content, Brian has also featured brand deals with P&O cruises, Braun, and Puma.
24. Micah Gianneli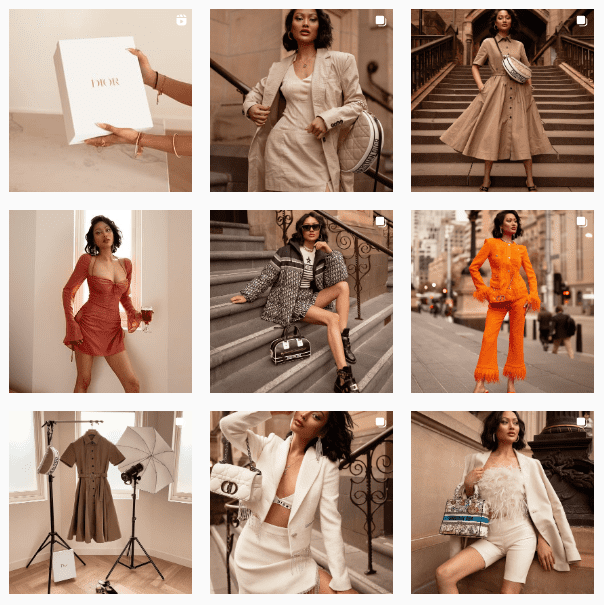 Micah is a popular fashion blogger and fashion influencer from Australia. She shares highly-curated and exquisite fashion and lifestyle content with over 1 million Instagram followers.
She is most known for her signature content tone which brings a chocolatey warm appearance to all of her posts. These are her custom presets, which she also sells. Micah posts much of her "shop this look" posts over on a partner account, MicahGianneli.Shop with nearly 12k Instagram followers.
A local model and icon, she has been featured in brand collaborations with Forever 21, Luis Vitton, Prada, and Pretty Little Thing.
Leverage Influencer Marketing
Australian influencers are among the most popular in the world within their industries. From beauty and fitness to fashion and cooking, Australian influencers are gaining a lot of ground in their respective niches and leveraging passionate followings into top-notch brand partnerships and their own apps and merchandise.
As an influencer marketing agency at the core, we drive growth through intelligence and experience thanks to our superb team of makers, strategic thinkers, trend shapers, innovators, and analysts.