Last updated August 1, 2023
Influencer marketing has a strong foothold on every continent and India is no exception. Diversity in influencer representation is critical for brands with a global market.
The colorful and vibrant people of India represent billions across the globe who are looking for content that speaks to their culture and their interests. Here are the top Indian creators we're in love with for 2023 campaigns!
Top Indian influencers (Updated for 2023)
#1 Bhuvan Bam
Bhuvan is a social media star and comedian who originally started with a YouTube channel, BB Ki Vines where he collected 25 million subscribers. Today, his YouTube channel has been paired down but Bhuvan is still a globally recognized face on Instagram with over 14.5 million followers.
He has collaborated with other Indian celebrities, The Man Company, and Amazon Prime, and is starring in an upcoming Disney+ Hotstar production, Taaza Khabar.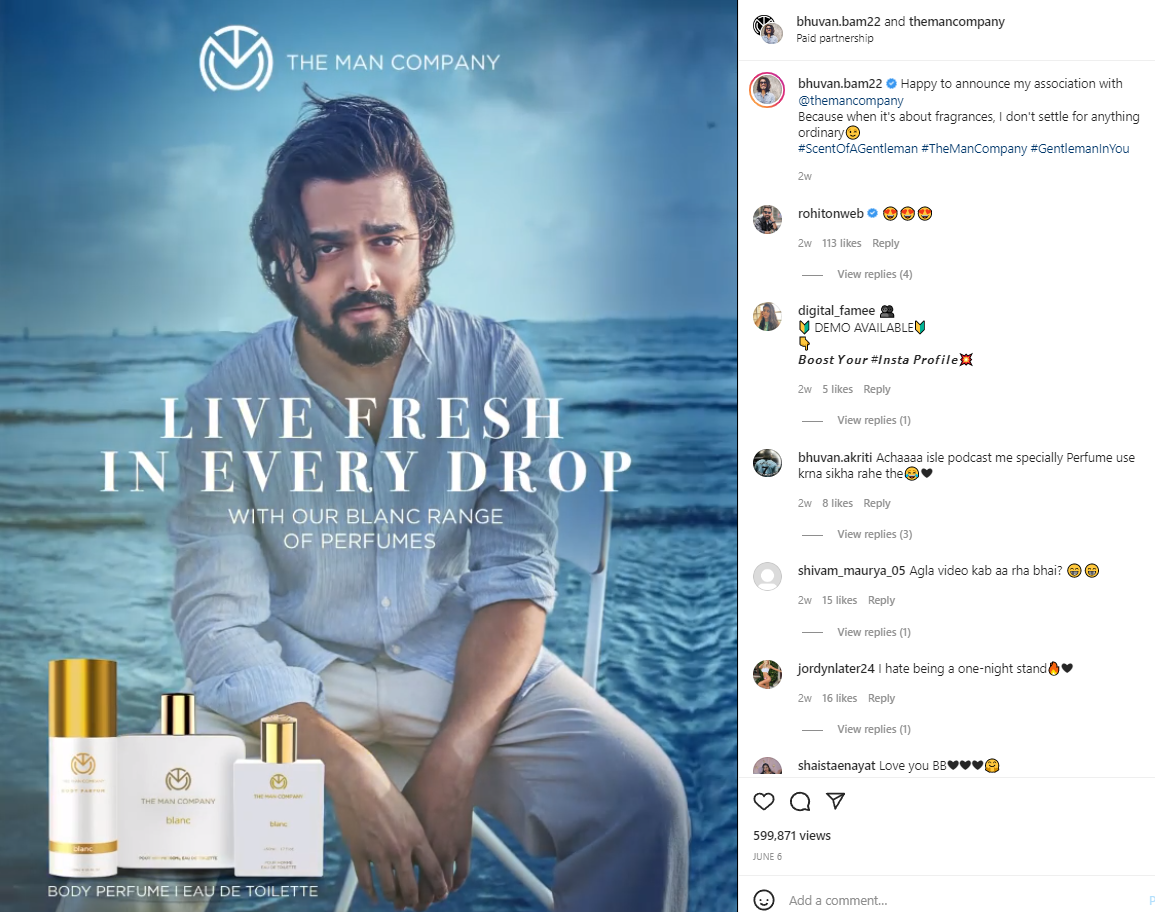 Source:@bhuvan.bam22
#2 Kusha Kapila
Kusha Kapila is well known as one of the top Indian influencers and the creative mind behind the "South Delhi girls" videos on the iDiva YouTube channel. That channel has over 451k subscribers and her own personal channel has 369k subscribers.
On Instagram, Kusha has collected 2.4 million followers. There, she shares comedic content and her life as a rising celebrity. She has collaborated with brands such as Google and Cred and can be seen working the red carpet at high-profile film industry events. In addition, she's been a fashion judge and starred in Karan Johar's Ghost Stories.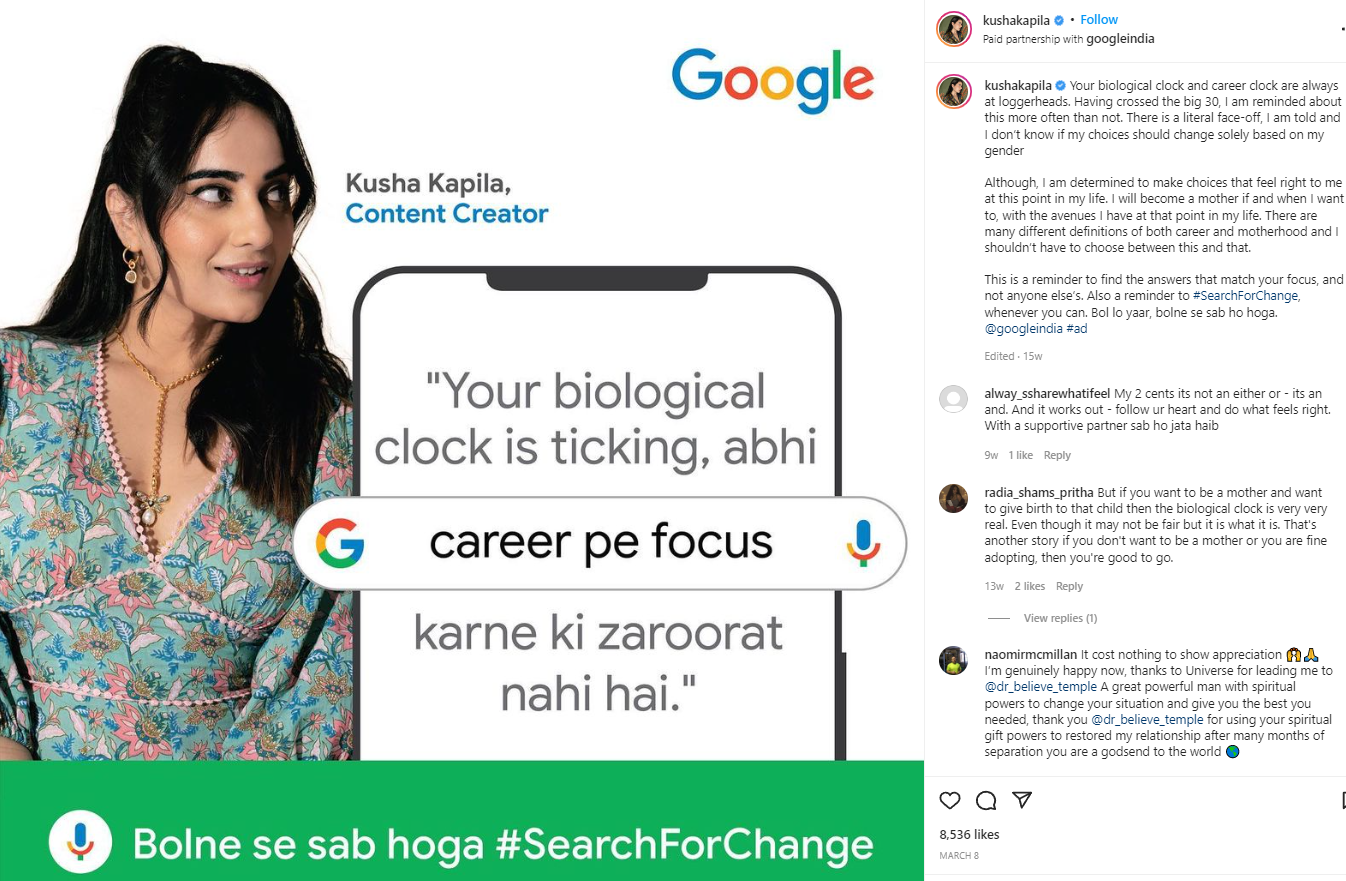 Source: @kushakapila
#3 Diipa Büller-Khosla
Diipa Khosla began her online career as a social media manager but later leveraged her experience to catapult her personal brand as a fashion influencer. She has since pivoted again from influencer to fully-fledged entrepreneur and launched her own Ayurveda-centric cosmetic line, Inde Wild.
She made headlines and was featured in Harper's Bazaar when she wed Dutch diplomat, Oleg Büller, in 2018 where she sported 9 different looks over the course of their four-day wedding. Diipa's YouTube channel has 18.3k subscribers and on Instagram, she shares beauty, fashion, and luxurious lifestyle content with 1.7 million followers.
Diipa was the first top Indian influencer to collaborate with MAC cosmetics and she is also the co-founder of Post For Change, a foundation that is "Using Social Media Influencers as a Transformative Engine to Drive Change."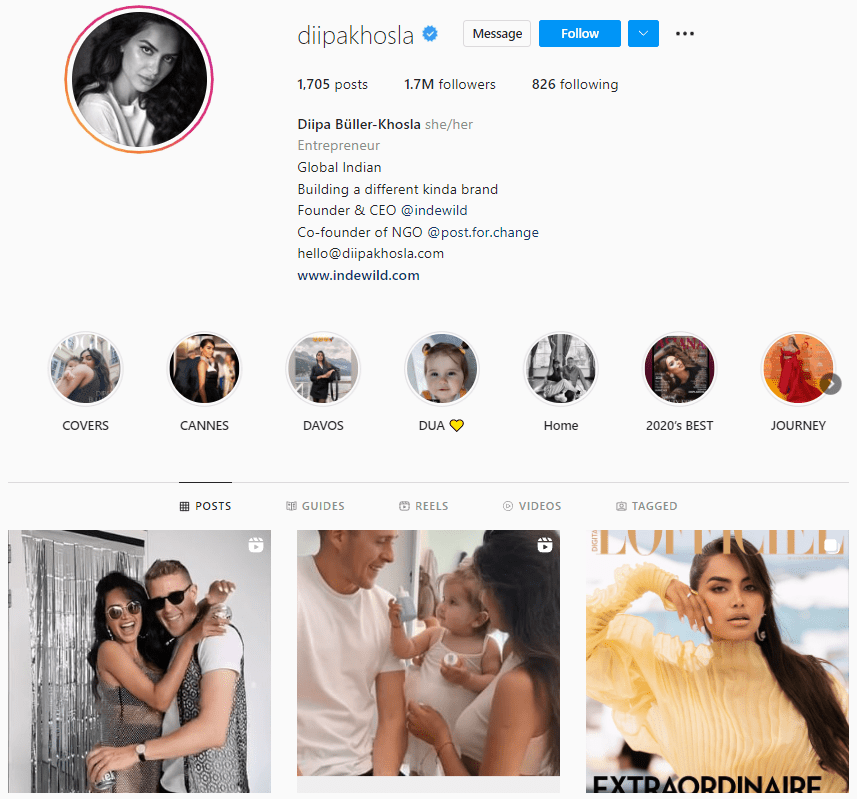 Source: @diipakhosla
#4 Nikhil Sharma
Nikhil Sharma is a lifestyle blogger known as the "Casey Neistat" of India. He began his YouTube channel in 2010, rising to fame in moto vlogging as "Mumbaiker Nikhil" with nearly 4 million subscribers.
Today, Nikhil is not only one of the pioneers of Indian influencer marketing, but he's also one of the top biker and moto vloggers in the world. He has collected 1.4 million followers on Instagram and also won the MTV Indian and IWMBuzz Award for "Vlogger of the year" in 2019. Nikhil has collaborated with several brands including Garmin and WB.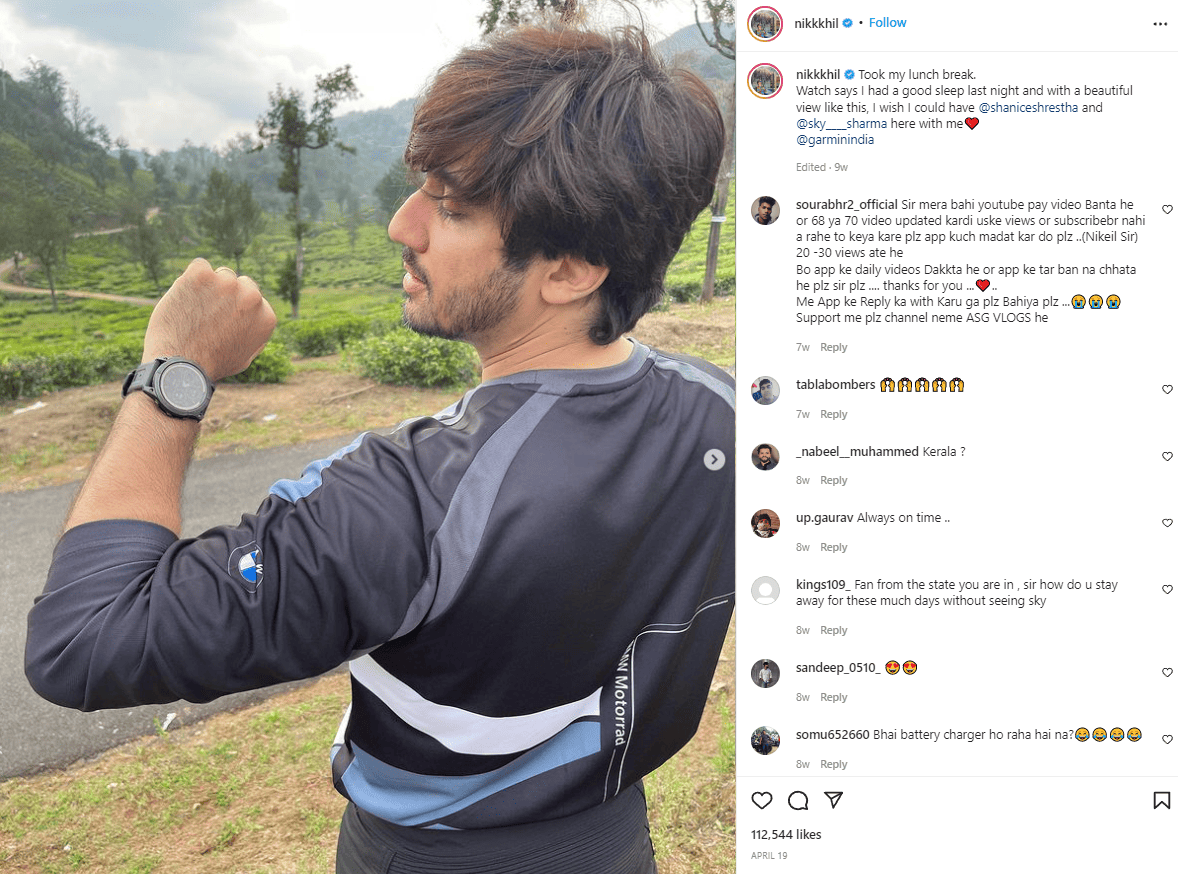 Source: @Nikkkhil
#5 Komal Pandey
Komal Pandey is a fashion influencer with a quirky, comedic edge that quickly drew the attention of the social media crowd. She started her YouTube channel in 2017 highlighting a style she dubbed "college couture" and has since become a stylist for the popular channel popxo.
Today, Komal has 1.7 million followers on Instagram and 1.15 million subscribers on YouTube where she has partnered with over 100 brands including Olay and Vivo India.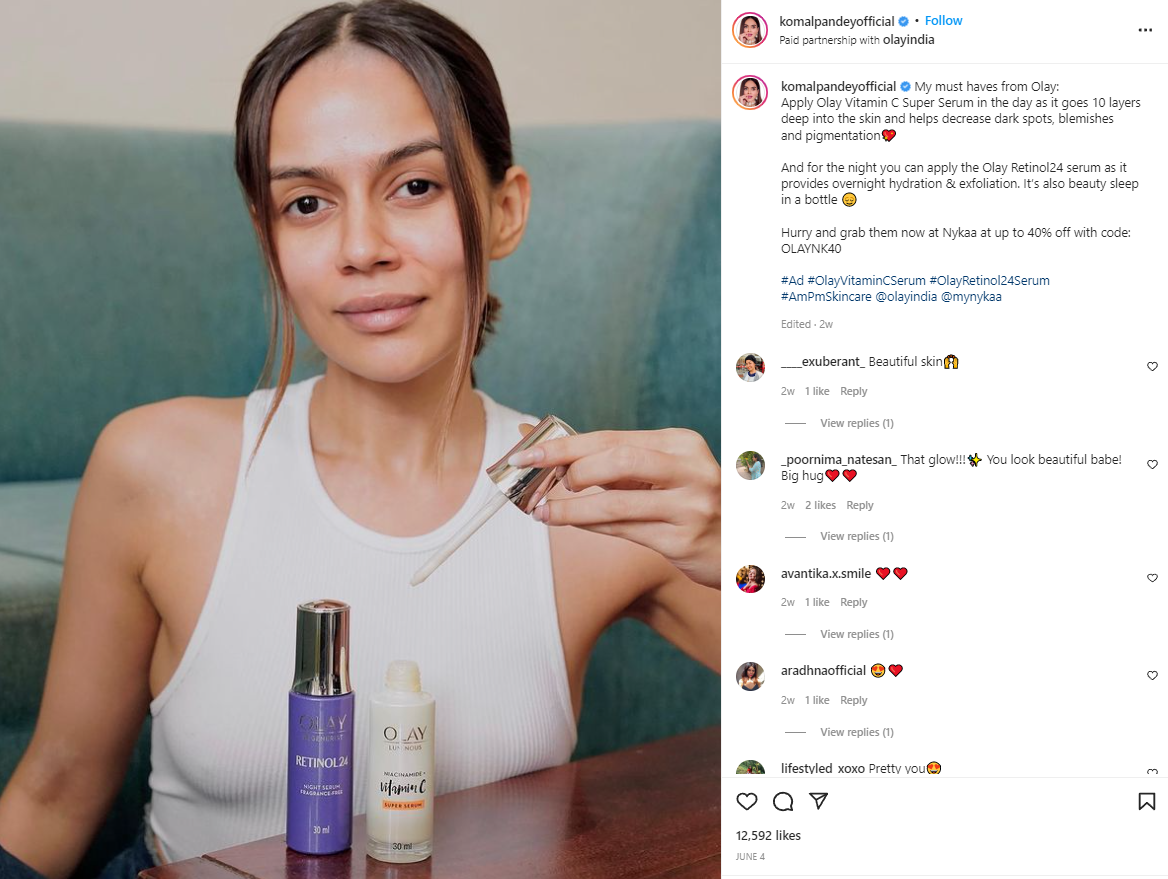 Source: @komalpandeyofficial
#6 Farah Dhukai
Farah is the YouTube and Instagram famous DIY desi-inspired beauty hacker. She shares home beauty remedies, hair treatments, and cosmetic routines with 6.4 million Instagram followers and 2.3 million YouTube subscribers.
Since she started online in 2010, she has collaborated with many brands and launched her own skincare line, Farsali. Though Farah is of Indian descent, the most recent generations of her family hail from Africa, and she was raised in Toronto Canada where she still lives today with her husband and child.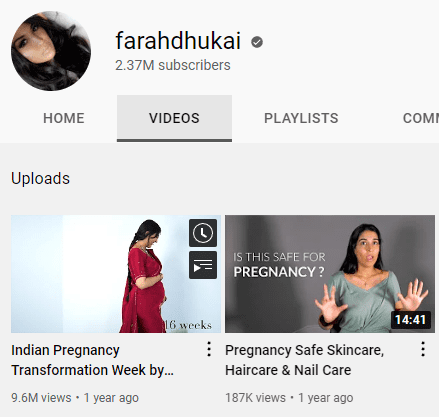 Source: @farahdhukai
#7 Dolly Singh
Dolly is another contributor on the YouTube channel, iDiva, and has her own 1.4 million Instagram followers. She came from humble beginnings and started a fashion hacks and style blog while at university.
Today, Dolly embodies her own personal influencer brand and has collaborated with other Indian celebrities including Priyanka Chopra, and Ayushmann Khurrana. She has also worked with several brand partners, including Olay and Colgate.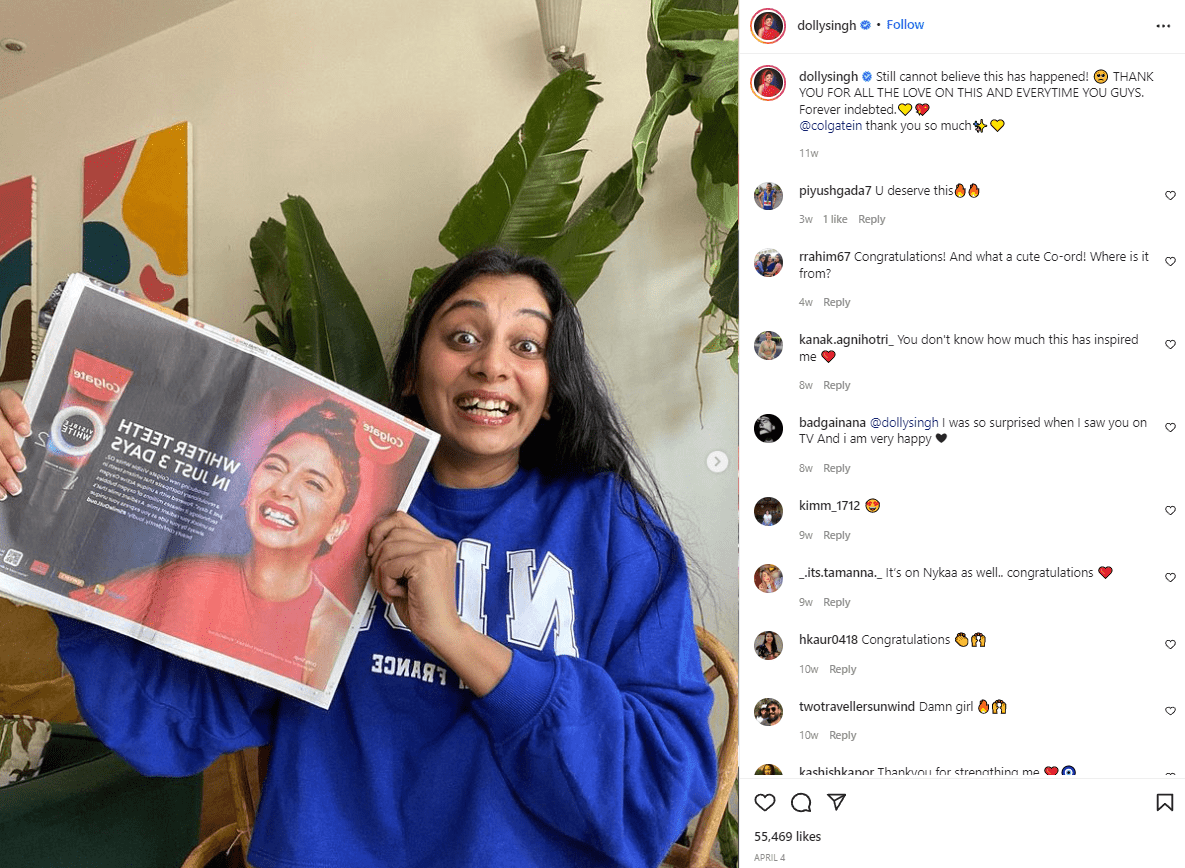 Source: @dollysingh
#8 Mithila Palkar
Mithila Palkar was pursuing an acting career when she rocketed into internet fame in 2016 with her version of The Cup Song. She uploaded this to her YouTube channel where it got over 6 million views. Her channel now has 168k subscribers and she has collected 3.5 million followers on Instagram.
Today, her acting career continues to blossom and she has landed roles in Netflix's Little Things and appeared in the Bollywood film, Katti Batti. Mithila partners with several brands including Times Prime and Plumb Goodness.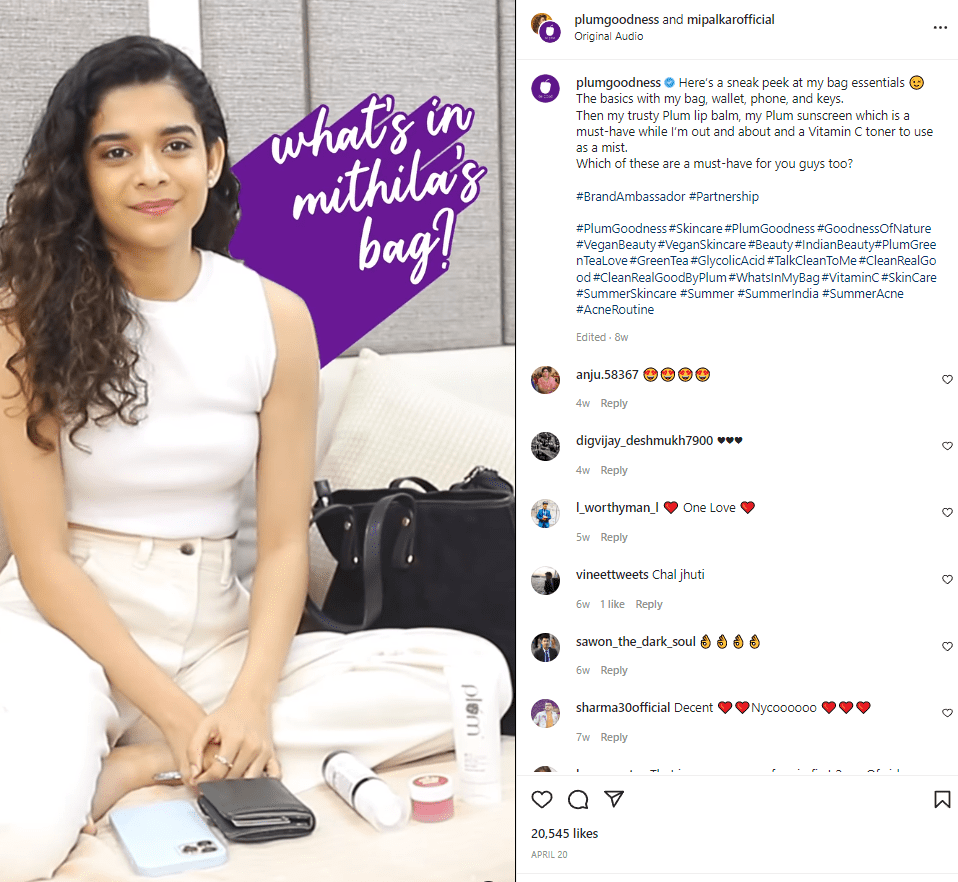 Source: @mipalkarofficial
#9 Masoom Minawala
Masoom is one of the world's top Indian creators. Her creative photography, colorful aesthetic, and high-fashion style appeal to her 1.2 million Instagram followers. Born in Mumbai, the fashion and lifestyle influencer has since relocated to Belgium.
Masoom also has a YouTube channel with 54k subscribers. On both platforms, she shares fashion styling tips and luxurious travel and lifestyle content. She's partnered with several prestigious brands including Louis Vuitton and Moda Operandi.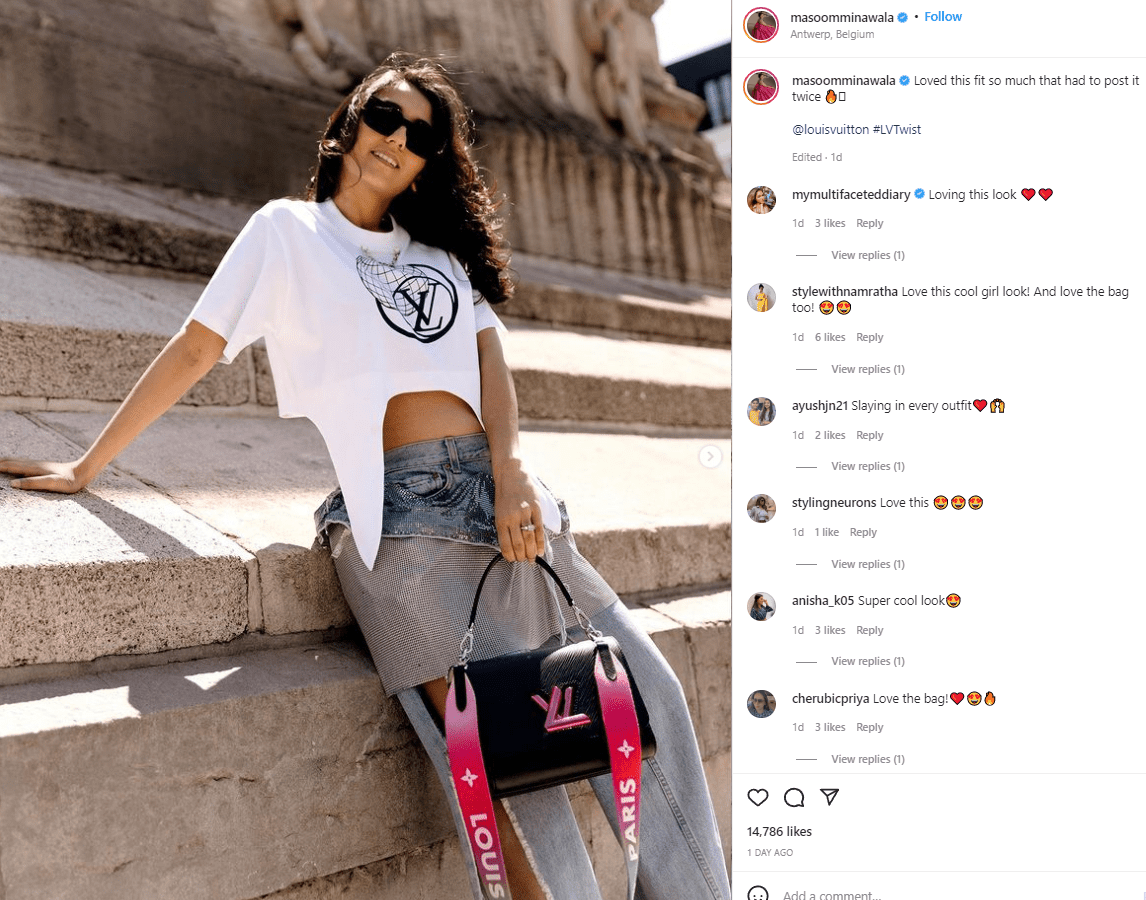 Source: @masoomminawala
#10 Tamanna Roashan
Tamanna is the gorgeous creator behind @DressYourFace and purports herself as a beauty, lifestyle, fashion, and education influencer. Her heritage is both Afghani and Indian and she lives with her husband and two children in Los Angeles.
She has collaborated with Indian fashion label Lashkaraa on her own Dress Your Face capsule collection as well as Honest Company and Barbie. Tamanna shares a wide variety of high-fashion and luxurious lifestyle content with her 2.7 million Instagram followers.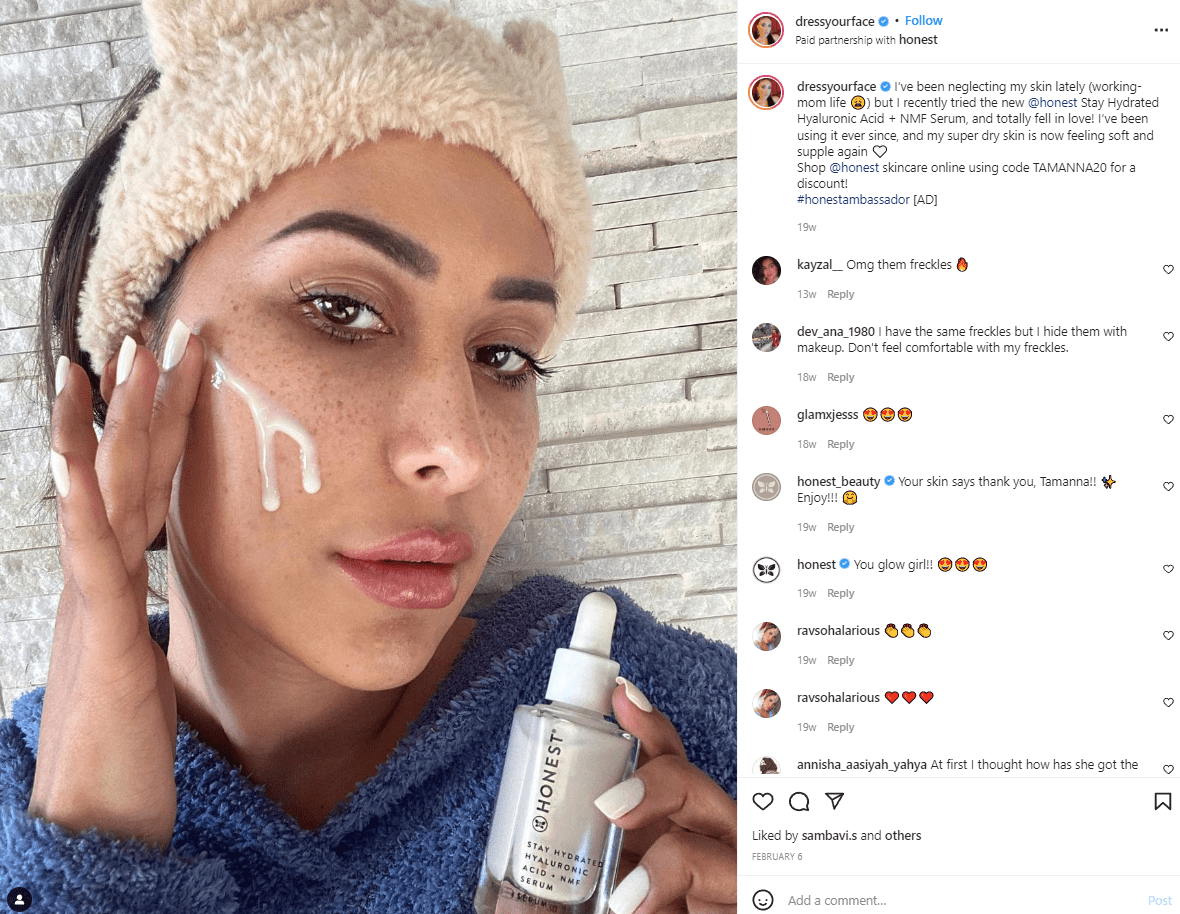 Source: @dressyourface
#11 Kaushal
Kaushal is among the top Indian Influencers with over 2.3 million YouTube subscribers and just under 1 million Instagram followers. She promotes a "filter-free" feed of fashion, inspiration, and encouragement, as well as beauty and skincare product reviews.
Based in the UK, Kaushal also runs her blog, Just Kaushal, and is most well known for her "get ready with me" videos. She has also landed several brand partnerships including KYSL Beauty and Whind.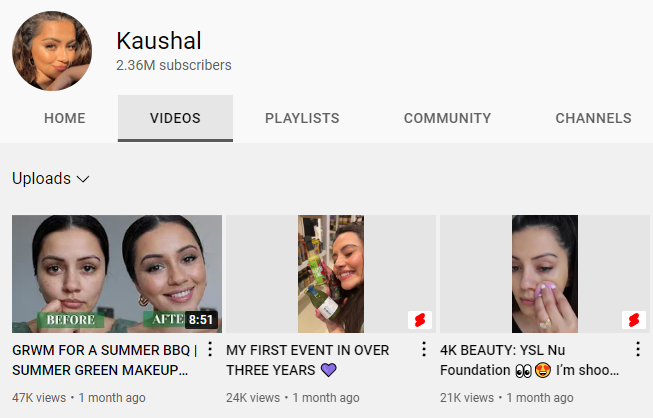 Source: @KaushalBeauty
#12 Kenny Sebastian
Kenny is an Indian stand-up comedian, filmmaker, and musician. He rose to global fame from the videos on his YouTube channel featuring his comedic take on life.
Today, his YouTube channel has over 2 million subscribers and he shares funny insights with 1 million followers on Instagram. Kenny has also landed a Netflix special, The Most Interesting Person in the Room, as well as a showcase on Amazon Prime Video, Don't Be That Guy.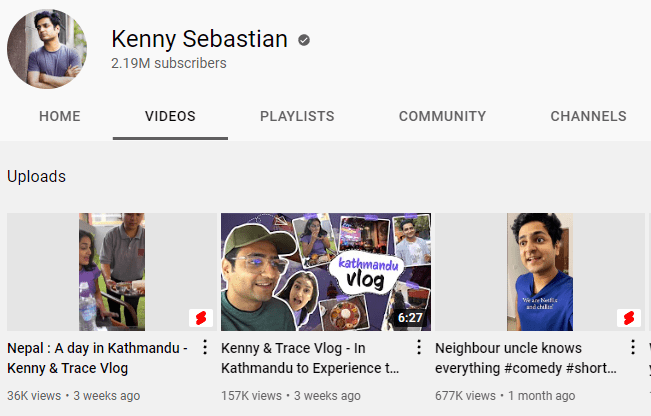 Source: KennySebastian
#13 Srishti Dixit
Srishti is a top Indian influencer, comedian, and cat lover who initially rose to fame on BuzzFeed India. She is most well known for her comedy sketches, pop culture commentary, and raw, authentic style.
Today, the Mumbai-based content creator shares her funny and engaging content on Instagram for 754k Instagram followers. Srishti has partnered with several brands including Veeba condiments and FlipKart.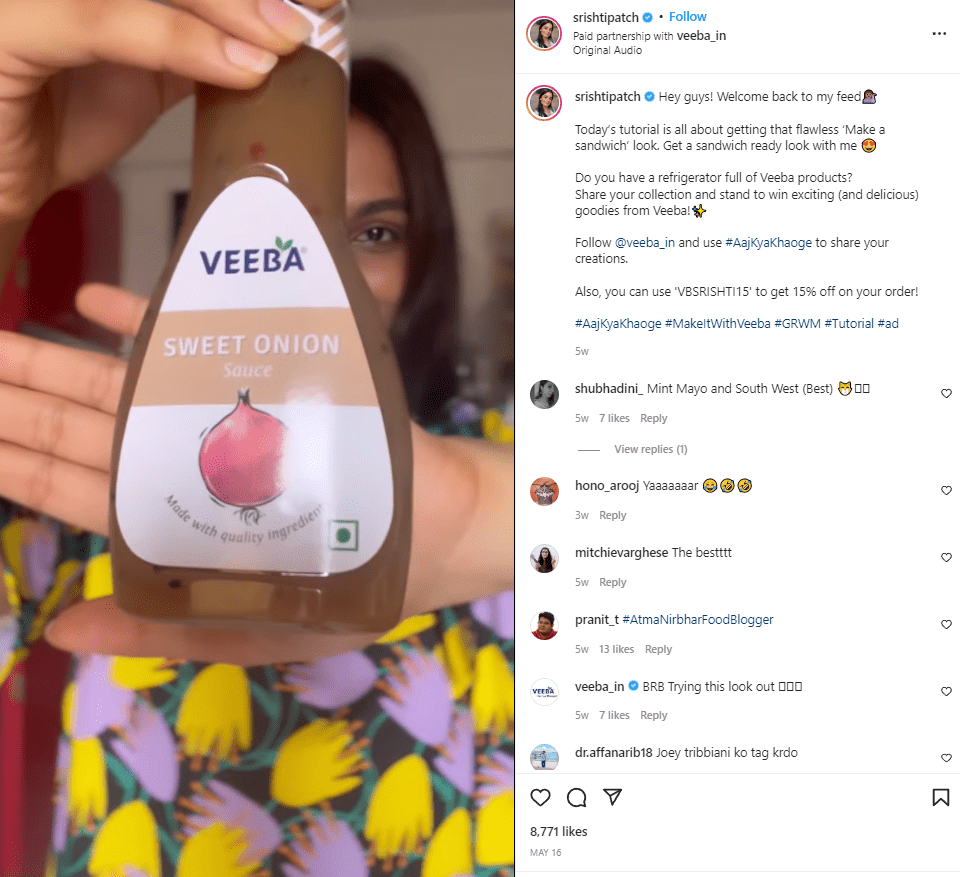 Source: @srishtipatch
#14 Irene Khan
Irene is a top Indian creator who focuses on beauty and mommy-focused content. She has earned her place as a globally recognized lifestyle personality. Irene beautifully blends colorful family fun, rich Indian culture influences, and high-ticket travel, as well as fashion and beauty content with her half a million Instagram followers.
Her YouTube channel, @IreneSarah, is where she shares long-form video content related to beauty, pregnancy, hair care, and parenting for 258k loyal subscribers. (Irene also made the list of our Top Mommy Influencers, check that out here! [[LINK]])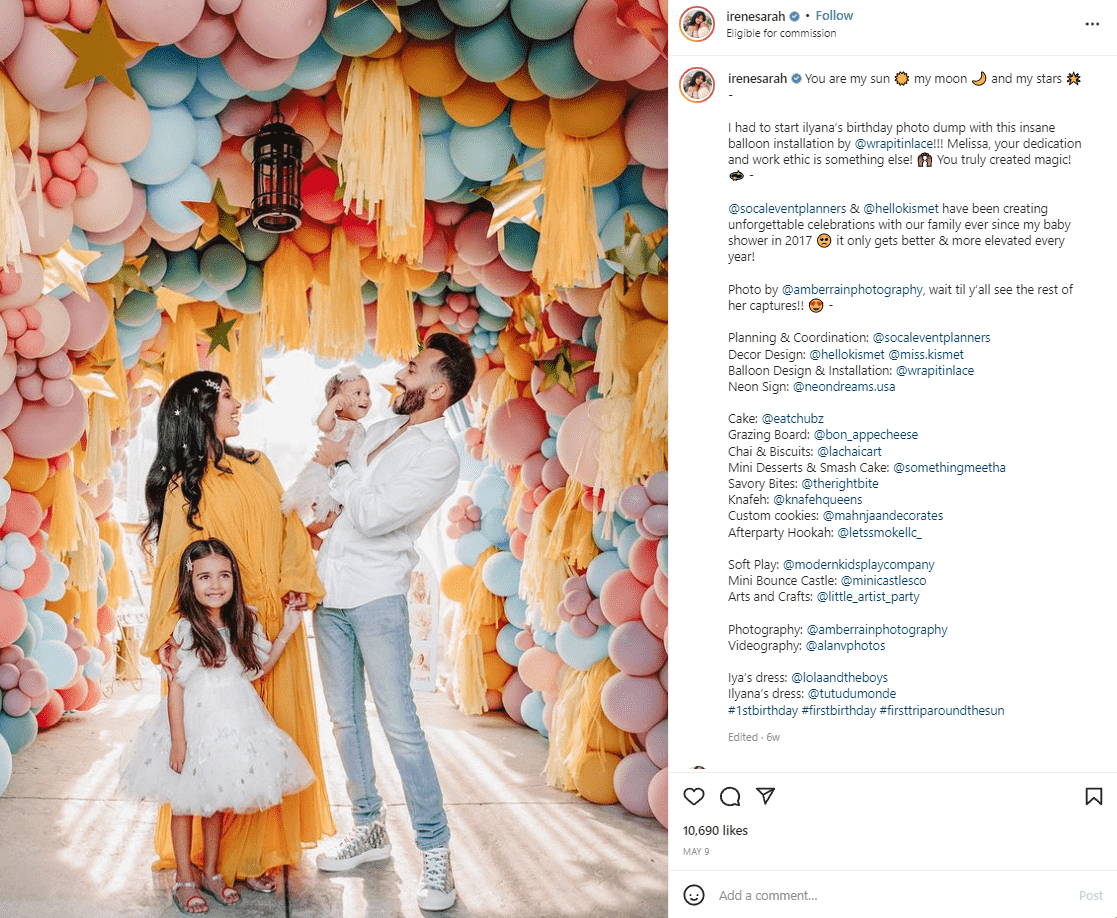 #15 Ami Desai
Ami is a first-generation American immigrant who was born in the U.S. to Indian parents. She is a career journalist and holds a Masters degree from Boston University.
She has worked for many prestigious production companies both behind and in front of the camera, including CNN, E! Network, and #OWNshow. Today, she serves as a beauty and lifestyle expert and is the epitome of a top Indian influencer. Ami has partnered with several brands such as Obagi and Braun Beauty.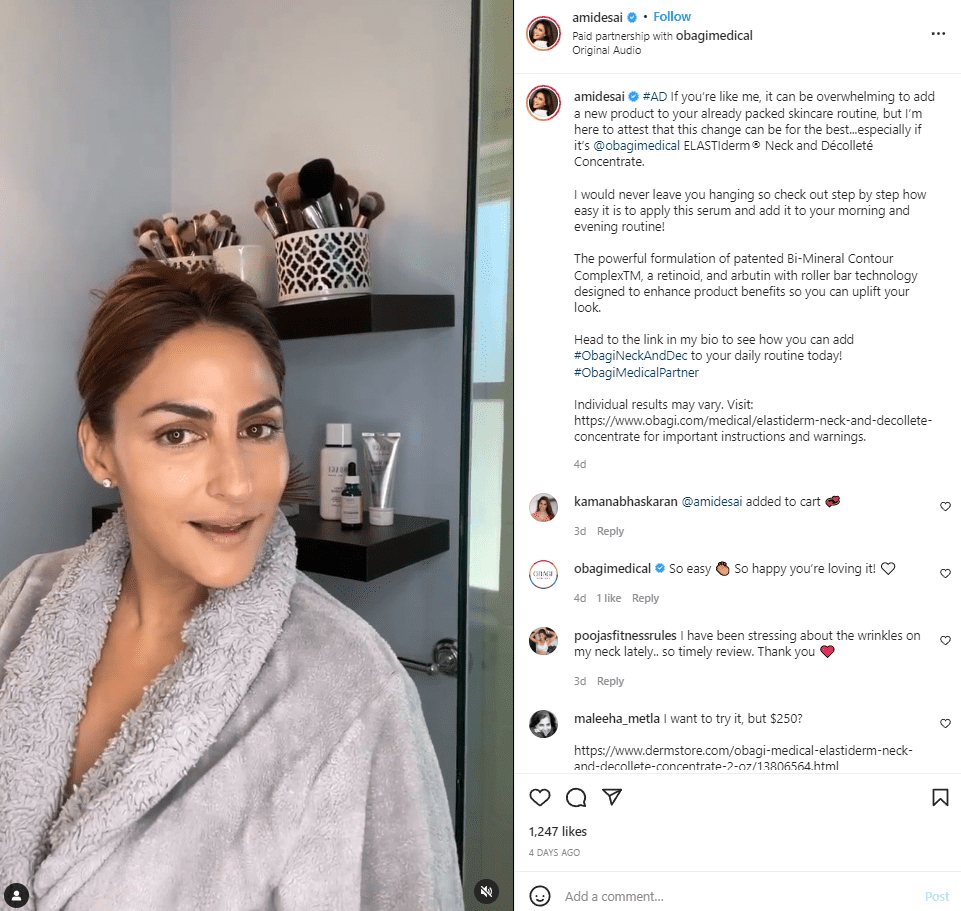 Source: @amidesai
How Can You Work With the Top Indian Influencers?
Whether your brand is located in India or across the globe, your audience may be found in the followers of these top Indian influencers. Here is how you can connect with them and work together:
Find an audience match
Follow their content
Engage authentically over time
Reach out directly
Negotiate a partnership
The shortcut to working with a top Indian influencer is to partner with an influencer marketing agency. This expert team will have long-standing and well-established relationships with content creators from India or who speak to an Indian audience.
Their influencers will have previous brand collaboration experience and will offer unique content strategies to fit your brand. An agency will also handle all negotiations, tracking, and reporting.
Work With Indian Creators to Boost Your Brand
Working with any social media influencer will help your brand boost awareness and increase sales. Working with top Indian creators will expose your brand to new audiences and offer opportunities for influencers the world around.