Everyone who loves their pet has their favorite pet influencers or "petfluencers" they follow on social media. These accounts are rich in fun and serotonin boosts featuring silly pet antics, beautiful pet photography, and adventure.
Pet influencers are uniquely positioned to brighten someone's day and create content that drives engagement around pet products and brands. Animals of all kinds, from farm animals and exotic ones to domesticated and traditional ones, all have their own influencers making an impact on the owner's buying decisions.
Here are the top pet influencer accounts you should be following in 2023!
The Top Pet Influencers (Updated for 2023)
Who's "top dog", cat, or squirrel online?
JiffPom
Jiff the pomeranian is essentially a global star. He's not only a world record setter, he's also a music video star, having appeared in Katy Perry's "Dark Horse" in 2014. His nearly 10 million Instagram followers enjoy a feed that caters to all things cute and cuddly.
The pup has secured multiple brand promotional opportunities, including iHeart Radio, and has his own merch line at Walmart, @jiffpomcutelife. He's also famous for always sporting the latest in adorable puppy fashion.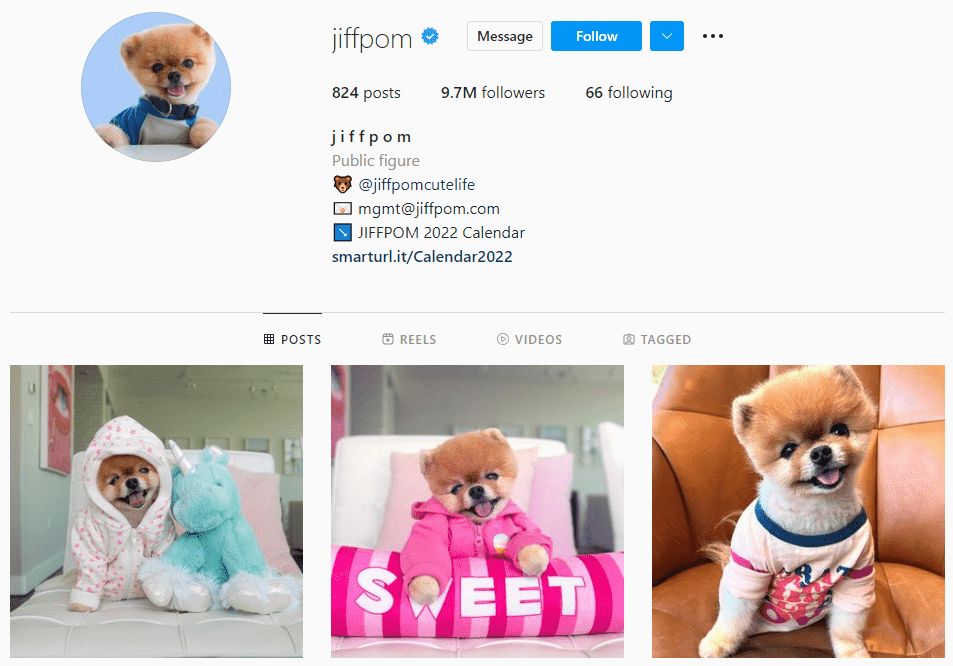 Nala Cat
@nala_cat is certified influencer material and has even been blue-check verified by Instagram. She is an adopted and beloved pet who also happens to be a Guinness World Record holder for having the most Instagram followers for a cat at over 4.4 million.
Nala's Instagram feed showcases the best of top-tier cat life with an emphasis on sustainability and Earth-first practices. Her brand partnerships are as prestigious as her little furry self and include The Litter Robot, Not Milk, and Farmville 3. She also has her own food line, @lovenala.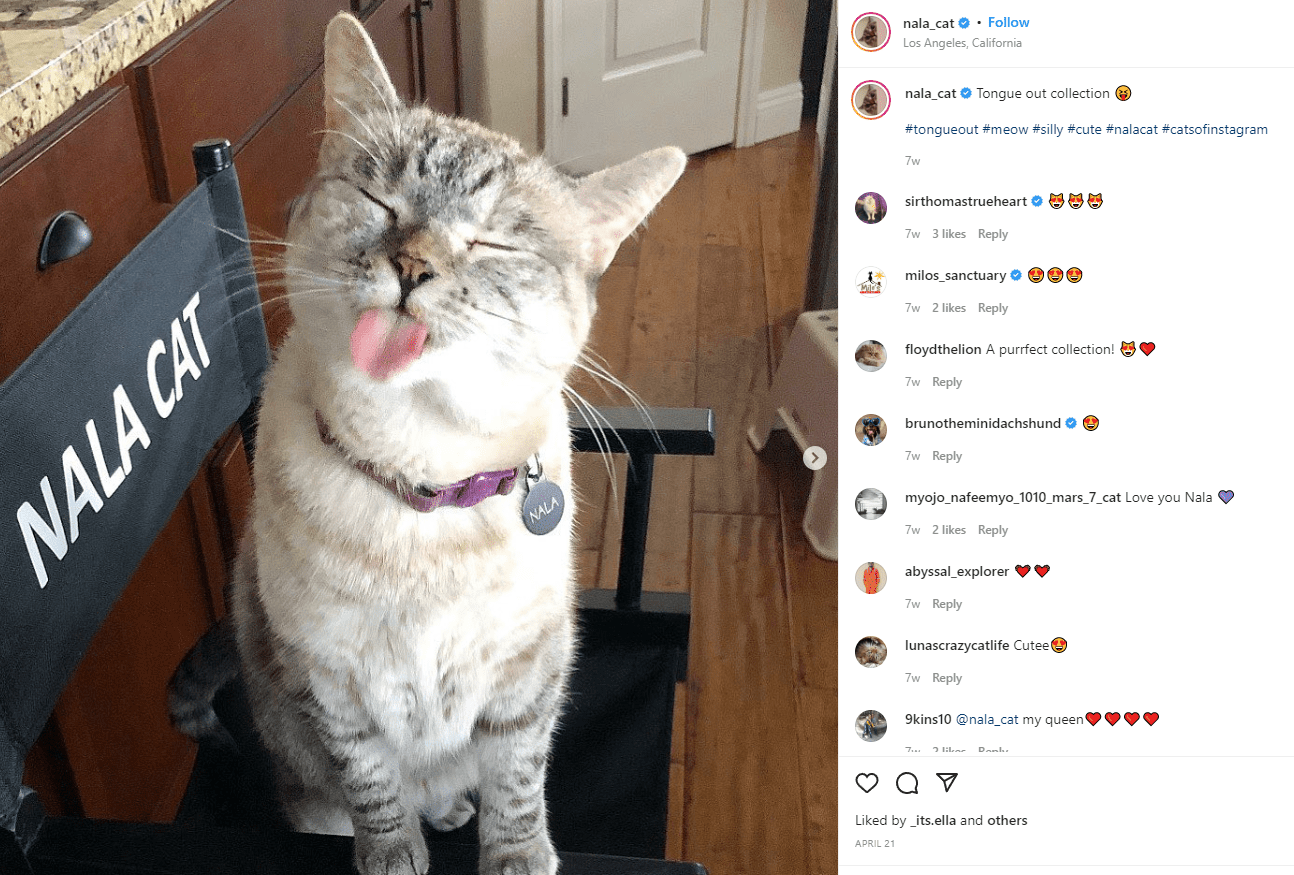 Tucker The Golden Retriever
@Tuckerbudzyn is a golden retriever with over 3.3 million Instagram followers. He is the consummate influencer with a cuddly and somewhat sarcastic disposition and a knack for promos. He's even created his own Tucker calendar!
His human, Courtney, shares Tucker's life, favorite products, comedic Reels influenced by trending audio and pop culture, and gorgeous furry pup pictures. More recently, Tucker has shared the stage with his son, @toddbudzyn, who is collecting a following of his own.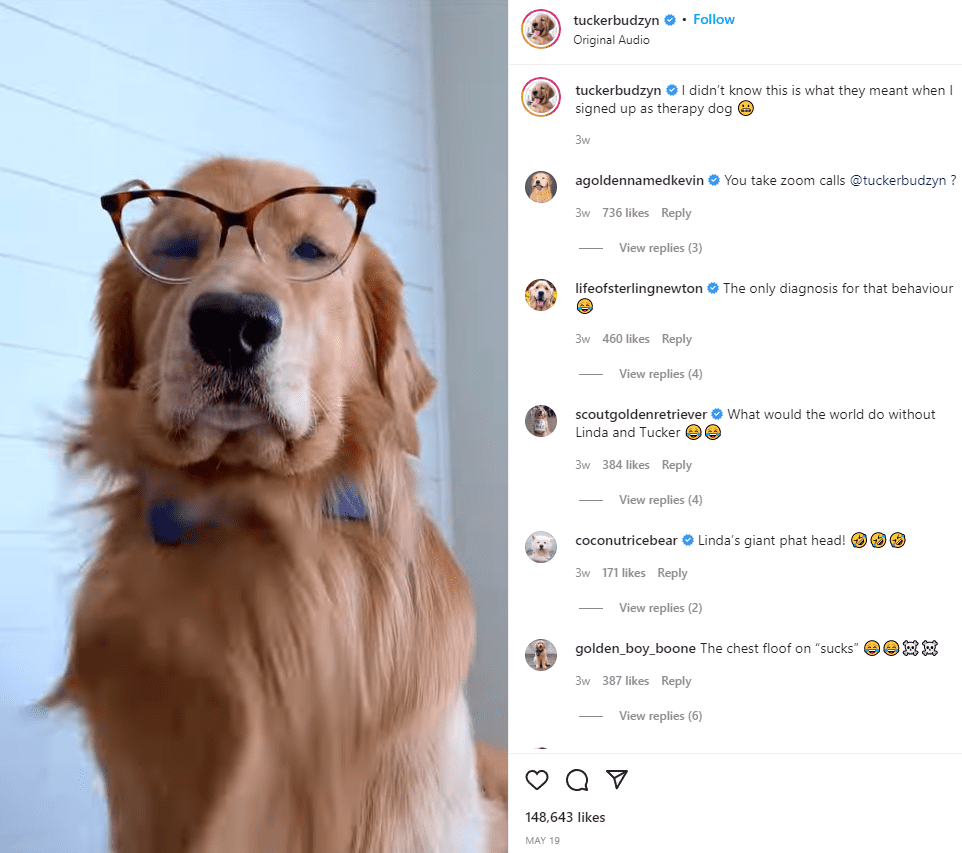 Grumpy Cat
@realgrumpycat is the original grumpy cat face we've all come to know and love. Her Instagram feed bubbles over with forced cuteness and costumes made all the more adorable for her obvious displeasure. Her fame has produced her own merch line, endless memes, and even her own NFT.
Grumpy Cat shares her annoyed face, fun costumes, and comedic content with over 2.6 million Instagram followers. She's also partnered with multiple brands including Crazy Bricks, Bingo Bash, Funko, DX Racer chairs, and has even been featured in her own line of children's books with Random House Kids.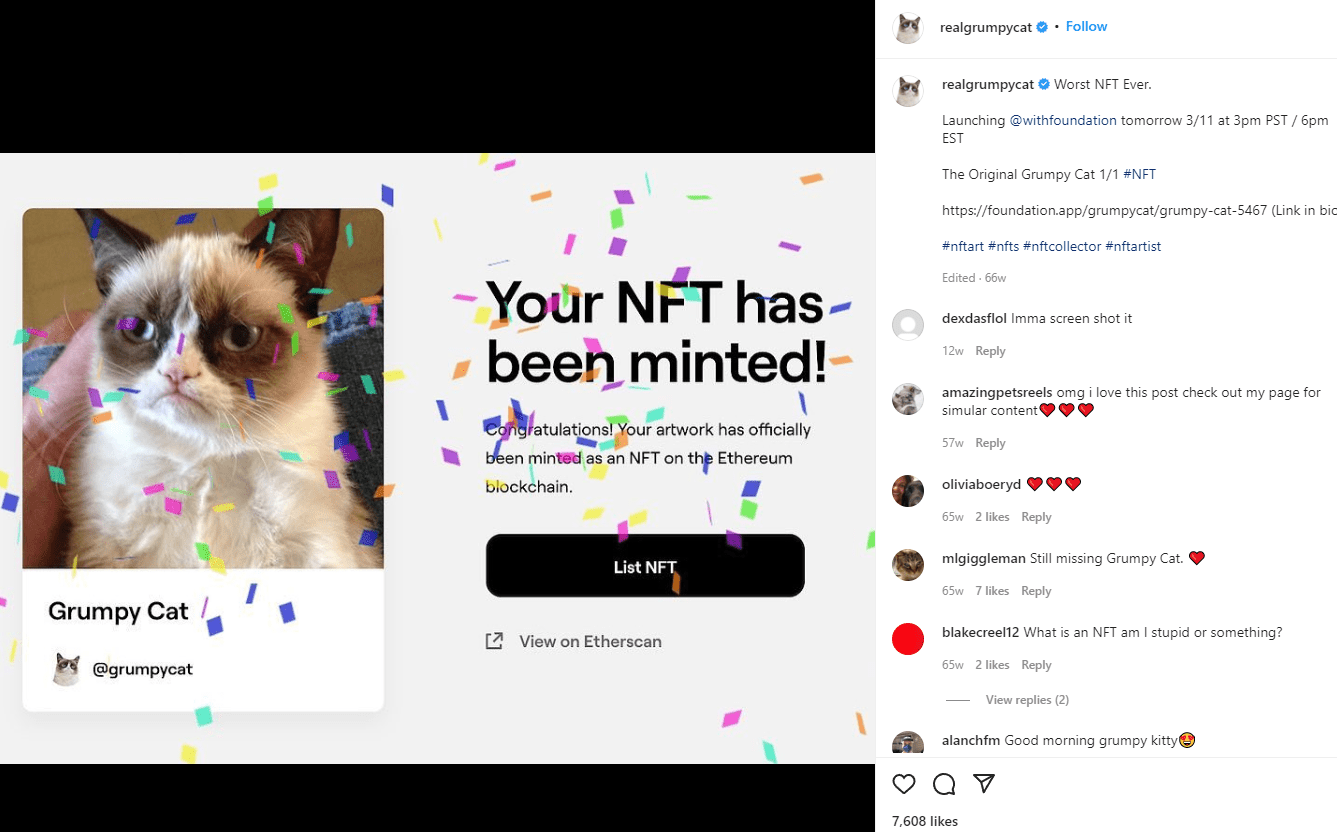 Juniper and Friends
@juniperfoxx is a pet account featuring exotic rescues. Juniper was the original star, but she now shares the spotlight with a few others, including a raccoon, snakes, sugar gliders, possums, and a few regulars such as dogs and cats.
This team of rescued pets share their adorable habits and hijinks for their 3 million Instagram followers and have landed collaborations with CashApp, Farmville, and Sims4, among others.
Mr. Pokee
@mr.pokee is actually a hedgehog named Herbee who takes his 1.8 million Instagram followers on exciting and exotic global adventures. His Instagram feed is a curated and exquisite blend of travel and tiny things such as hedgehog clothes, stockings, hats, and waddles.
They have also added to the family with another hedgie, Dumpling, and cats Henree, Wallee, and Bumblebee. This family of pets have secured brand collaborations such as Photo Leap, Pokemon, and Tractive.

Doug The Pug
@itsDougthepug is everyone's favorite pug. His fame extends beyond his 3.8 million Instagram followers as he's also been able to meet the cast of Stranger Things, be Romero Britto's muse, land a role in Mitchells vs Machines, and even has his own children's book with Scholastic Publishing.
His content consists of stellar pet photography, exciting travels, and celebrity meet and greets. Doug has also landed top-tier brand collaborations, including Budweiser, Petco, and CauliPower.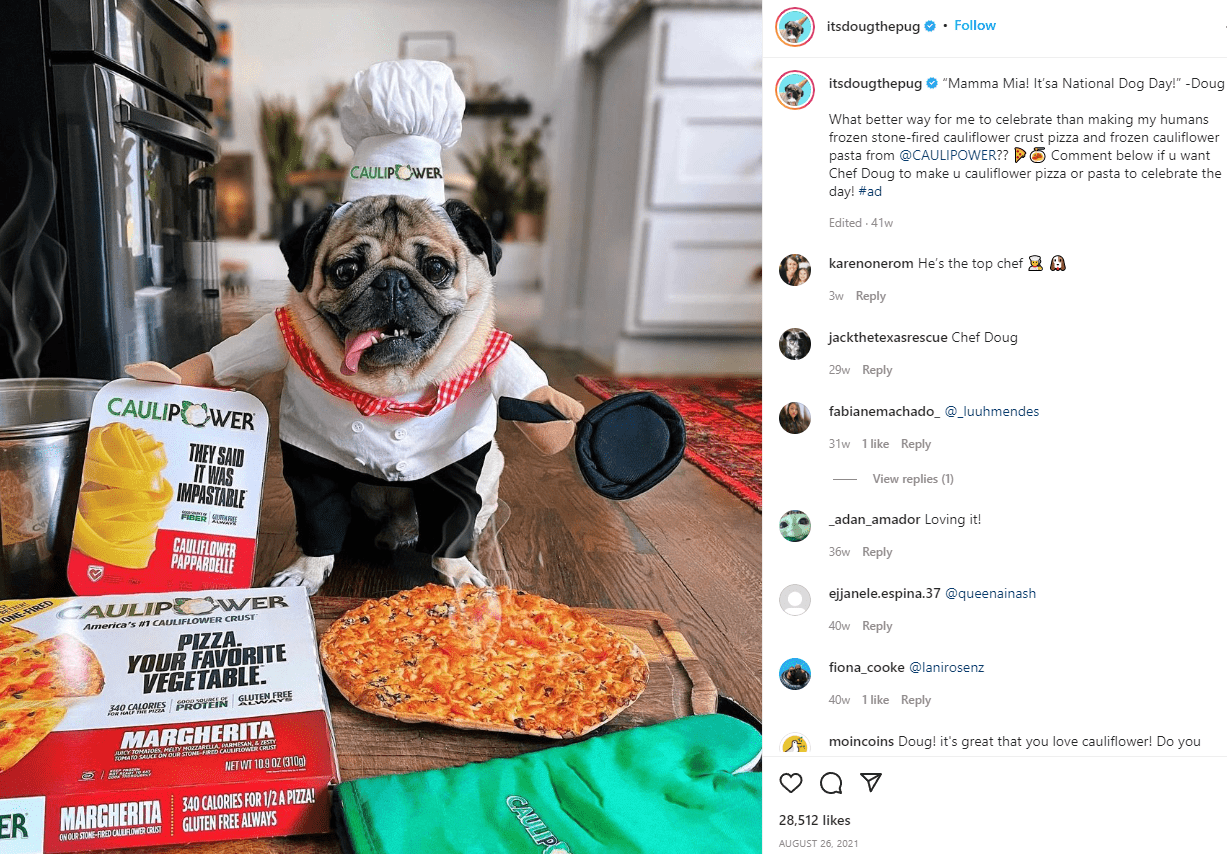 Jill The Squirrel
@this_girl_is_a_squirrel is the home of Jill, a 9-year-old squirrel who was rescued into pet life. She tells her 706k Instagram followers that she loves parkour and Starbucks napkins. Jill loves to dress up in costume and lives an active and playful lifestyle with her human family.
Her content is littered with her adorable squirrel face under flowers, wearing a tiara, practicing her parkour skills, and tasting many treats. She has worked with many brands, including Henry's Pets, and Pop Your Pup, and has her own merch line with socks and tees.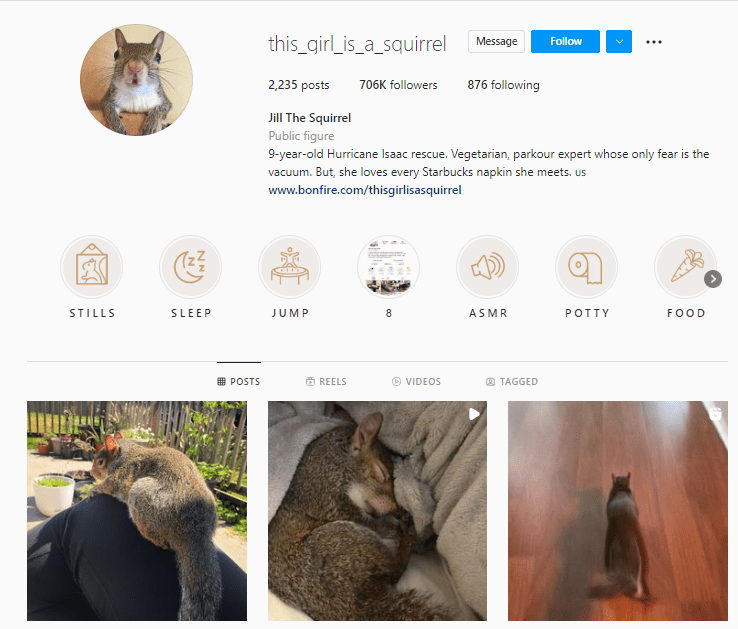 Shortcake
@Theladyshortcake is a bulldog rescue from California with a happy grin you can just feel. She is a solid injection of pure serotonin and cheer. Her family uses their platform of 201k Instagram followers to promote pet adoption and rescue charities.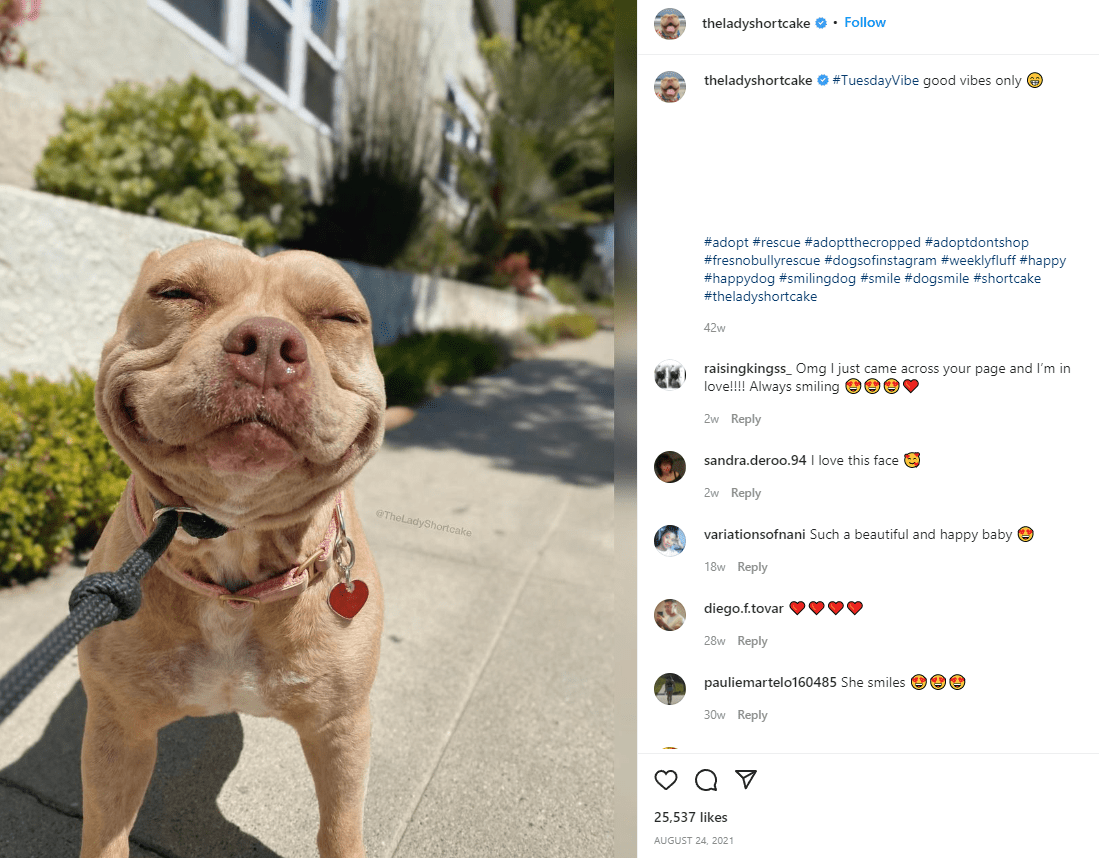 Rocco
@rocco_roni is the self-proclaimed clumsiest dog on the internet. He's an Old English Sheepdog who sometimes shares the limelight with his brother and tiny human sister.
He's often seen sporting eyewear, showing off his floofy walk, and reading custom books from Petlandia for his 108k Instagram followers. Among his other collaborations are PetCon, Vanderpump Dogs, and Blue Buffalo.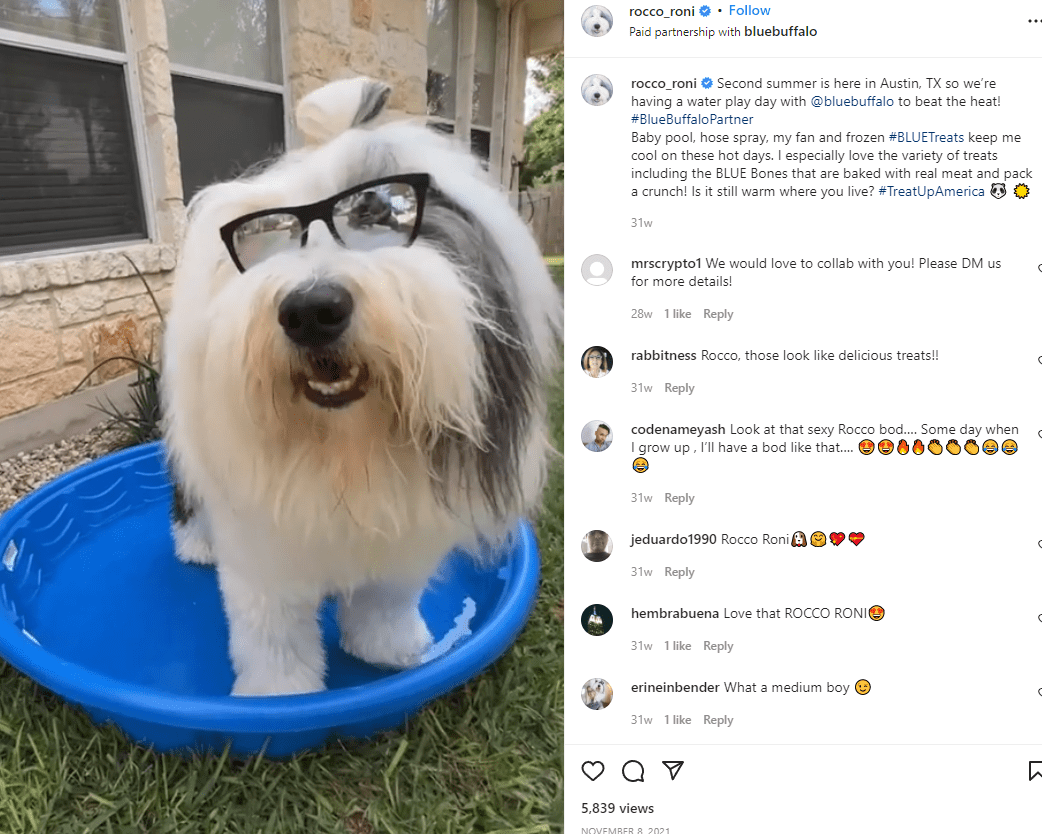 Hamlet The Pig
@hamlet_the_piggy is a lady pig from Nashville who clearly enjoys the "spoiled life", including her very own couch and fireplace. Her 332k Instagram followers enjoy a casually curated feed full of family life, piggy in sunglasses, and general adventuring.
Hamlet has indeed multiple brand collaborations, including Farmville, Nationwide, and PetCon. She and her humans are also staunch Miami Dolphins fans.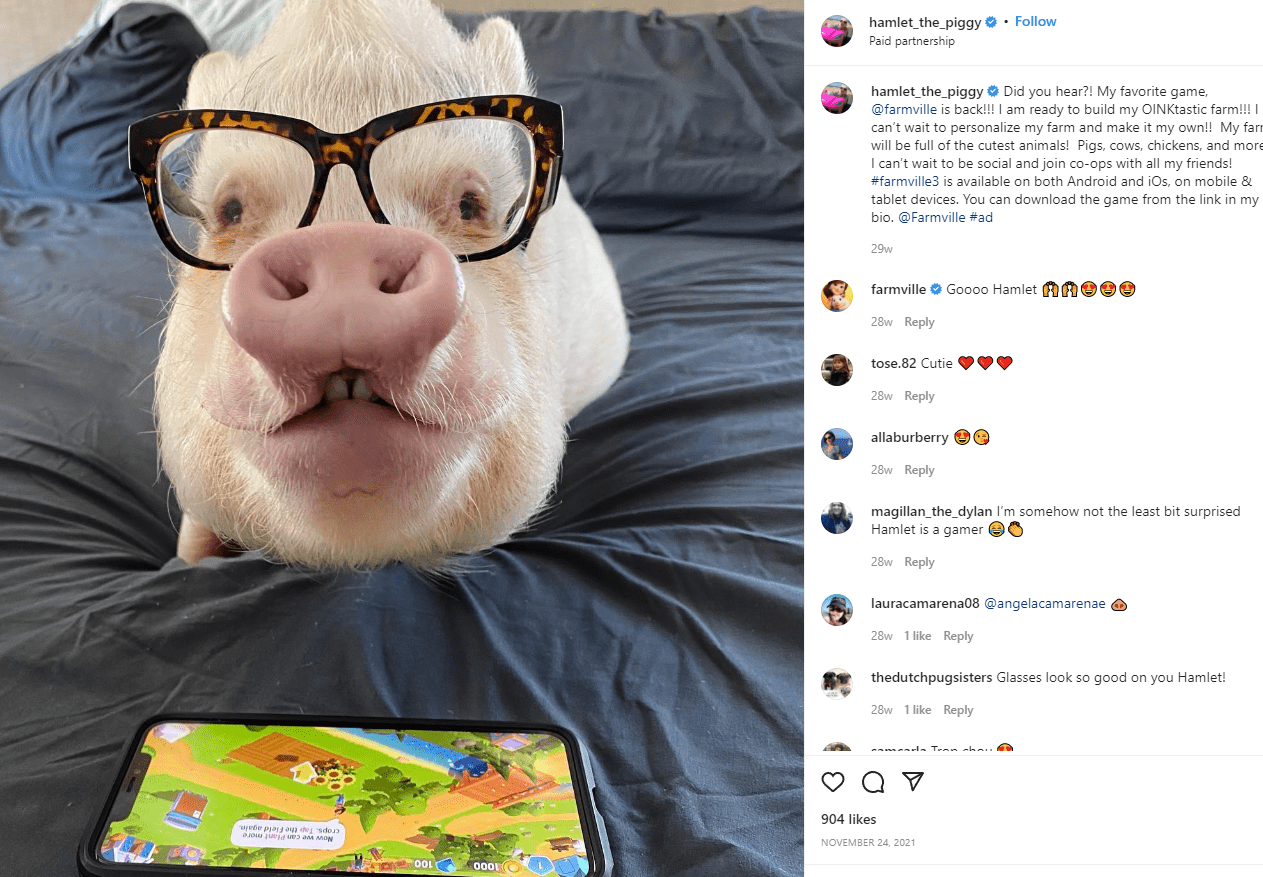 Mila The Talking Dog
@Meesa_Mila is an incredibly intelligent Collie mix who shares her language learning skills and general shenanigans with over 238k Instagram followers. Watch along as Mila communicates with her humans using Fluent Pet button kits.
Mila also shares the spotlight with her brother Schatzi, who isn't interested in the buttons quite as much. Together, their family also enjoys rugged outdoor travels in contrast with their apartment city life. She has also been part of several brand collaborations, including, Fi Dogs, Soul CBD, and is a partner with Fluent Pet.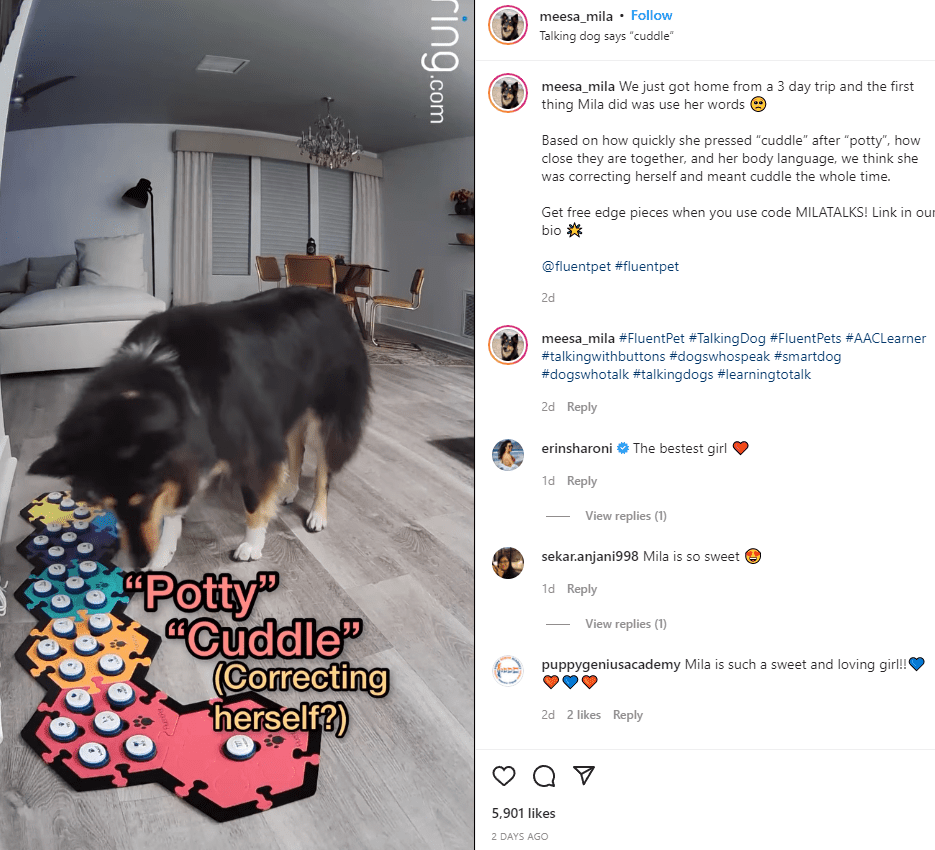 Chompers The Corgi
@Chompersthecorgi is the delightfully short-legged furry friend we all need. He lives in San Francisco with his humans and shares glimpses of his dashing life with his 116k Instagram followers.
He's collaborated with brands including Stella and Chewys and he was a featured character and cover star of John Hodgman's book, Medallion Status, and is a travel influencer in his own right, showcasing fun destinations and beautiful landscapes.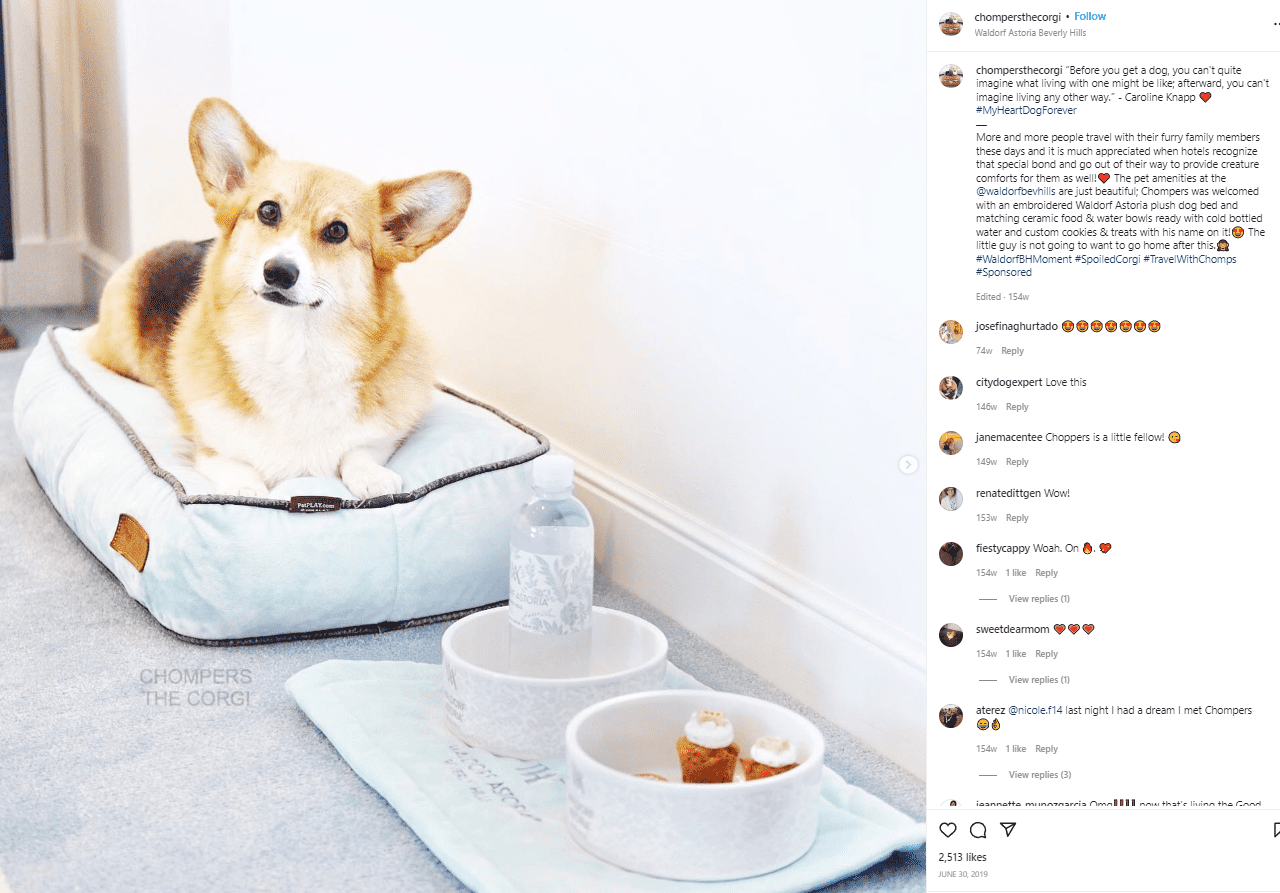 Teddy The Shetland
@Teddytheshetland is the self-proclaimed international heartbreaker who also dabbles in modeling. He is a pint-sized Shetland pony who resides in the UK. His content is an addicting blend of the gorgeous English countryside and luxurious London life from Teddy's perspective.
Follow along as Teddy visits The Boring, Buckingham Palace, The London Horse Show, and the greener pastures of his country home. He shares his pony shenanigans with his 164k Instagram followers and sometimes shares the feed with his fellow Shetlands and little brother, Rusty the Cocker Spaniel (@rustytheworkingcocker).
Teddy has landed brand partnerships with Schleich, Crayola, and West Elm.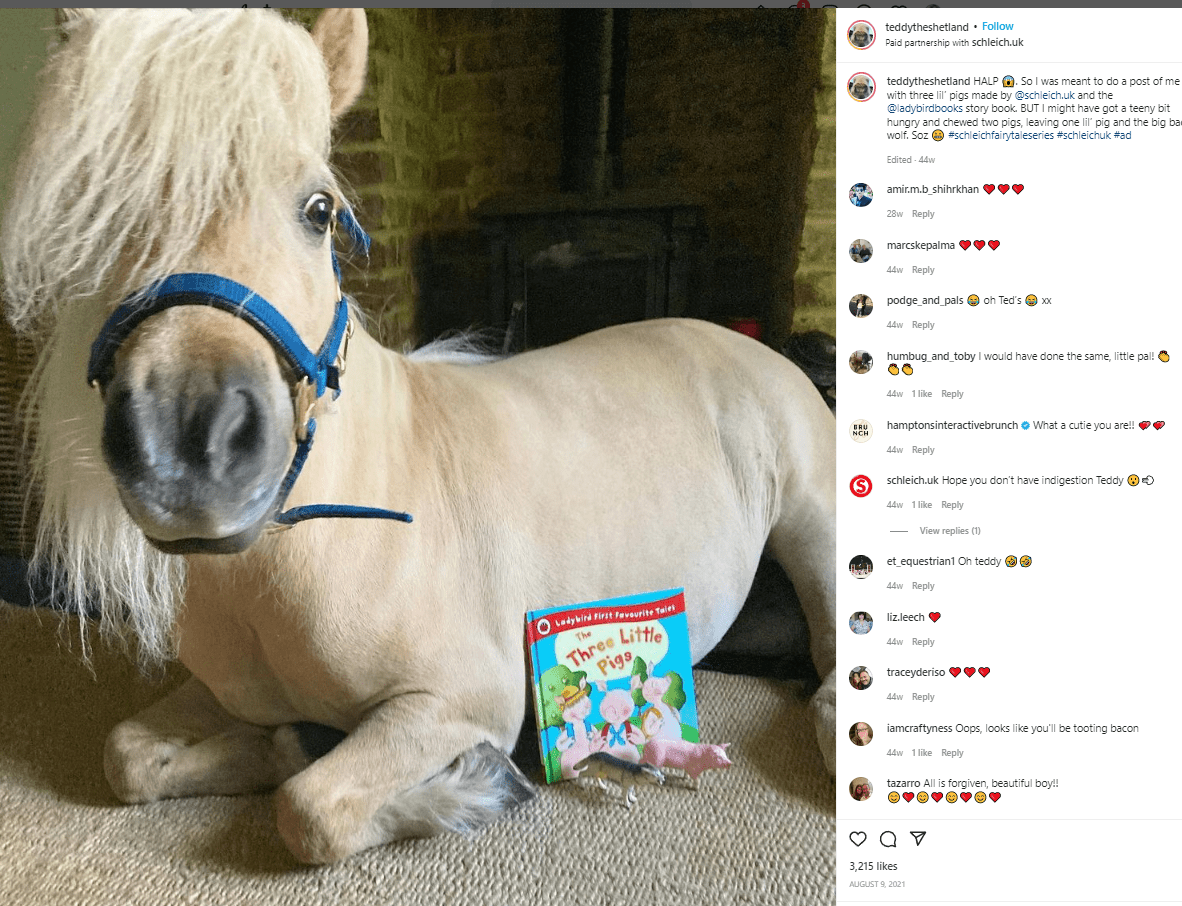 Jax The Siberian Husky
@siberianhusky_jax is a beautiful Siberian Husky with the enviable different color eyes, one amber brown and one icy blue. He lives in Norway with his human, and together, they go on all sorts of adventures.
His content is a curated mix of silly antics, gorgeous dog photography, and outings with his humans. Jax has landed several brand deals, including Furbo Dog Cameras, Woof Packs, and Butternut Box.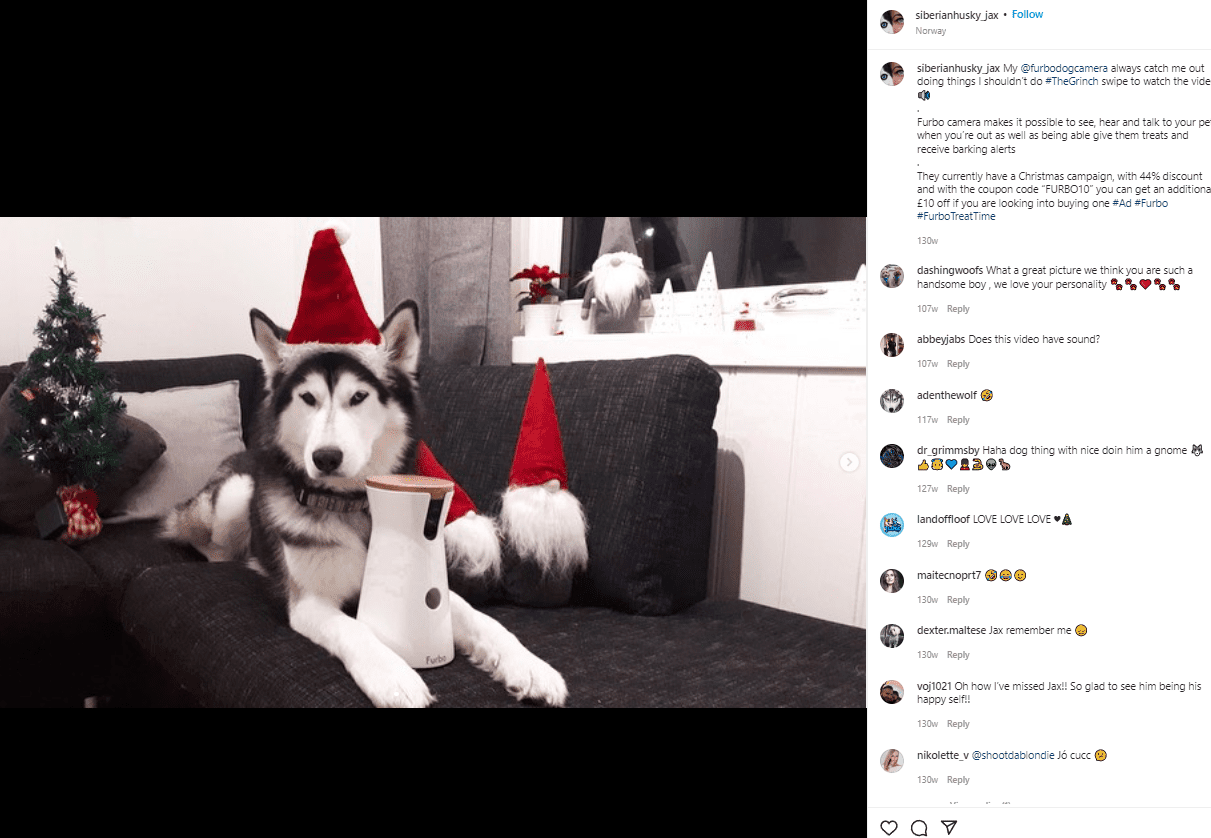 What Is a "Petfluencer?"
With the popularity of influencer marketing, new niche influencer types continue to emerge. From dadfluencers and skinfluencers, to granfluencers and kidfluencers, nearly every niche and sub-niche has at least one voice, if not many.
A petfluencer, or pet influencer, is a growing group of influencers that focus on pet-related content. Of course, these accounts are managed by their human counterparts but the word is spreading across Instagram, TikTok, YouTube, and Facebook.
As pet lovers and owners, their creative approach can be a valuable asset for pet brands. Similar to any other niche, petfluencers create engaging, educational, and inspirational content that is designed to suit a specific audience.
Some will have an emphasis on adoption and rescue, others on pure-breds and dog showmanship. There are even dog travel influencers, like our friend above, Chompers The Corgie.
The Rise of Petfluencers
Grumpy Cat, Tucker The Golden Retriever, Nala The Cat, and JiffPom are some of the early adopters of the petfluencer phenomenon. There's even a movement that is tracking Mary Lee, a great white shark who travels the easter seaboard who is an influencer in her own right.[1]
They often begin as simple picture accounts sharing adorable pet photos and stories, but grow into true influencer accounts. For example, who remembers Prancer? The high-maintenance chihuahua who went viral?[2] His adoption team gave him the honest description of "a Chucky doll in a dog's body" but his charm was undeniable and he was later adopted.
People love to look at cute and happy things that make them smile. That's what pets do and that's what petfluencers capitalize on. As more pet brands take notice, an experienced influencer marketing agency like HireInfluence is able to offer compelling opportunities in this niche market.
Pets as Influencers
The proverbial "cat photos" and pet pictures have always been popular on social media. And there is room for all kinds! Whether you like cats, dogs, pigs, ducks, or wildlife, looking at cute animal pictures appeals to a wide variety of people.
As we've seen, some of these petfluencers have amassed hundreds of thousands and even millions of followers placing them squarely in the macro and mega influencer tier. But as with traditional influencers, most rank in the micro-influencer or mid-tier influencer range.
The promotional creativity is nearly limitless. Pet content creators may endorse a new puzzle toy by posting a video of the star pup playing with it and the owner talking about the features. Or they may showcase a wagon or stroller that is suitable for pets on their next walk through the park.
Not all content is strictly for pets. Some accounts blur the lines between pet and lifestyle and will offer a wider range of promotional opportunities for content creators and brands alike.
Petfluencers for Change
Not all petflluencers are motivated by profits. There's a distinct cross-section of audiences who want to see pet content and care deeply about animal issues. They are more likely to support a cause than make a purchase.
There is room for cause-driven perfluencers too! Charities, shelters, and foundations are often featured and promoted to raise awareness and stimulate support.
In 2017, TikTok launched a campaign to raise funds for a pet nonprofit, Blue Cross. The platform asked users to post videos of their pets with the hashtag #petbff. For every 10,000 videos posted, the company donated £1 to Blue Cross.[3]
Animal shelters and nonprofits also use their own social media platforms to raise funds or awareness for animal issues, such as overcrowded shelters, rescuing dogs and cats, and the importance of spaying and neutering. However, they're not technically influencers themselves, even if they have a large following.
Some petfluencers also use their platform to raise awareness for environmental causes that impact pets and animals. Examples would include slow gardening, microplastics, pesticide-free gardening, bee-friendly plants, protecting wetlands, and respecting local wildlife.
These issues are strong motivators for pet and animal lovers everywhere.
The Power of Petfluencers
Petfluencers like the ones featured here are making great strides on nearly every social media platform. Rescue organizations, animal shelters, and nonprofits can leverage the power and attraction of cute dogs, cats, and exotic pets to spread the word about their cause and increase support.
Pet-related brands can find an engaging and profitable home in the hands of a pet content creator to give audiences a real-life peek at your products in action.
Sources:
[1] https://www.ocearch.org/tracker/detail/mary-lee
[2] https://www.npr.org/2021/04/27/991376581/prancer-the-haunted-victorian-child-dog-from-viral-ad-has-been-adopted
[3] https://newsroom.tiktok.com/en-gb/tiktok-launched-petbff-challenge-to-raise-funds-for-animal-charity-blue-cross