The discussion around race and representation in the media isn't a new one. It's still a conversation that has to be had and advanced, a systemic thorn in the side of the American people.
The best way for anyone that's not part of the Black American demographic to join the conversation and be part of the movement towards a more inclusive and diverse future is to simply listen and learn. Black American influencers are the best way to do that.
Here are the top Black American influencers that are making great strides in the fight for equity and representation.
1. Elyse Fox AKA Sad Girls Club
Elyse Fox is a film director, producer, entrepreneur, and activist. Her activist platform profile, @SadGirlsClub, has over 263k followers while her personal profile @elyse.fox, has a bit less with roughly 37k followers.
Elyse released a documentary about living with her depression in 2017. She was quickly overwhelmed by the sheer number of young women across the globe who craved a mentor that could help them in their own struggles. And so, the Sad Girls Club was born!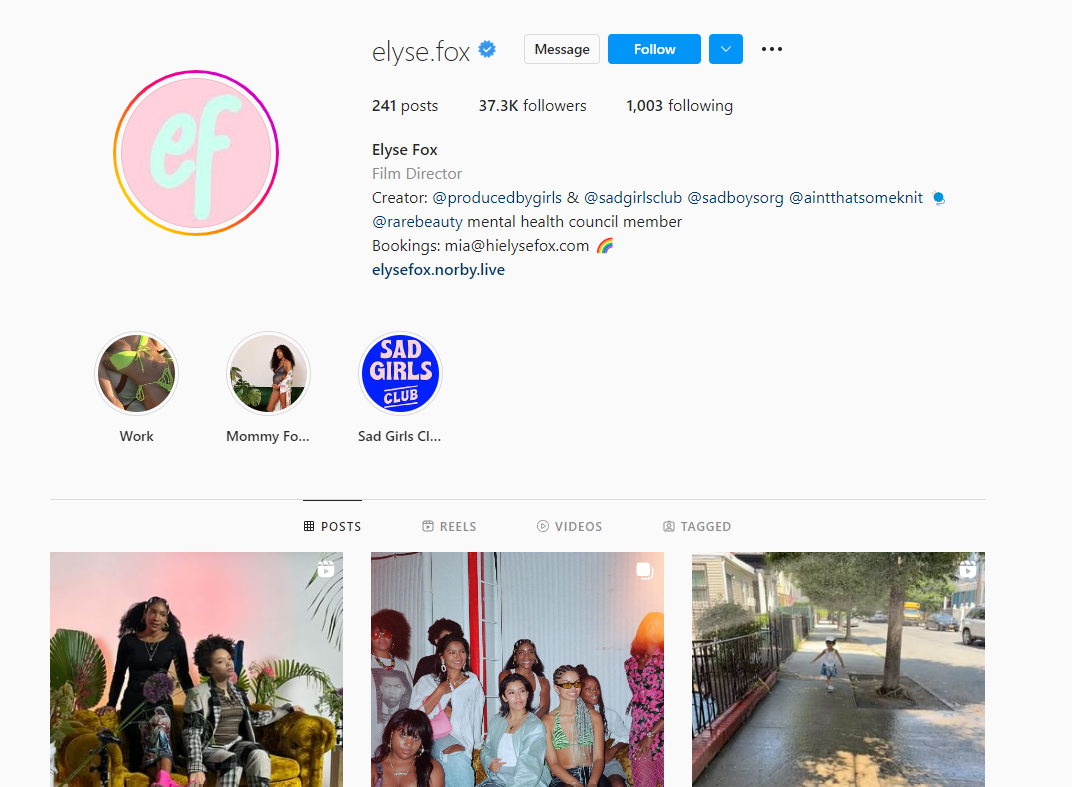 Source: @elyse.fox
2. Kehinde Smith
Originally from Chicago, the now London-based lifestyle influencer Kehinde Smith calls herself "Your Melanin Godmother." She shares her luxurious, monochromatic content with her 189k Instagram followers @kehinde_smith and focuses on high fashion, art, beauty, and travel.
Her romantic style makes people want to be where she is and wearing what she has on. She also has a YouTube channel featuring makeup, style, and hair tutorials with over 15,000 followers.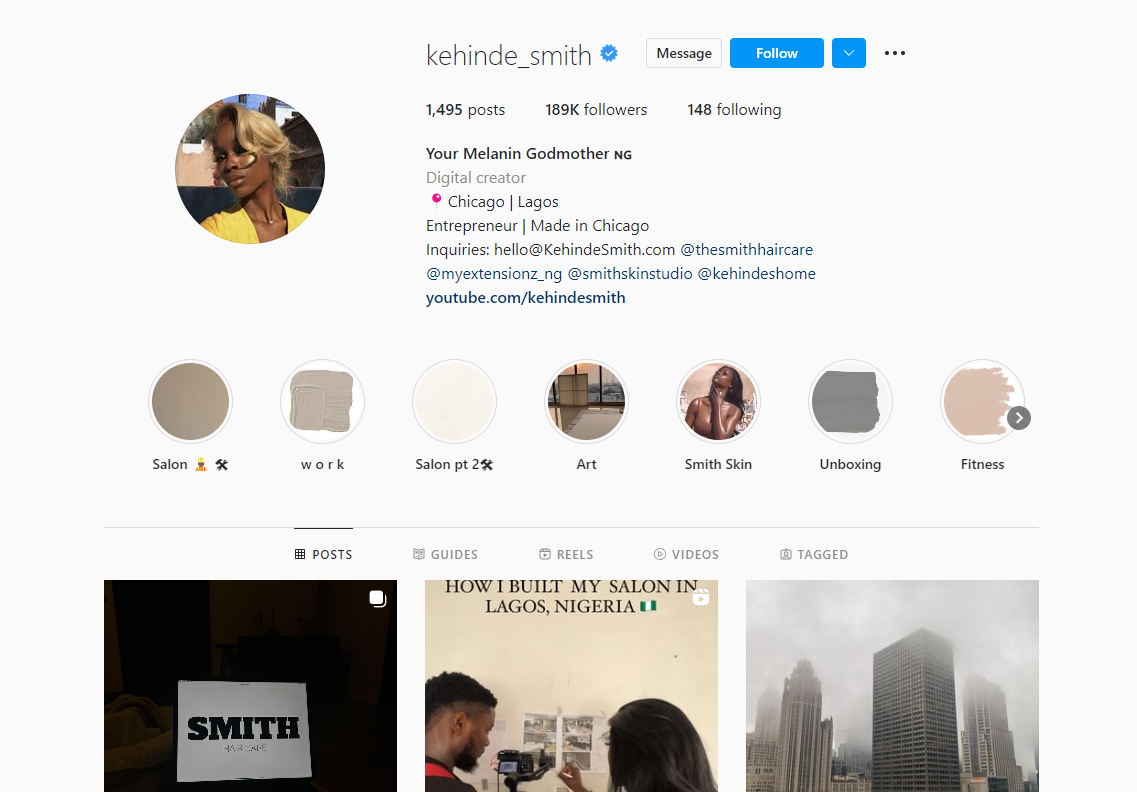 Source; @kehinde_smith
3. Tiffany Stuart AKA Well With Tiffany
Tiffany is a wellness-focused content creator, mom, and plant lover. Positioning herself as an "edutainer" and wellness coach, she shares practical and beautiful content @wellwithtiffany about gardening and spices, health and wellness, motherhood, and nutrition with her 15,000 Instagram followers.
Tiffany is also active on Pinterest sharing recipes, homeopathic oil information, plant care, style, and parenting to over 12,000 followers. Her YouTube following is smaller at just over 5,000 followers but full of amazingly helpful tutorials and products.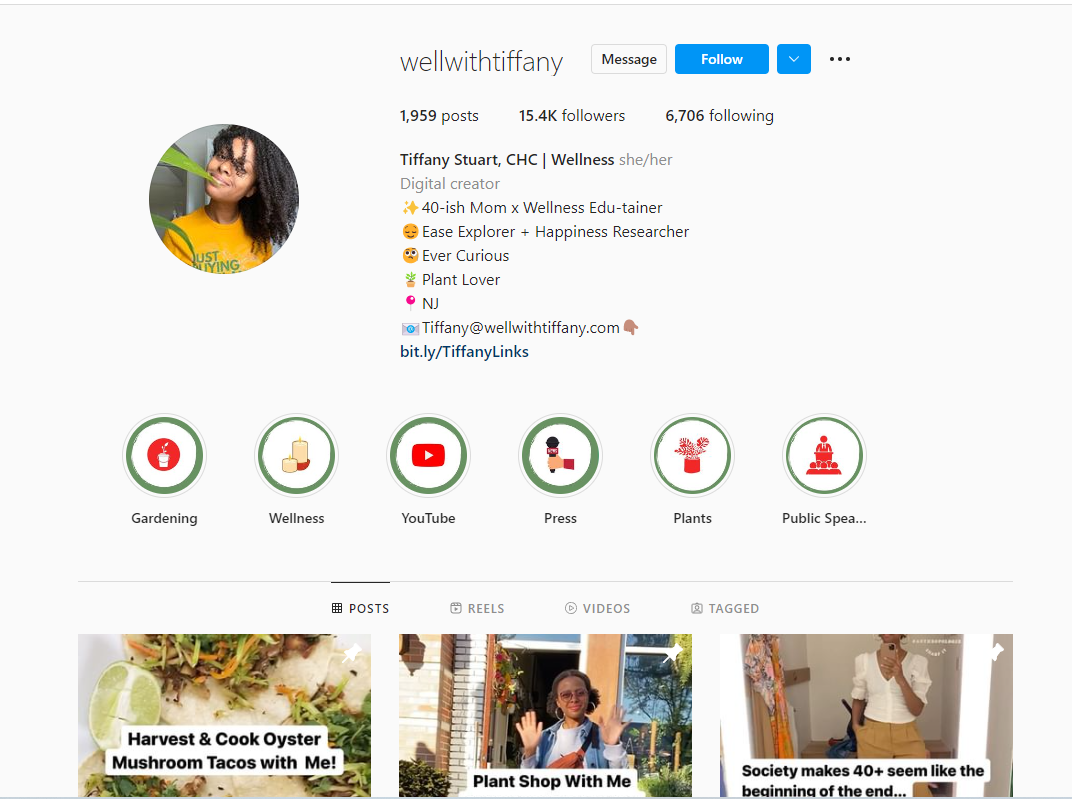 Source: @wellwithtiffany
4. Cara Lanelle
@cara_lanelle is a digital creator specializing in home decor and interior design. Her bright, white, and functionally luxurious home photos induce "curl up with a book but in a ballgown" vibes.
Cara showcases stunning decor and merch in her home with a few smatterings of date nights and Disney trips to her 134k Instagram followers heavily featuring her beautiful family of four.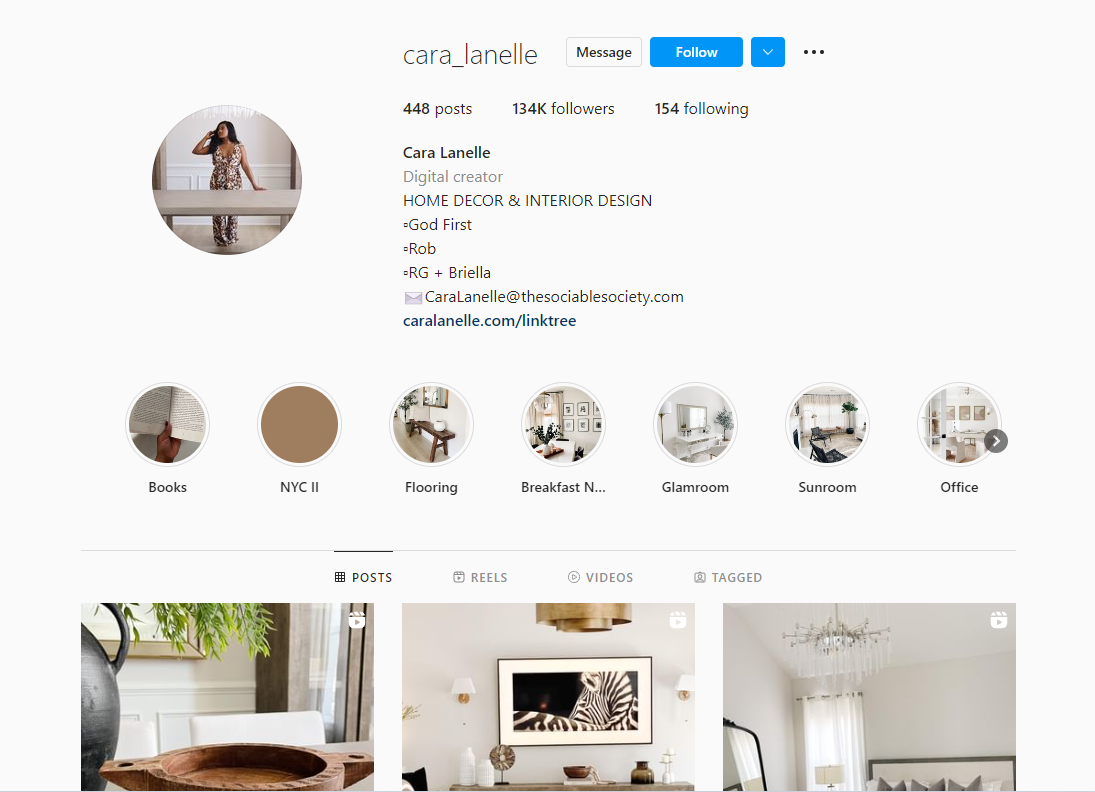 Source: @cara_lanelle
#5 Kellie Brown AKA And I Get Dressed
Marketing executive turned tastemaker, the voluptuous and magnetic Kellie Brown self-identifies as a "connoisseur of cool." This entrepreneur does it all!
Her personal profile on Instagram @itsmekellieb, has 151k followers who get to enjoy her busy and energetic lifestyle full of travel, plus-size fashion, home decor, and merch. She also founded @andidgetdressed that showcases inclusive fashion, as well as @AIDGhom (And I Get Dressed Home) highlighting home decor pieces.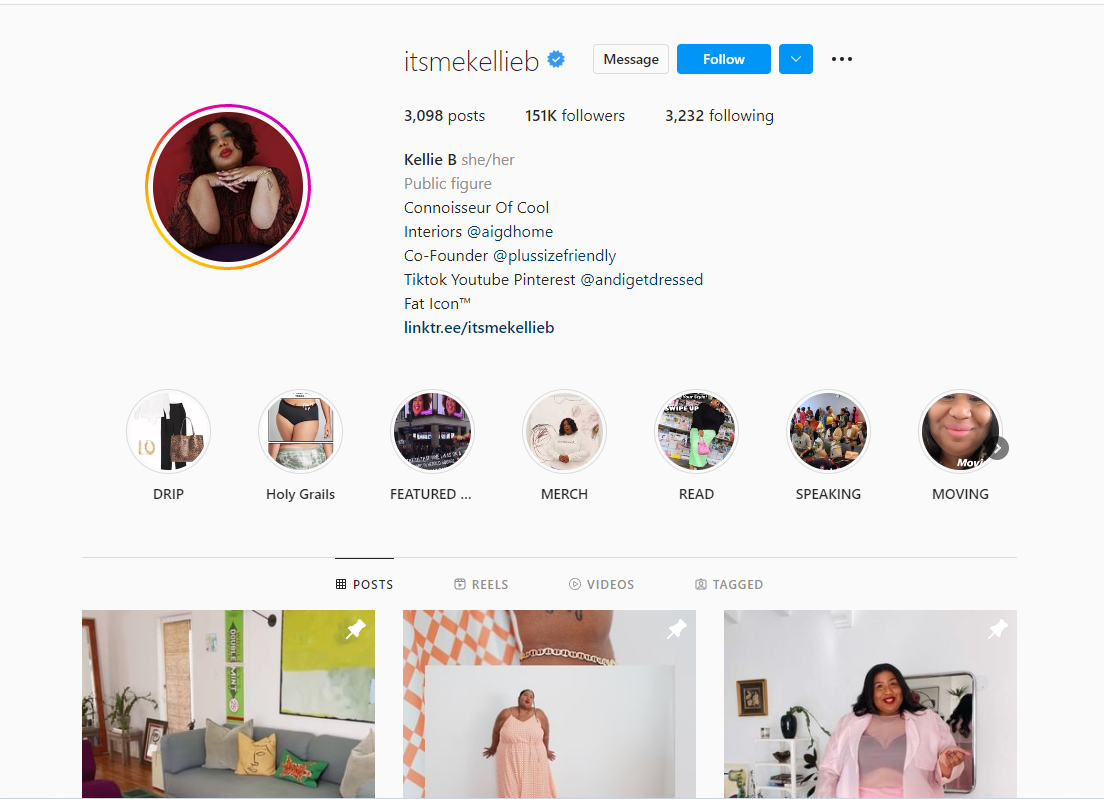 Source: @itsmekellieb
6. Kache AKA This Byrd's Nest
Kache is a lifestyle content creator featuring her six children, including a set of triplets, to over 110k followers at @thisbyrdsnest. She focuses on motherhood, style, and faith with a hearty dose of beautifully curated family fun.
Organization ideas, children's parties, family vacations, and impeccable style define her content. On the family's YouTube channel, her 5:30 am morning routine has over 8.6 million views with a channel subscription of over 94,000.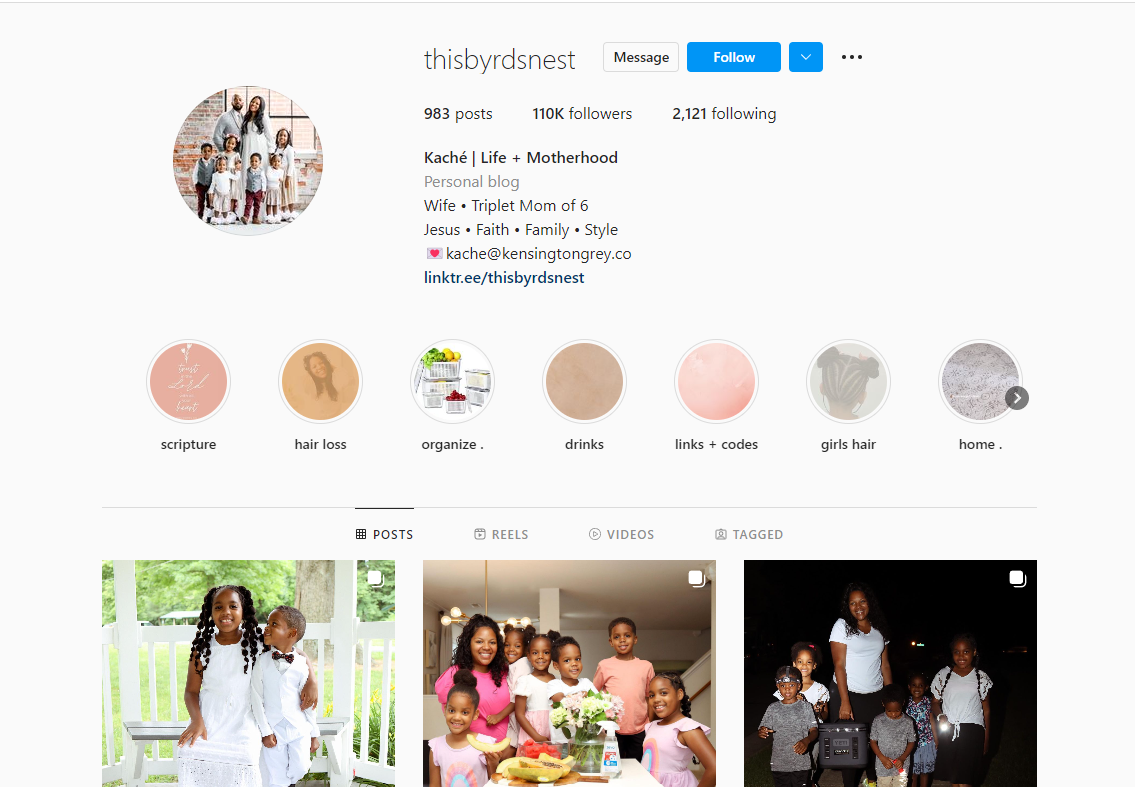 Source: @thisbyrdsnest
7. Robby Novak AKA Kid President
You've probably seen this not-so-little-anymore guy's cute face on YouTube, Instagram, or Twitter. He works in conjunction with writer and director Brand Montague and has nearly 340k followers on Twitter and 251k on Instagram, both @iamkidpresident.
Together, they're out to change the world by spreading a message of kindness, love, and mutual awesomeness. Kid President is known for his pep talks about anti-bullying and self-identity.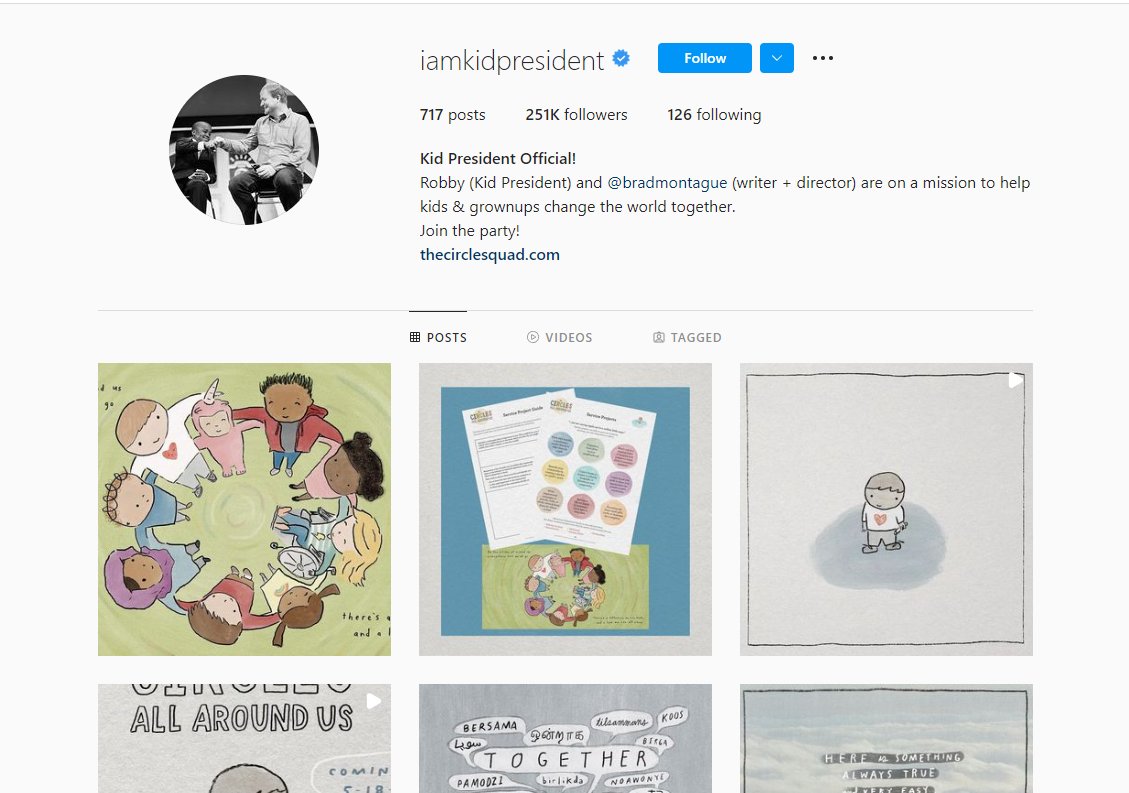 Source: @iamkidpresident
8. Angela Davis AKA The Kitchenista
Cookbook author, home cook, and mom, Angela Davis, or The Kitchenista, cooks up some incredibly tasty-looking treats for her 179k followers on Instagram. After launching her Instagram account, she was able to leave her accounting job and pursue her dream of cooking full time.
Along with her beginner-friendly cooking content, she creates restaurant reviews, kitchen organization, and must-have gadgets. Followers can find recipes on Patreon and get exclusive discounts for cookware and food products as well.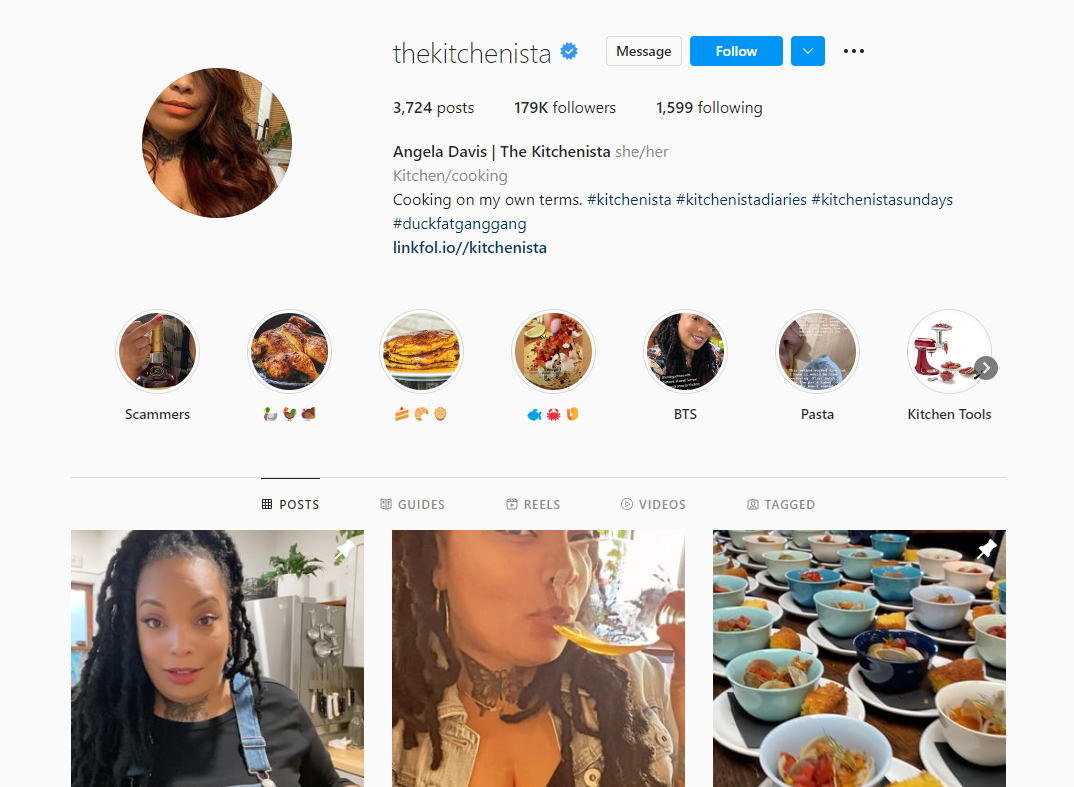 Source: @thekitchenista
#9 Paola "Pao Pao" Mathe AKA Finding Paola
"Perfection is boring. Life is art." is Paola's perfect description of her artist lifestyle content. She creates a delightful juxtaposition between high fashion and raw motherhood with a side of self-care and travel for her followers.
Her personal profile, @findingpaola, features her own line of headwraps. Her brand, FANM DJANM (strong woman), has its own 162k strong following at @fanmdjanm.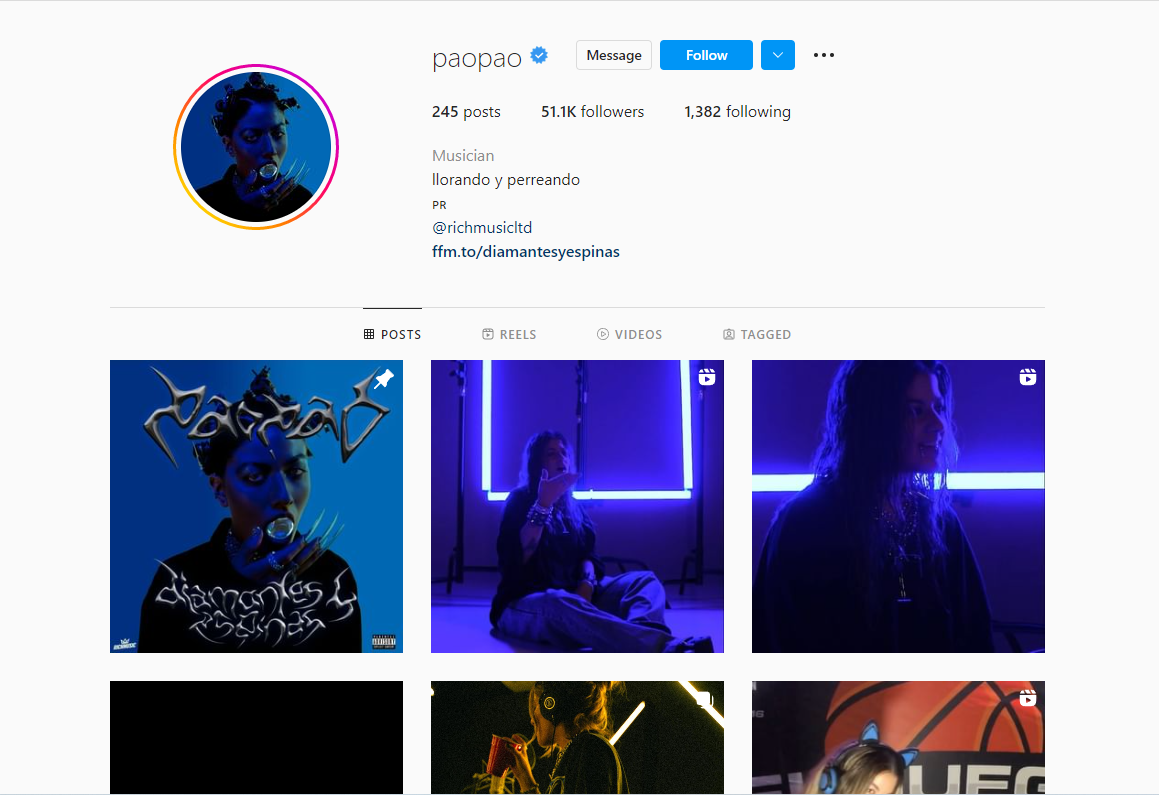 Source: @paopao
10. Jenné Claiborne
Jenné Claiborne is a vegan chef, author, YouTuber, and blogger who shares recipes, cooking inspiration, promotional codes, and product reviews on her social media accounts, all infused with Southern hospitality.
After growing on social media, she expanded her content to include home decor, gift guides, and more. Her Instagram account, @sweetpotatosoul, boasts 382k followers.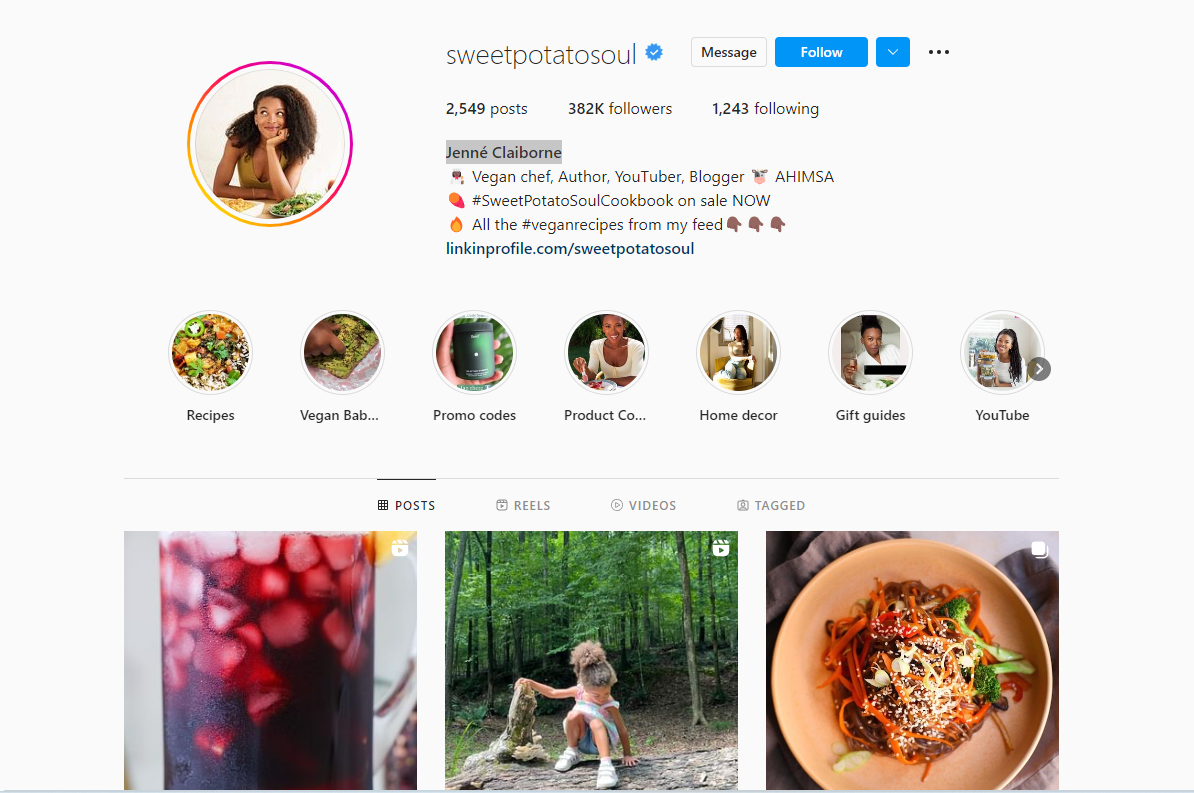 Source: @sweetpotatosoul
11. Marques Brownlee
Marques Brownlee is a tech influencer known for his software tutorials and technology product reviews. He often shares posts on his channels about mobile phones, cameras, tech accessories, and other gadgets.
Despite being known for tech, Marques Brownlee is also a professional ultimate Frisbee player. On his YouTube channel, he often conducts interviews and hosts guests like comics, scientists, and media personalities for lively and thought-provoking discussions. His Instagram, @mkbhd, has over 3.8 million followers. His YouTube channel is going strong with 15.9 million subscribers.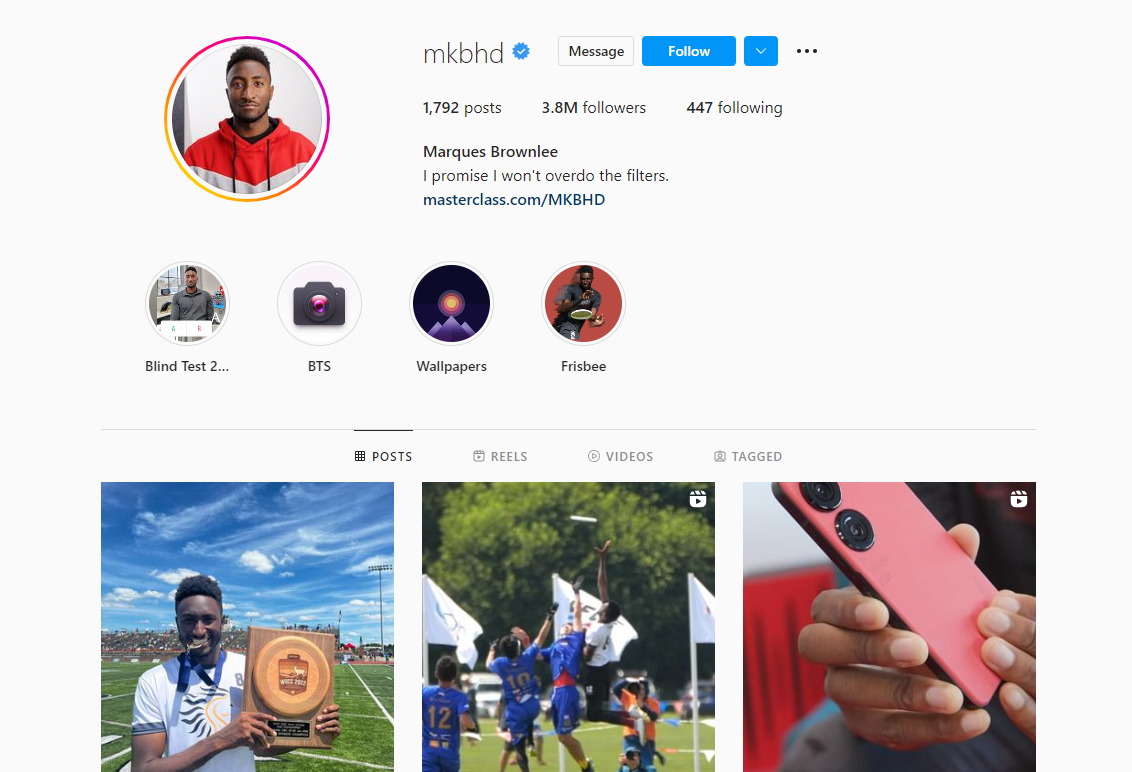 Source: @mkbhd
11. Yara Shahidi
Yara Shahidi is an actress and social activist who spreads awareness of social issues on her social media accounts. Best known for her role on the television show Black-ish, she uses her social media influence to support causes like Black Lives Matter.
Aside from her acting and influencer roles, Yara Shahidi founded Eighteen x 18 along with social news publisher NowThis. The platform is intended to encourage peer groups to vote in local elections. Her other organization is Yara's Club, which provides online mentorship to end poverty through education. She currently has 7.5 million followers on Instagram.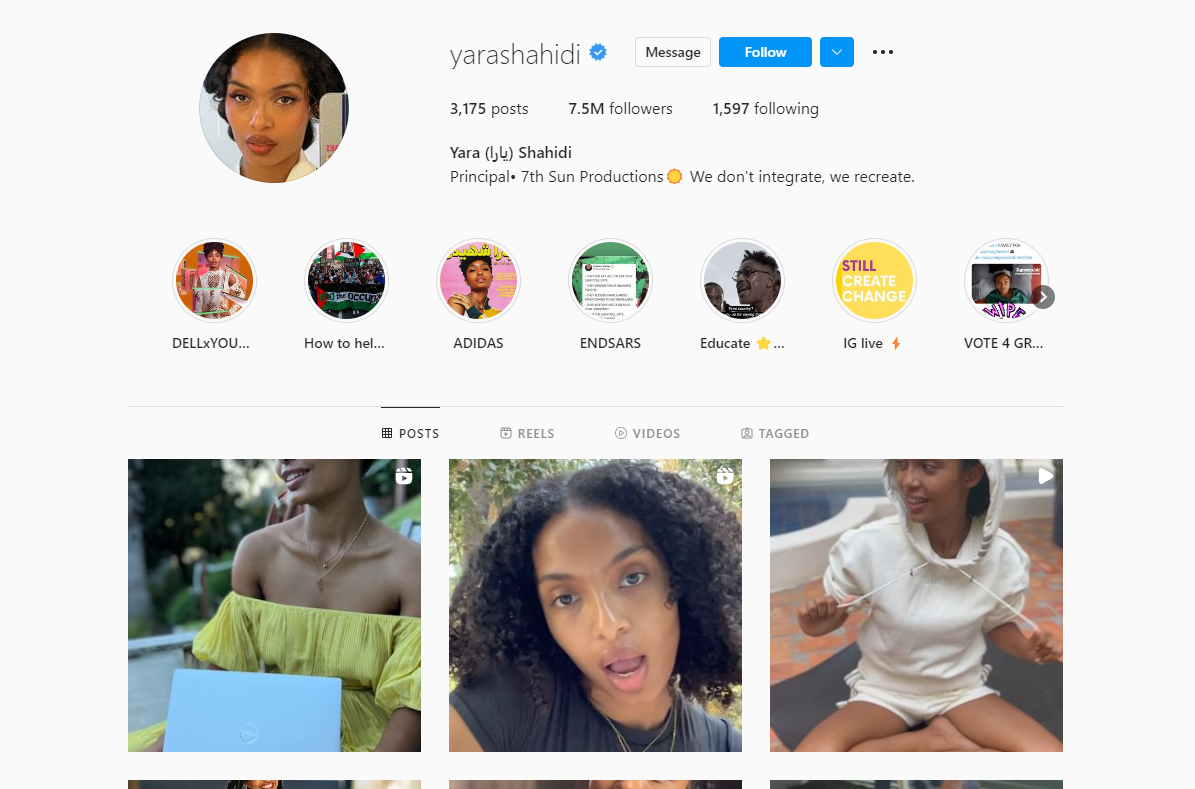 Source: @yarashahidi
12. Shayla
Shayla is a social media influencer in the beauty niche. With her YouTube and Instagram channels, she offers in-depth makeup tutorials and photos to help others learn and embrace their own natural beauty.
Since launching her social media influencer brand, Shayla has created two makeup collections with Colourpop Cosmetics, which she promotes on her channels. Her Instagram account now has 3 million followers, and her YouTube has over 750k subscribers.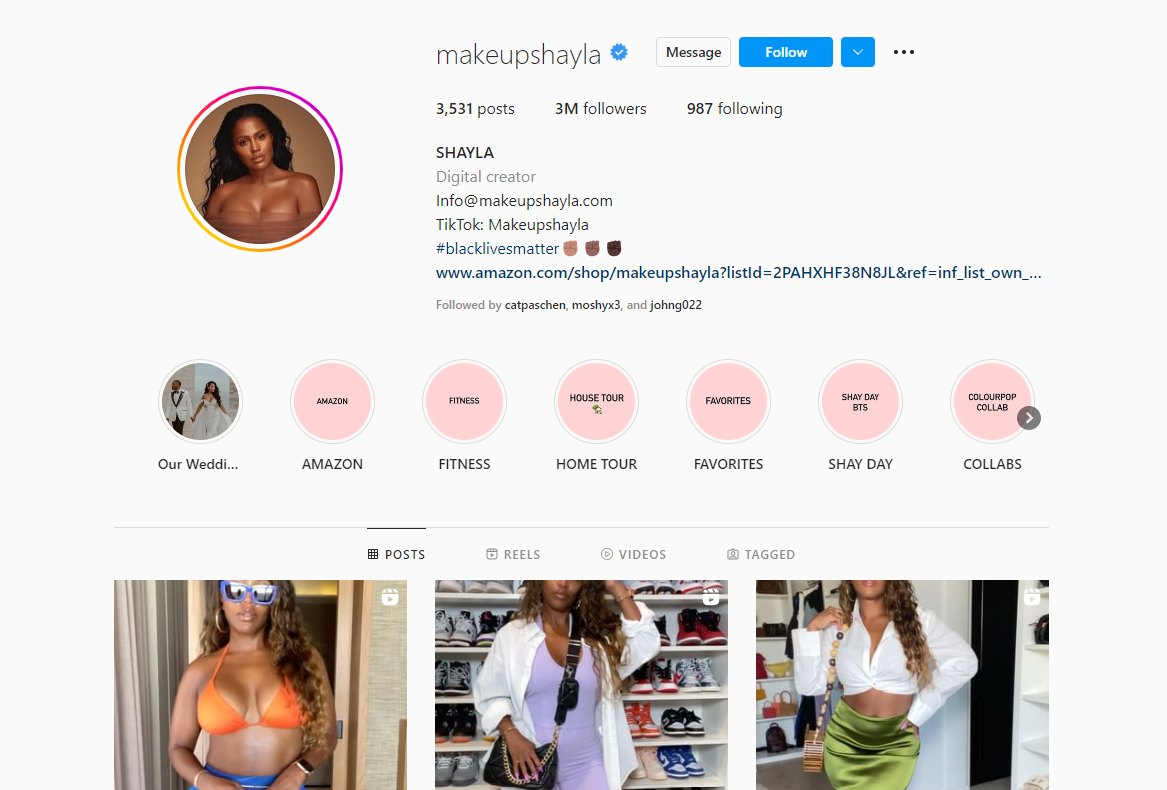 Source: @makeupshayla
13. Raye Boyce
One of the most popular Black American beauty influencers, Raye Boyce grew to prominence with her YouTube videos that offer beauty and skincare tip and tutorials. She also has a personal Instagram where she shares tidbits about her personal life, such as pictures of her with her daughter.
As a popular name in the industry, Raye Boyce often endorses skincare, makeup, and haircare brands on her channels. She currently has 1.5 million followers on Instagram and 1.9 million followers on YouTube.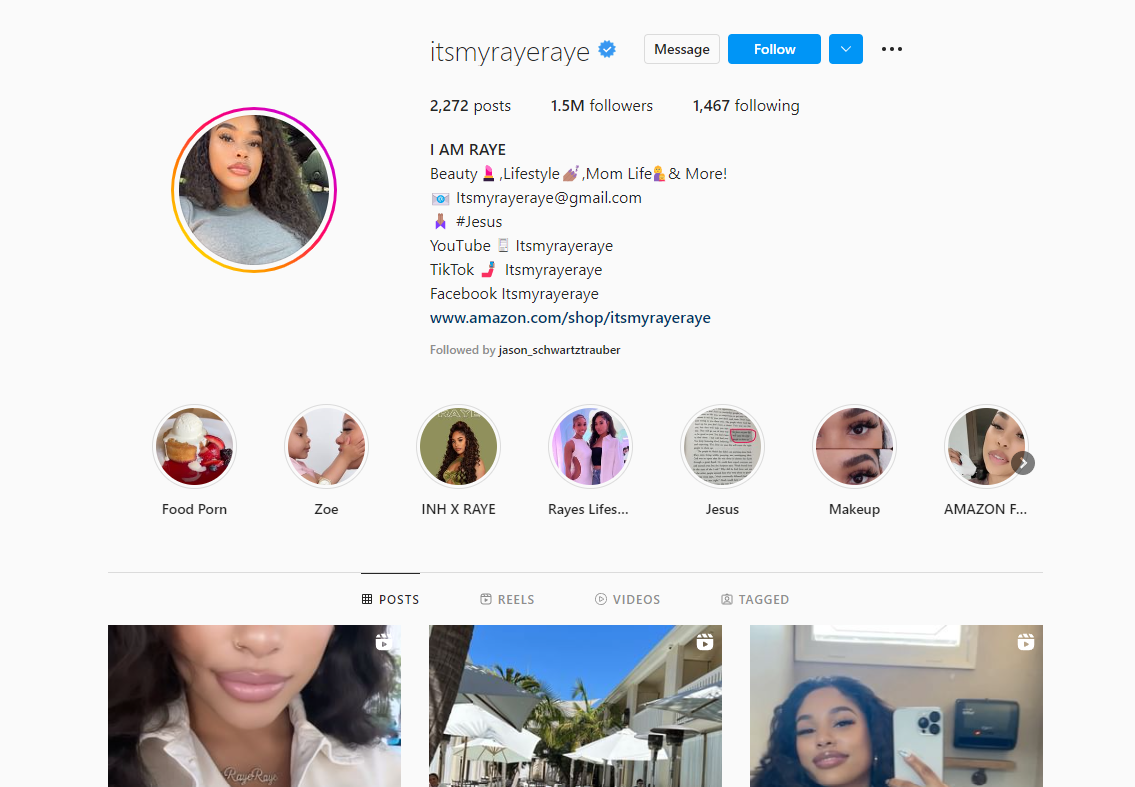 Source: @itsmyrayeraye
14. Ellarie Noel
After receiving a master's degree in marketing, Ellarie Noel pursued a career in the beauty world. Now, she's one of the top beauty influencers and mom bloggers. Her content includes videos and pictures with her daughter, but she also shares beauty tutorials and endorsements for beauty brands.
Her massive following on Instagram is over 1.1 million followers, and her YouTube videos have been viewed almost 50 million times by 632k followers.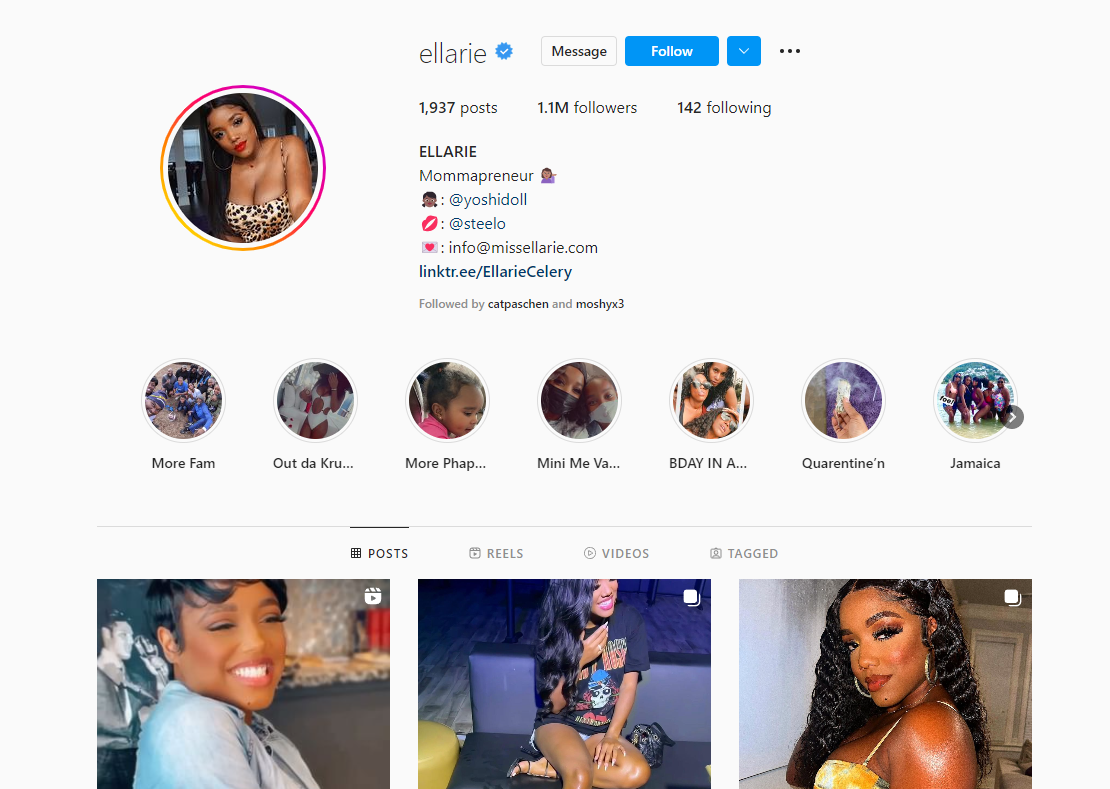 Source: @ellarie
15. Courtney Quinn
Courtney Quinn is a quirky New York with a unique sense of style and a self-professed "obsession" with colorful things. After receiving her MBA in California, she left for New York City to pursue a career in fashion.
After years in the corporate environment and experience with major brands like Coach, Kate Spade, and Tommy Hilfiger, Courtney Quinn left her position to pursue her brand, Color Me Courtney, full time. Like her aesthetic and personality, all of Courtney's content on Instagram is bursting with color. Her handle @colormecourtney currently has 723k followers.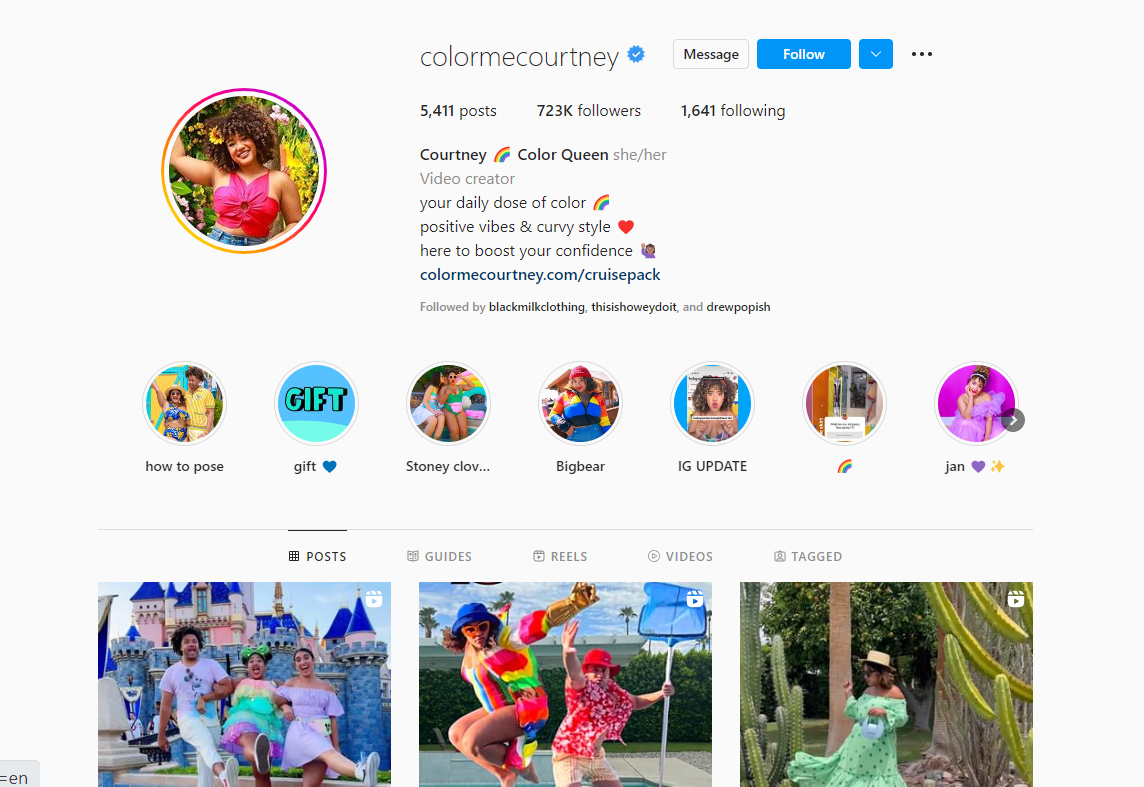 Source: @colormecourtney
15. Bunmi Laditan
Bunmi Laditan is a writer who rose to fame after releasing her book, The Honest Toddler: A Child's Guide to Life. After the initial book's success, she wrote additional books on parenting and contributed to parenting websites, building an influencer following along the way.
Though the main focus for Bunmi Laditan is parenting, she also shares content around racism and injustice in the Black community. Religion is prominent throughout her content, both on social media and in her books. Her Instagram currently has 42.5k followers.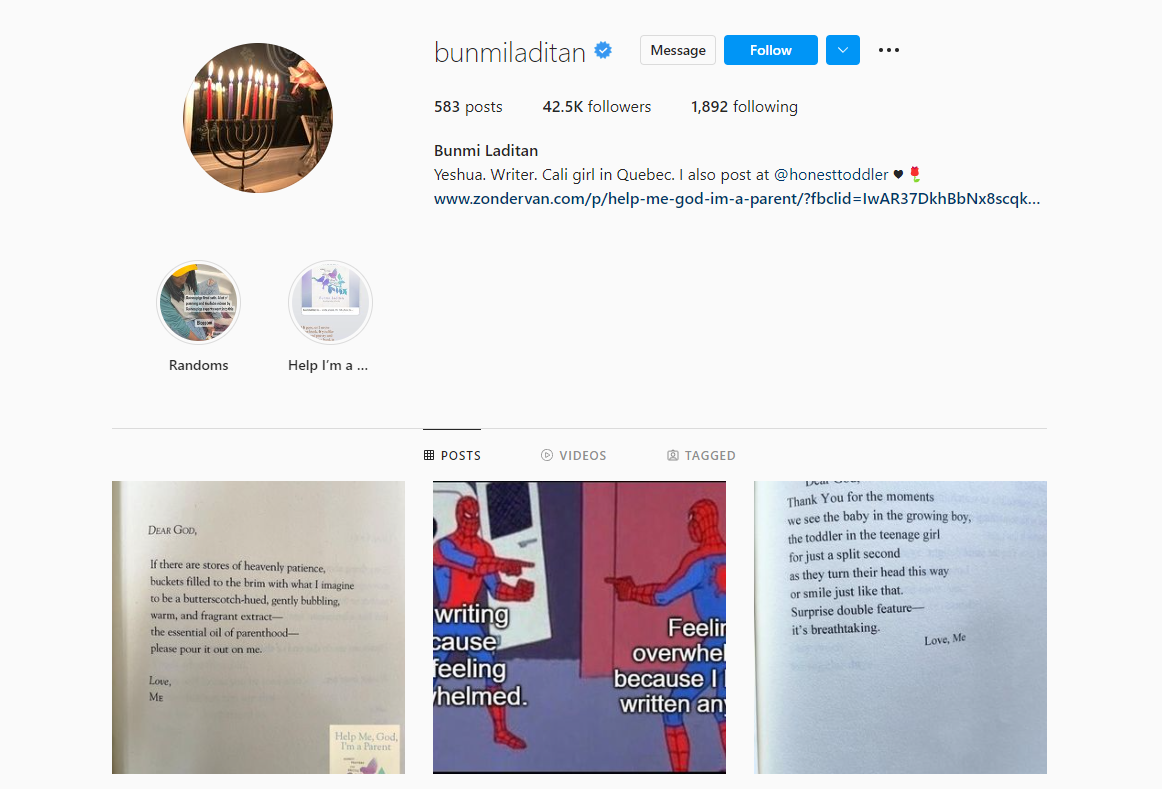 Source: @bunmiladitan
Amplify Brand Voices with Black American Influencers
Whether in fashion and beauty or social activism and tech, Black American influencers are gaining attention on YouTube and Instagram for their unique perspective and engaging content. Many of the influencers on this list work with brands they believe in to help them gain exposure and expand into new audiences.