The music industry is constantly changing. New platforms and technologies are emerging, creating new opportunities for influencers to make their mark.
Music influencers use their voice and talent to spread the word about new music. They may be singer/songwriters, DJs, music producers, or simply enthusiasts who amass a following for their keen musical ear.
Here are the top music influencers making waves in social media.
Selena Gomez
Selena Gomez is an American singer, actress, and producer who began her acting career on the children's television series Barney & Friends. She also had a starring role on Disney Channels' Wizards of Waverly Place. Her former band, Selena Gomez & the Scene, released albums that reached the US Billboard 200 and were certified gold. She's been working solo for a decade, releasing multiple albums that have been on the Billboard Hot 100. In addition to her impressive career, she's received accolades like Billboard's Woman of the Year in 2017 and Time magazine's honor of one of the 100 most influential people in the world in 2020. She also served as a UNICEF ambassador since age 17.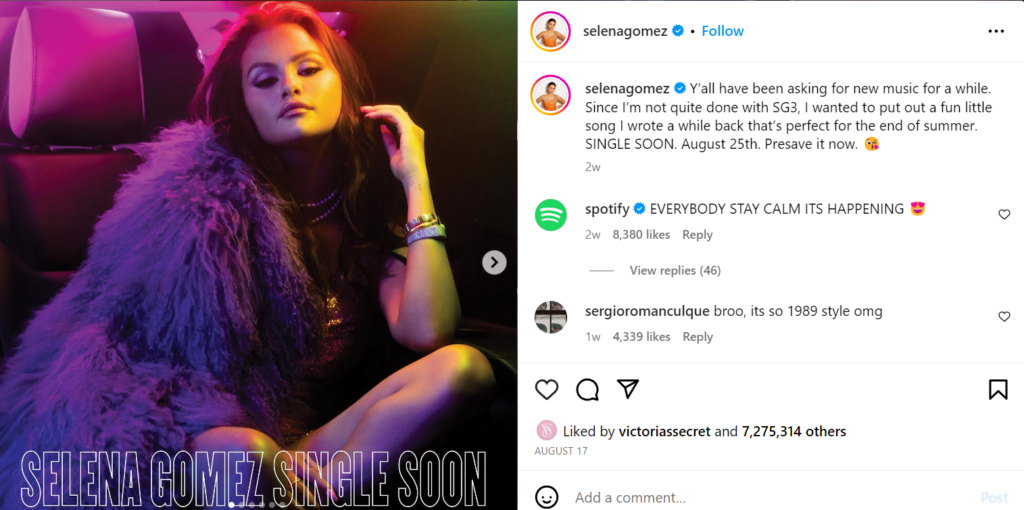 Source: Instagram
Taylor Swift
Taylor Swift is an American singer-songwriter recognized for her musical versatility and songwriting. As one of the most prominent cultural figures of the 21st century, Taylor Swift has had a profound influence on the music industry. Her professional songwriting began at age 14 as a country singer, but she's released over 14 albums under different labels. She's also won 12 Grammy Awards, three for Album of the Year, 40 American Music Awards, and 29 Billboard Music Awards – the most won by a woman.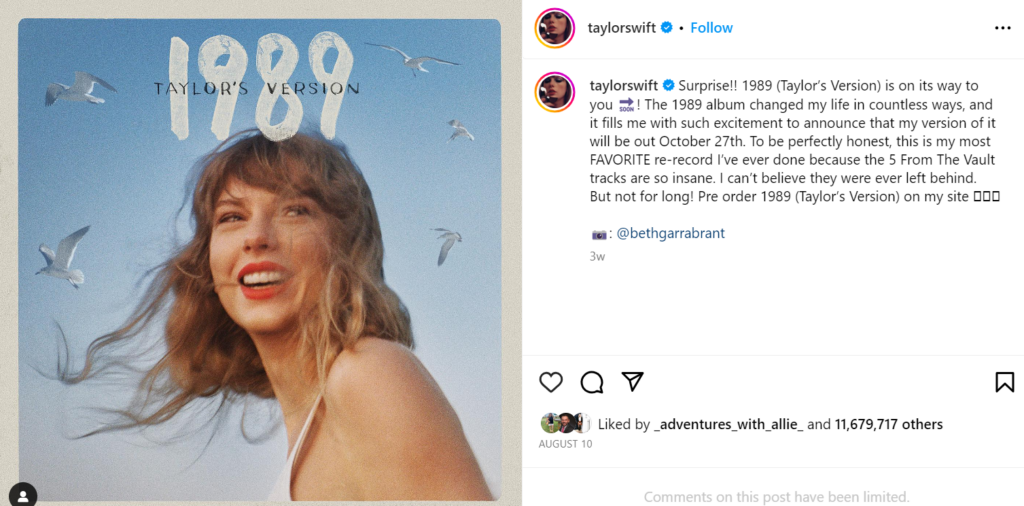 Source: Instagram
Justin Bieber
Justin Bieber is a Canadian singer who achieved commercial success at a young age with teen pop. His debut studio album, "My World 2.0," debuted at the top of the US Billboard 200, making him the youngest solo male act to top the chart in 47 years. He's currently recognized as one of the most influential people in popular music for his genre-bending musical ability. One of the best-selling music artists of all time, Bieber has estimated sales of over 150 million records worldwide.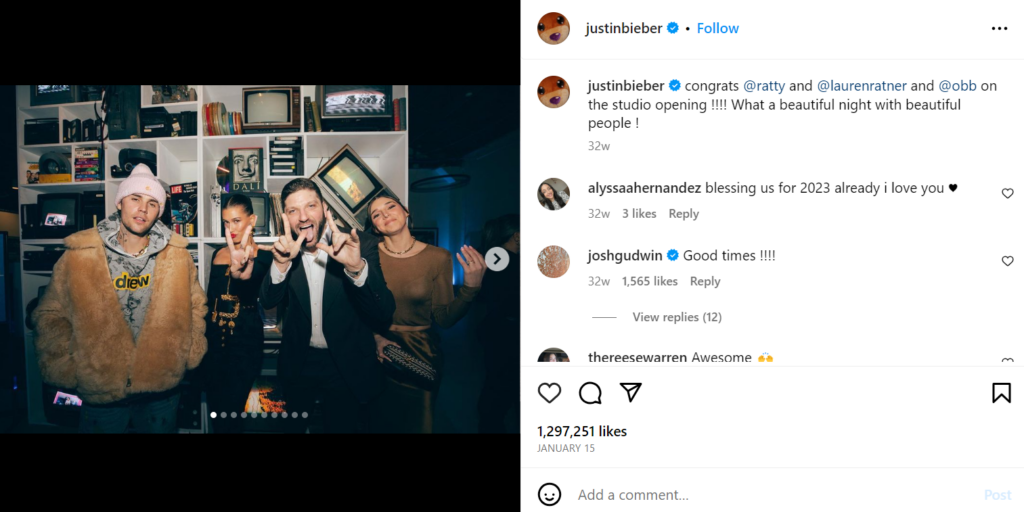 Source: Instagram
Billie Eilish
Billie Eilish Pirate Baird O'Connell is an American singer and songwriter. She first gained attention in 2015 with her debut single, "Ocean Eyes," which was written and produced by her brother. In 2017, she released her debut EP titled "Don't Smile at Me" and achieved commercial success, reaching the top 15 of record charts in numerous countries. She's received many accolades, including seven Grammy Awards, two American Music Awards, two Guinness World Records, three MTV Video Music Awards, three Brit Awards, a Golden Globe Award, and an Academy Award. She was also honored as one of the BBC 100 Women in December 2022.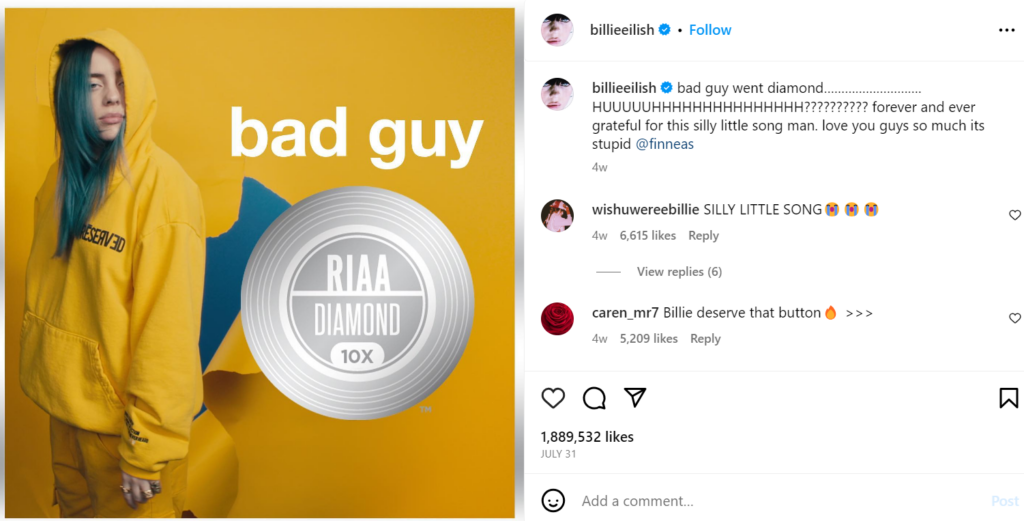 Source: Instagram
Beyonce
Beyonce Giselle Knowles-Carter is an American singer and songwriter. She goes by Beyonce or Queen Bey, a nickname she earned for her artistry, vocal abilities, and performances. Beyonce got her start in various singing and dancing competitions as a child, then she rose to fame in the late 1990s as a member of the R&B group Destiny's Child. She released her debut album, "Dangerously in Love," and launched a successful solo career as one of the best-selling music artists of all time. Her accolades include 32 Grammy Awards, 26 MTV Video Music Awards, 24 NAACP Image Awards, 35 BET Awards, and 17 Soul Train Music Awards. She also has 31 career top-ten singles on the US Billboard Hot 100.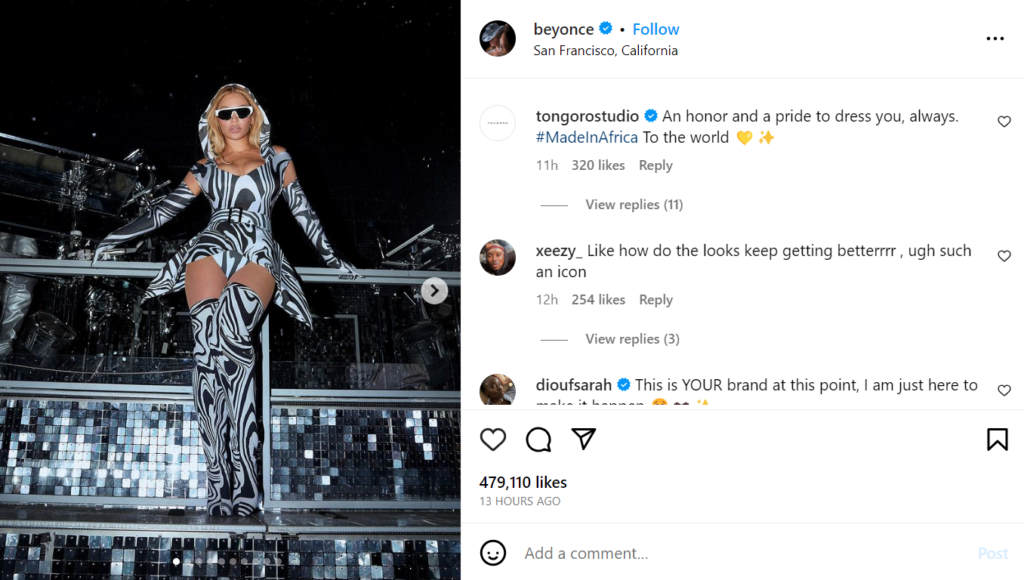 Source: Instagram
Loren Gray
Loren Gray is the reigning "TikTok Queen" at only 21 years old. Boasting almost 25 million followers on Instagram and nearly 55 million followers on TikTok, the dancer and influencer from Pennsylvania is also a musician. She's released several singles on her YouTube channel and frequently discusses trends in the music industry.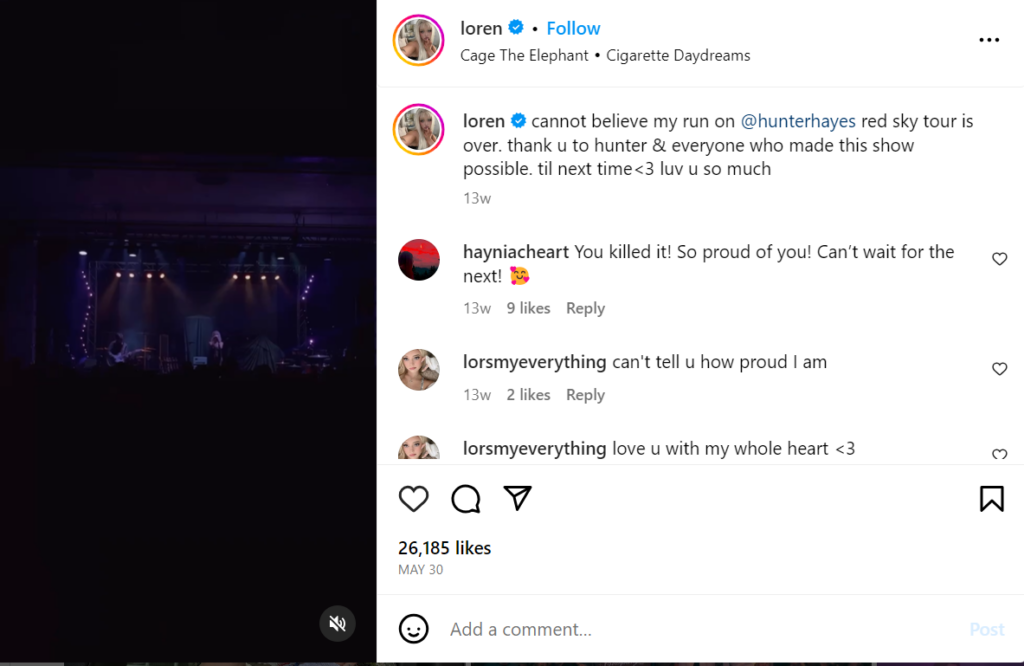 Source: Instagram
Madison Beer
Madison Beer is an American singer/songwriter from New York who built her influencer following with YouTube song covers in 2012. She released her debut single, "Melodies," in 2013, but gained more media coverage when Justin Bieber posted a link to one of her covers. Her debut EP, As She Pleases, was released in 2018.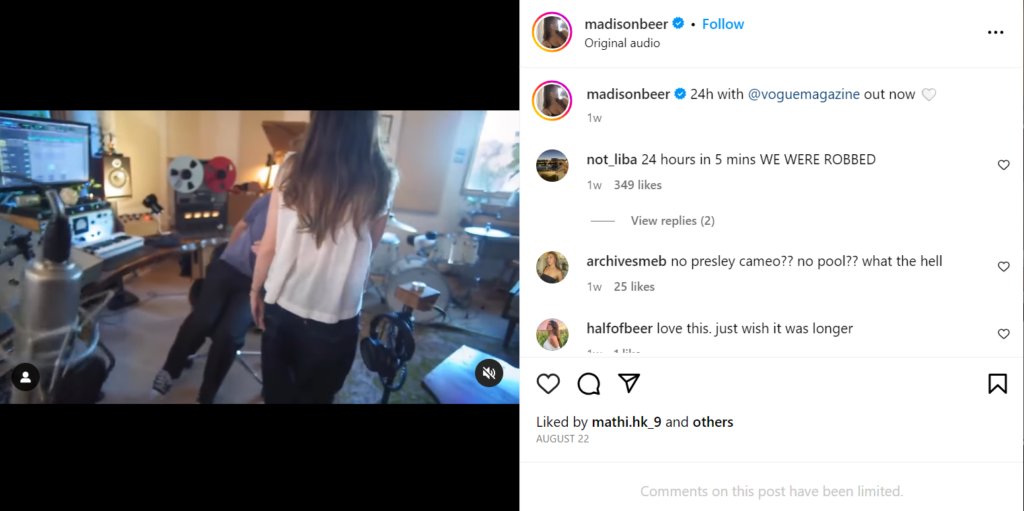 Source: Instagram
Baby Ariel
Ariel Rebecca Martin, known as Baby Ariel on social media, is an American influencer who rose to fame with lip-synching videos on the video-sharing app Musical.ly. Due to her innovative duets and skits, Ariel gained a substantial following on Instagram and TikTok. Forbes magazine labeled her a top performer in 2017, and Time magazine named her one of the most influential people on the internet.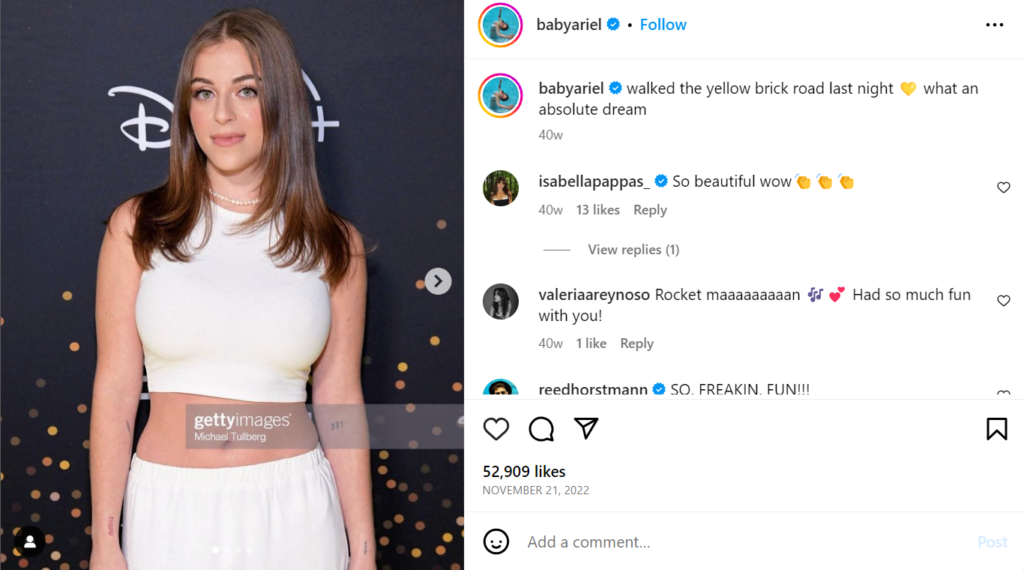 Source: Instagram
Doja Cat
Amala Ratna Zandile Dlamini, or Doja Cat, is a rapper, singer, songwriter, and record producer who started her career in 2010. She went viral in 2019 with sleeper tracks "Mooo!" and "Candy," leading to worldwide fame. She's practically a household name now with 25 million followers on Instagram, a sophomore studio album, and several major performances.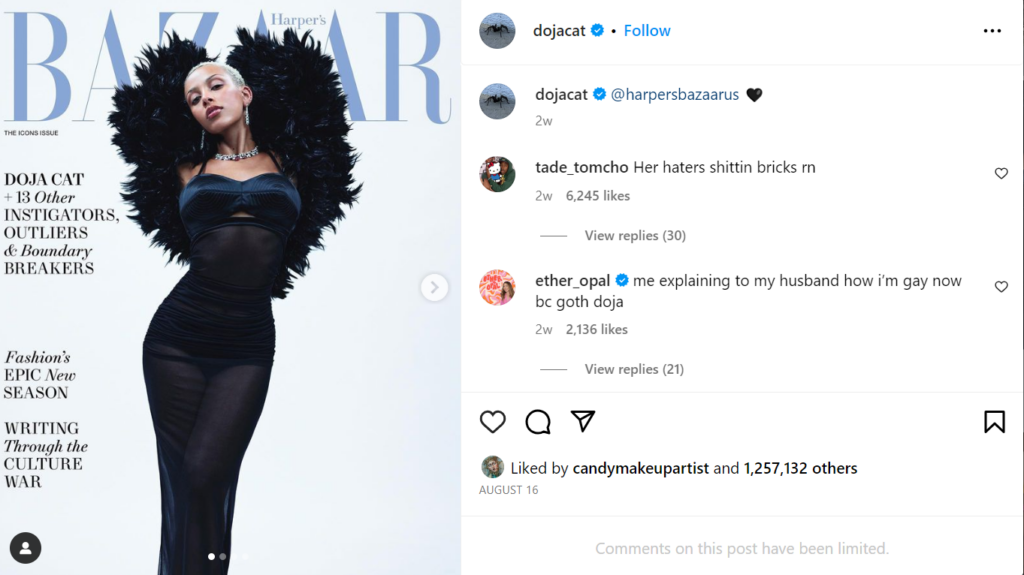 Source: Instagram
Gabriel Barreto
Gabriel Barreto is an actor, director, and music influencer with over 34K followers on Instagram. The Brazilian artist plays pop and Latin pop music that captivates fans with energetic rhythms and a passionate voice. On social media, he posts unique covers of popular songs that often go viral.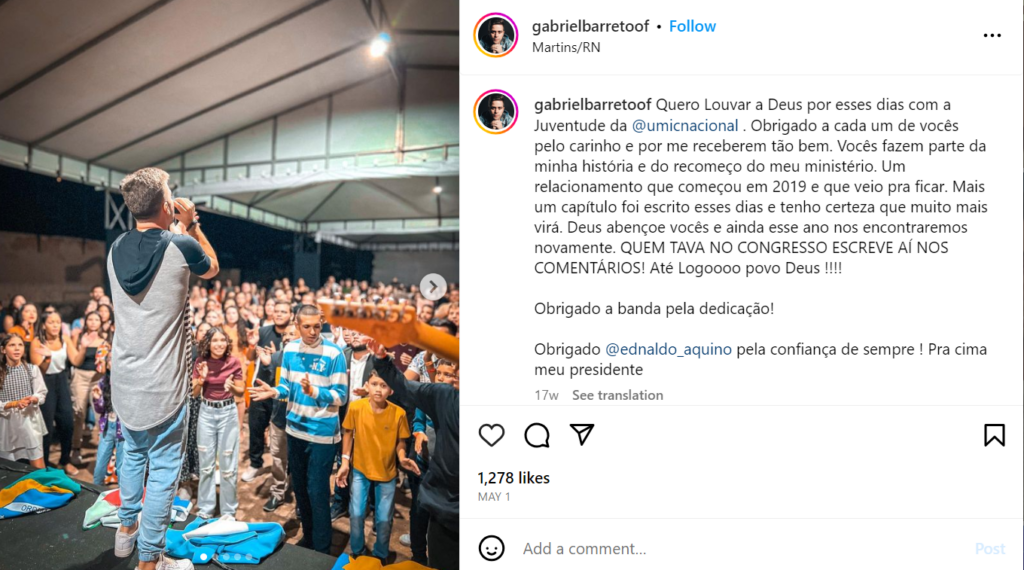 Source: Instagram
Tate McRae
Tate McRae is a top music influencer on Instagram, YouTube, and TikTok with millions of followers. She gained popularity with her covers and original music videos. Her first single, "You broke me first," skyrocketed her into a worldwide superstar with billions of streams. She recently announced her Are We Flying Tour through Live Nation with venues all over the country.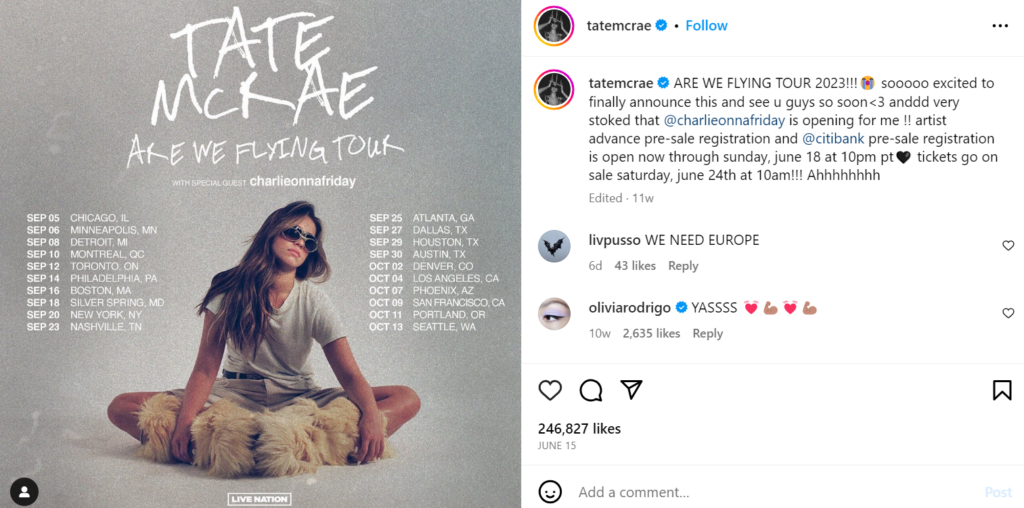 Source: Instagram
Dixie D'Amelio
Dixie D'Amelio is one half of the D'Amelio sisters, a duo that has captivated TikTok with charismatic dance videos. Though they rose at the same time, Dixie signed with United Talent Agency in 2020, and she and her sister earned a podcast deal with Ramble Podcast Network. After releasing her first single, "Be Happy," in 2020, she's since gained billions of streams on Spotify. Her debut album, A Letter to Me, was released in 2022, and she's now opening for the band Big Time Rush on their Forever Tour.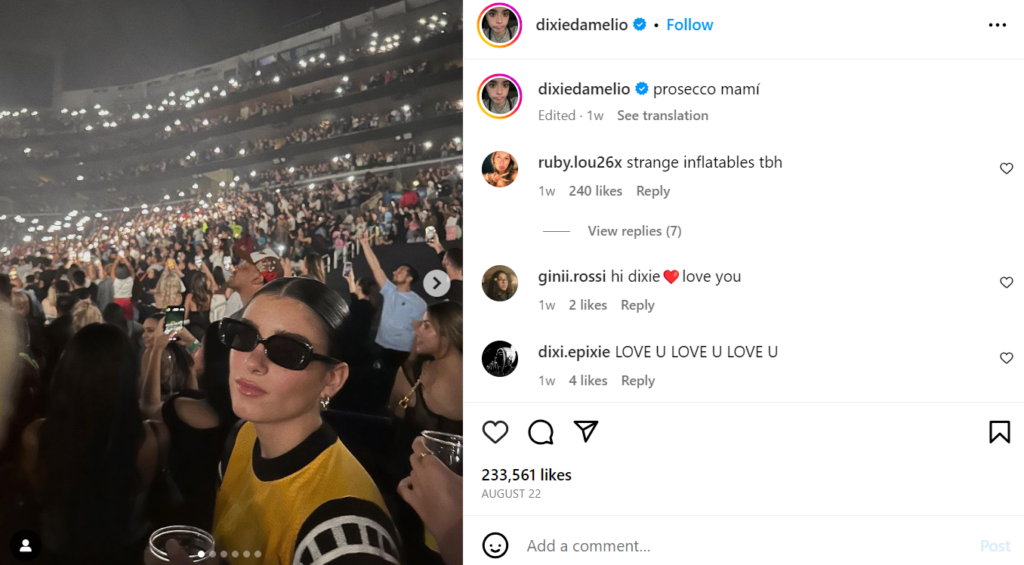 Source: Instagram
Scotty Sire
Scotty Sire is a digital creator and recording artist with over 7 million followers on TikTok and Instagram. He rose to fame on TikTok and now has 3 million followers. Since his career began, Scotty published two commercially acclaimed studio albums, "Ruin Your Party" and "What's Going On."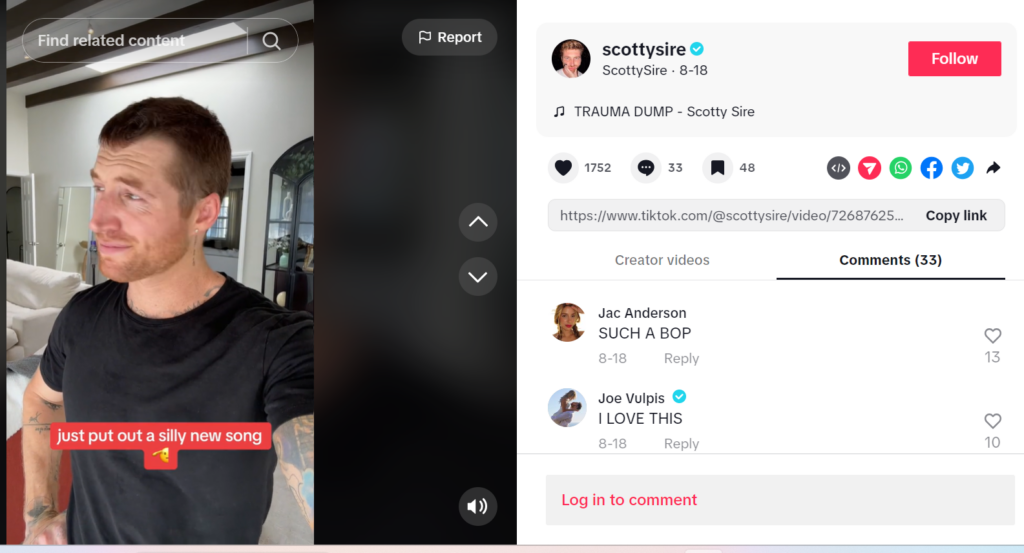 Source: TikTok
JoJo Siwa
JoJo Siwa gained popularity after appearing on Dance Moms. She began writing and releasing her own songs beginning with singles like "Boomerang" and "Kid in a Candy Store." She has a massive following across multiple platforms, including celebrity followers, and was listed in Time magazine's annual list of the 100 most important people in the world.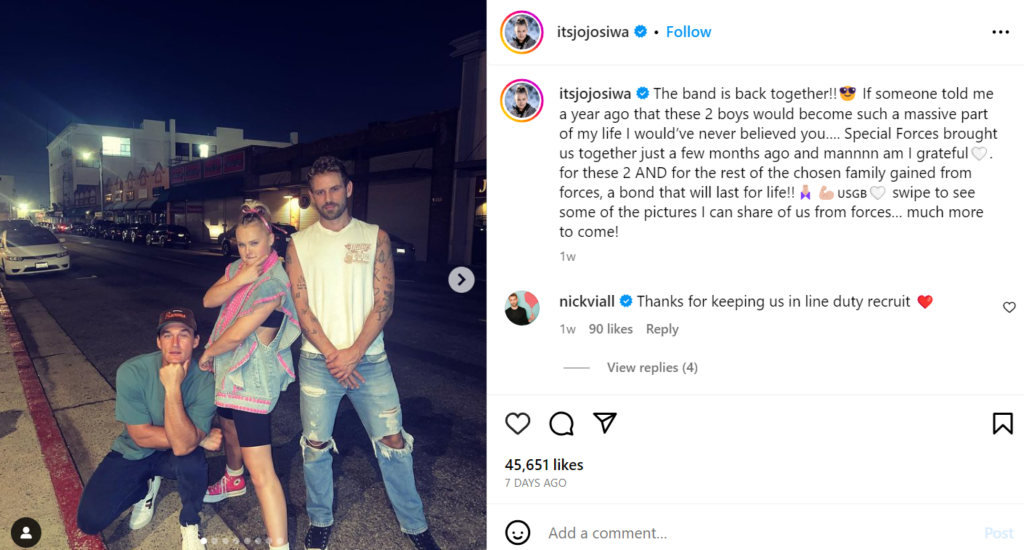 Source: Instagram
Olivia Rodrigo
Olivia Rodrigo is a trendy name in pop music. She rose to international fame after releasing her single, "Driver's License," in 2021, which gained worldwide success. Olivia has a huge following on TikTok, Instagram, and other social media platforms.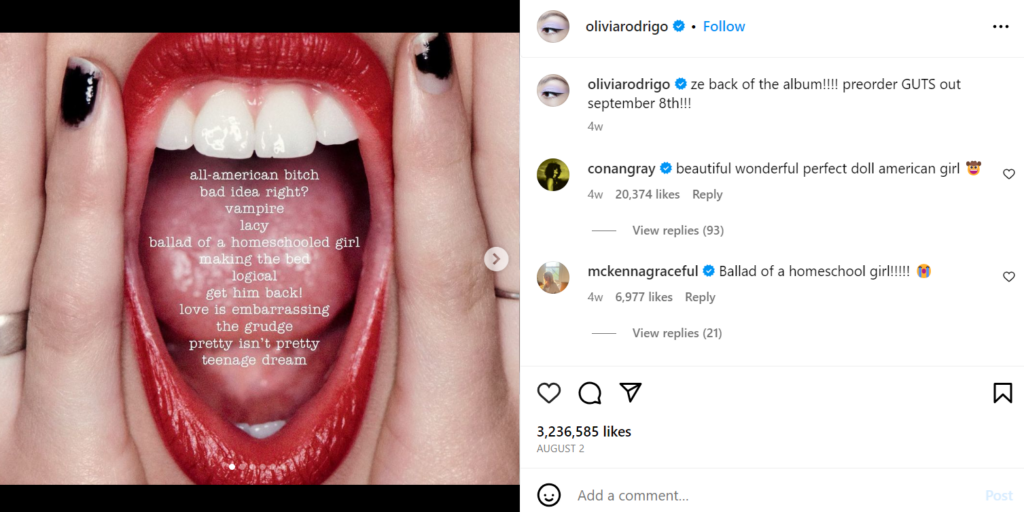 Source: Instagram
Lele Pons
Lele Pons is a Venezuelan American actress, singer, and internet influencer who rose to prominence on Vine before the platform shut down in 2016. Since then, she has branched out and created her own comedy sketches on YouTube. Along with acting in television, movies, and music videos, Pons has released plenty of her own original music.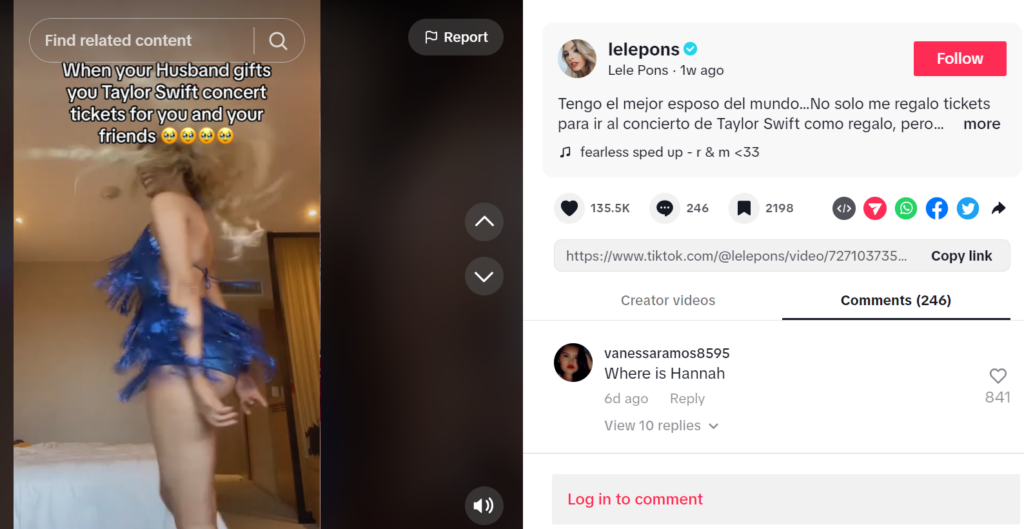 Source: TikTok
Finneas
Finneas is the older brother of music sensation Billie Eilish. He has written and produced music for many artists, including his sister. In addition to sharing music industry trends with his nearly 4 million followers, Finneas is a popular singer in his own right and produced a few of his own studio projects.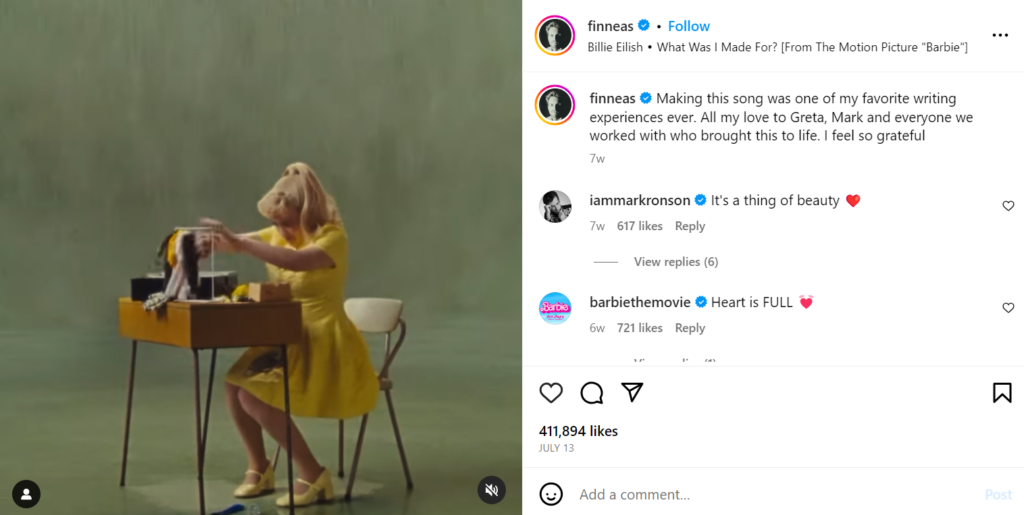 Source: Instagram
Melanie Martinez
Melanie Martinez is a newer star in the music industry. She rose to fame after appearing on The Voice, later releasing her debut studio album, "Cry Baby," which was a commercial success. She earned both platinum and gold certificates. She has a new album, "Portals," available for pre-order.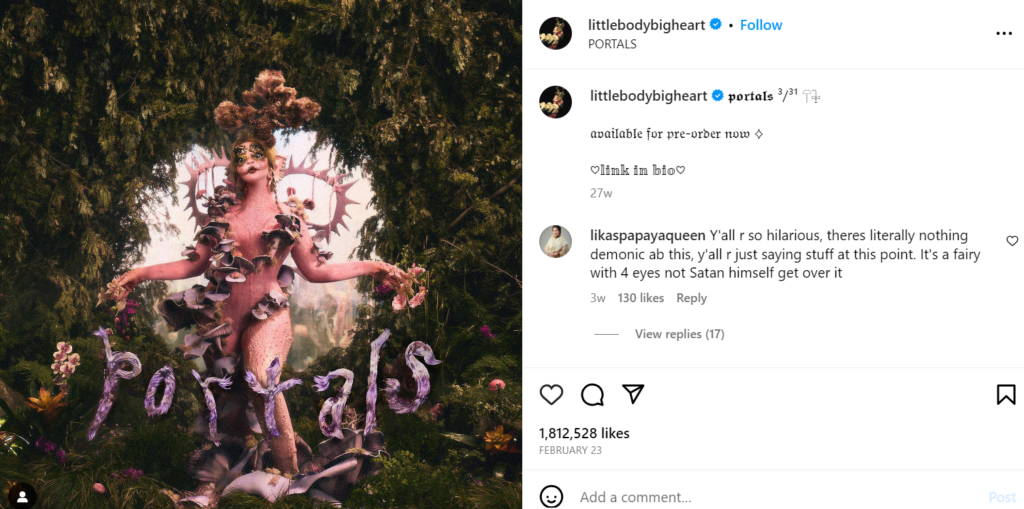 Source: Instagram
Follow the Top Music Influencers
Social media has offered new opportunities for music influencers to reach new audiences and share their insights into top emerging artists. Music influencers can be a powerful tool for brands in the music industry to promote new products, events, venues, and artists.