Conversations happen all day on social media. Among them, millions of conversations are about brands, products, or services, creating an opportunity for brands to connect with customers.
Brands shouldn't be afraid to talk, share, and educate customers on social media. This makes them human, establishes trust, and builds lasting relationships. Social conversations like these are an effective way for brands to stand out and boost brand awareness.
What Are Social Conversations?
Social conversations are two-way communication between a brand and its customers. They involve gathering feedback through conversational channels like social media, live chat, and blogs, then use those insights to inform all aspects of the business.
One example of this is Elon Musk responding to a Tesla owner about a suggestion for the vehicles. The user asked Elon Musk to program the vehicle to move the seat back and raise the steering wheel once in park. He replied with the intention to add it to all cars with the upcoming software release.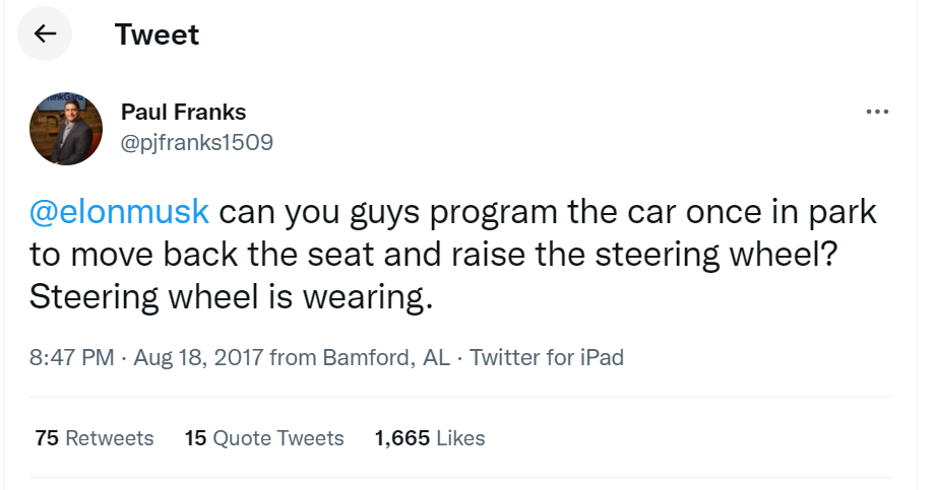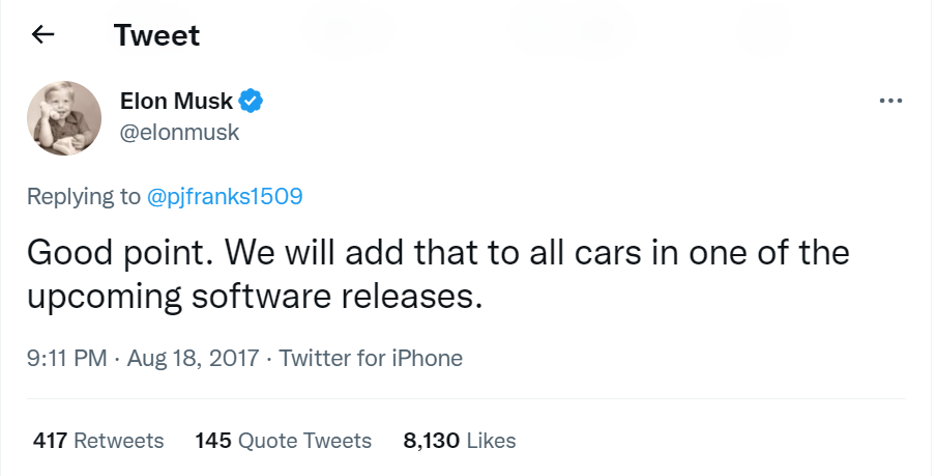 Source: Twitter
This example is a combination of social listening and engagement with a thorough understanding of the user experience, which can then inform product design. Based on the tweet's engagement and responses, this added to the customer experience for the brand.
Even if most of the people in the conversation are not Tesla customers, they could be in the future. Expressing intent to take the suggestion not only directly informed product design, but it indirectly influenced the opinion of a prospective audience.
Elements of Social Conversations
As more brands realize the value of connecting with customers on social media – not simply having an online presence – social conversations are becoming more common. These conversations have three elements:
Listening
Traditional marketing involves one-way conversations. Brands put marketing messaging out into the world and hope that it resonates with the audience. That's not how marketing is done anymore, however.
Social conversations don't put brands at the center. Instead, brands listen. While they may engage with customers by asking questions, they spend their time listening and learning from customers, so when they do engage in conversation, their words matter.
Understanding
Listening is only part of the equation – brands have to use the information they gather. In real-world communication, each conversation informs the next and they build on each other. When people are in a conversation in which they feel that they weren't listened to or heard, they don't have a positive experience.
The same is true of social conversations. Brands have to listen to customers and use what they've heard to improve the next conversations.
For example, if a customer called a company for tech support, they expect that conversation to be logged for future conversations. If the problem comes up again, those previous conversations save them time going through the same fixes that haven't worked.
Social conversations have to work the same way. If customers think they're wasting their time, they will stop talking.
Engaging
Engaging is a key component of any conversation. As mentioned, traditional marketing is one voice speaking to a crowd, but social conversations are a give and take. It's more personal and intimate, which is why it can be more effective and engaging for customers.
Brands should neither sit back and listen nor find themselves dominating the conversation. They should only speak when they can further the conversation and add value. This takes some nuance for brands to understand the tone and preferences of the online audience.
Tips for Effective Social Conversations
Keep It Simple but Effective
The social conversation should start and end with the customer. Customers should be able to respond to campaigns and content. Brands should create an experience that tells them why they should care and how they can participate.
Offer Incentives
Conversations are two-way, so brands have to offer value to the customer to keep them going. Exclusive content, discounts, free gifts, or other incentives keep customers engaged in return.
This example from Chime is simple and direct, uses common social media tropes, and includes details for what they'll get in return. The instructions are easy to follow as well.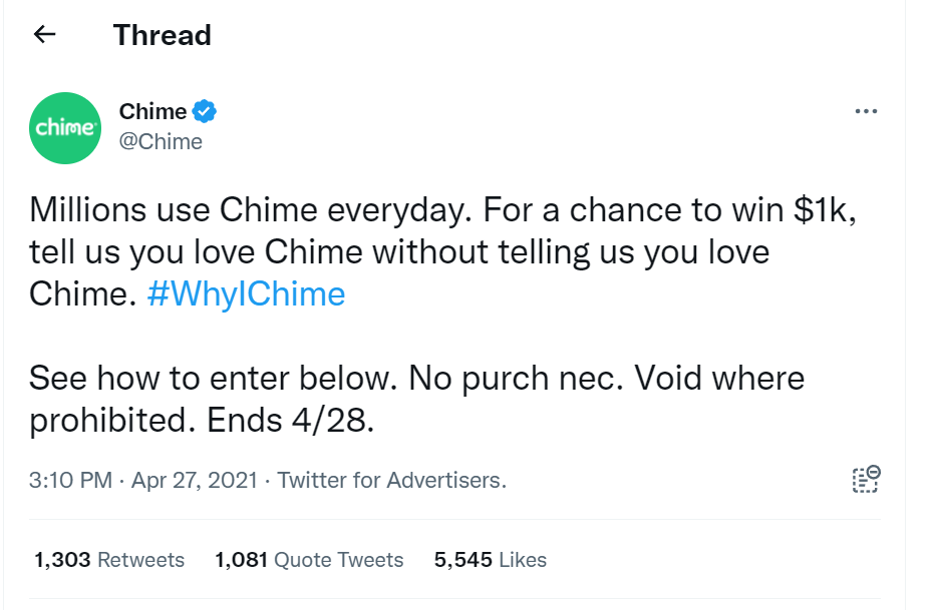 Source: Twitter
Tailor Media Products to Desired Outcomes
Using the right mix of products at the right time in a brand's campaign can get more people talking on social media. For example, notification products can help with personalization and make customers feel as though the brand is speaking directly to them.
When Showtime was promoting the final season of the series "Shameless," it used a combination of tactics to fuel buzz and build anticipation. One of these was Twitter's Branded Notifications. Overall, the campaign generated a 276% incremental lift in Tweet volume and a 65% lift in people talking about the campaign.[1]
Conversely, broadly targeted ad placements can amplify the conversation during peak campaign moments. Tactics like Trend Takeover and Twitter Timeline Takeover can boost lift in Tweet volume and Retweets, even without personalization.
Pay Attention to Timing
When it comes to ad campaigns, timing is crucial. Longer campaigns can generate better results, and campaigns that last several weeks show over three times the efficiency of campaigns that last under a week.
Social media is a conversation-driven platform. Paid media generates compounding impressions through replies, retweets, quotes, and more, and brands can maximize earned media effects with longer campaigns.
Provide Engaging Content
Content is the centerpiece of conversations around a brand. Engaging content, whether it's written, video, or interactive, allows customers to consciously involve themselves and facilitate conversation.
In addition, content marketing is shareable. Customers see content they enjoy and share it with their friends, encouraging more engagement and conversation. As more people become involved in the conversation, it takes on a life of its own.
Host Q&A or AMA Sessions
Customers always have questions about products, services, or brands. Social media gives them a place to be heard. Brands can engage in conversation by answering questions as they come up in chats, comments, or messages, or by hosting a Q&A or AMA session.
Q&A sessions can be done with live video or audio format. Customers leave questions in the comments, which the host answers on the live video or podcast. AMA sessions may be easier for people who don't like to be on live video. These sessions allow people to ask questions and get answers asynchronously, all written, and brands can usually get to more questions than in a live session.
Collaborate with Influencers
Social media influencers are at the heart of social conversations. They already have large, dedicated audiences and can encourage organic participation among customers.
For example, Ice T is a prominent influencer and spokesperson for Tide and the #TurnToCold campaign. As part of his collaboration, he inspired customers to embrace the cold-water laundry movement with a contest for a limited-edition Tide tub that has his image.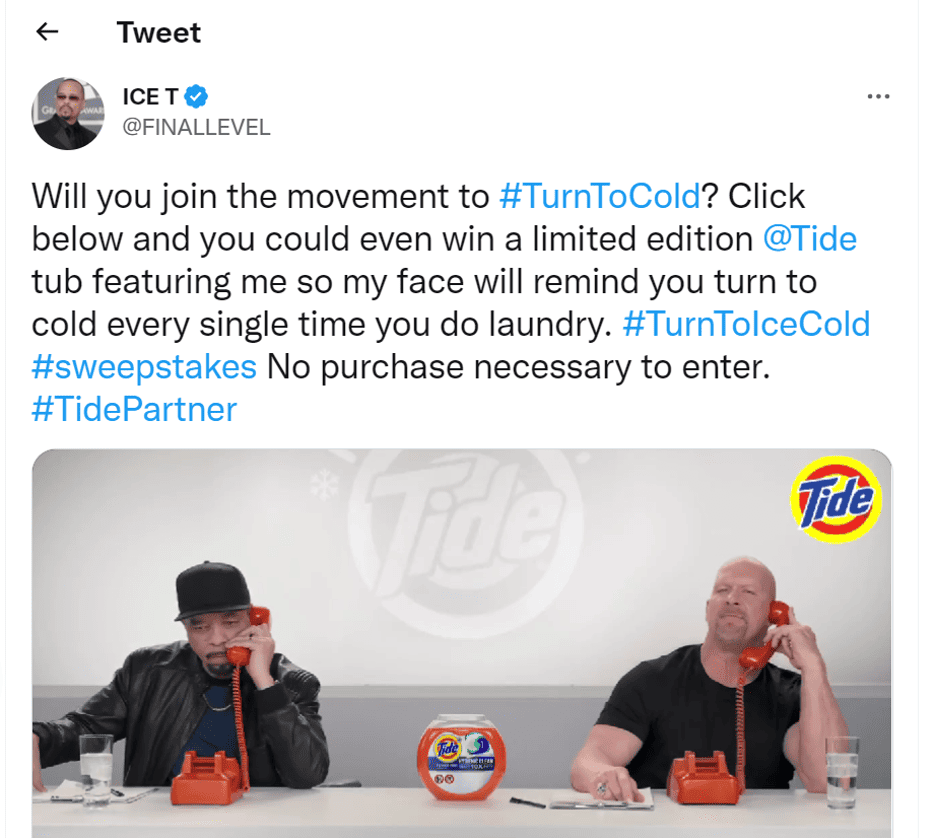 Source: Twitter
Encourage User-Generated Content
Brands can ask the audience to contribute their own content to further the conversation. People like to show off on social media, and brands encouraging user-generated content can increase reach organically.
For example, Starbucks challenges the audience to post pictures of their personal sketches on their white cups. Adobe asks for users' Photoshop projects and designs, increasing the exposure for the brand, the product, and the individual artist.
Run Social Media Contests
Contests on social media not only boost conversations, but they encourage more user-generated content. A contest doesn't have to be elaborate or expensive – simple contests with modest prizes are often the most successful.
The contest rules should be clear, public, and easy to find. The request should be simple, especially if the prize is of a lower value, such as drawing something or doing something funny. The requests that brands can come up with are virtually endless, as long as it's relevant to the brand and audience.
Leverage Biggest Brand Fans
Different from brand ambassadors or influencers, a brand's top customers can be useful for increasing brand awareness. The customers that are most vocal and most loyal can be given incentives to actively share their thoughts on their own social channels.
This tactic combines the power of influencer marketing and user-generated content with a customer that's already passionate about discussing the brand. In addition, these customers often have a lot of trust with their own audiences.
Showcase Customer Feedback
Sharing the words of satisfied customers may inspire others to share their thoughts and experiences. A brand's customer feedback can be shown on social media to gain audience trust while promoting the best aspects of the products through the honest reviews of previous customers.
Instead of using text-based posts, brands should create images or videos with customer reviews and testimonials that are more eye-catching for the audience. Google has custom review stickers that can be used for Instagram and Facebook for aesthetically pleasing content.
Start the Conversation
There are many ways that brands can start a conversation with their audience and encourage engagement. Like other aspects of social media, it takes some time and experimentation to get good results. Conversation sparks more conversation, building trust, loyalty, and sales over time. Consult with our influencer marketing agency to learn more about boosting your brand message.
Source:
[1] https://marketing.twitter.com/en/insights/why-the-conversation-on-twitter-matters-for-brands